Summertime means your family has more time to enjoy outdoors. However, being outdoors, exposes your family, especially your baby to a number of insect bites and mosquitoes bites which usually leave nothing more than a red and itchy bump on your baby's skin. However, mosquitoes and other bugs are known to be carriers of dangerous diseases like as malaria and dengue.
Symptoms of insect bites in children
When an insect bites, it injects venom or other substances and bacteria into your child's skin. Bites from fire ants, bees, hornets, wasps, and some spiders are usually the most problematic. Bites from fleas, biting flies, ticks, and mosquitoes can also cause reactions. While only a small percentage of kids develop severe reactions to the venom, it can surely cause an allergic reaction depending on how sensitive your child's skin is.
Some of the symptoms to be aware of are;
Hives
Fever
Skin Rashes
Painful joints
Swollen glands
Large blisters
Itchy and red skin
Some symptom of an allergic reaction can be very severe. Anaphylaxis is a response that leads to wheezing or shortness of breath, shock, and loss of consciousness and tightening of the throat. An Anaphylactic reaction is usually a symptom of bites from bees, fire ants, and wasps.  Most of the pesky bug bites cause mild swelling and an irritating experience of itching or a stinging sensation. Watch out for sores from kids scratching since their bites can leave scars and become infected.
You may also like: Best Mosquito Repellents in India For Babies
Common insect bites
The most common insect bites are from the mosquito, honey bees, red ants, and wasp.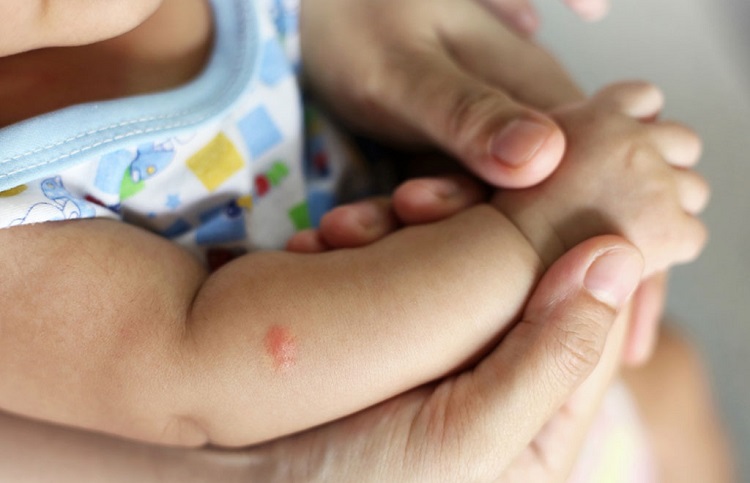 Mosquito bites
You must surely have experience waking up in the middle of the nights to ward off mosquitoes from your sleeping baby. These tiny little insects target babies more than adults to feast on their young blood. Imagine the discomfort they go through when adults can't stand their buzzing. Apart from the irritation and red skin, protecting babies from mosquitoes is extremely important from the health point of view.
What causes mosquito bites in babies?
Babies are unprepared and don't know how to attack, hence they are their attractive targets for feed. The reasons for mosquito bites in babies are;
Unclean environment
Exposed skin
Dampness
Perfumed lotions and creams
Sweat
Uncovered food items
Stagnant water
Symptoms of mosquito bites in babies
As a parent, it's your responsibility to take the needed precaution against mosquito bites inside your home, but your baby remains vulnerable.  Watch out for the following symptoms of mosquito bites
Red Bumps
Swollen reddish appearance on the skin
If your baby cries uncontrollably and
Scratching the skin
First aid at home for mosquito bites
Mothers will find the below mentioned home remedies for mosquito bites a great relief. They are highly effective and don't have any side effects.
Lemon
Garlic
Baking soda
Ice pack
Aloe Vera
Salt and Honey
How to prevent mosquito bites?
Prevention is very important since mosquitoes are transmitters of disease. You can use mosquito nets or cover your baby fully to prevent them from mosquitoes. Use repellent creams which have natural ingredients or just apply to your baby's clothes. It is recommended not to use DEET free repellent creams for babies under 2 years of age.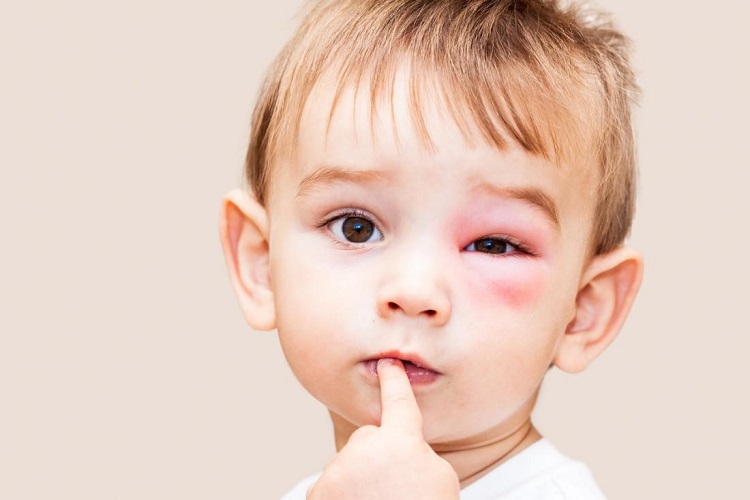 Honeybee and wasp sting
Bees and wasp are uncontrollable in summer and stings are sometimes unavoidable.  The first symptom that your baby has been stung by bee and wasps will likely be a pain-induced scream. You will also notice a red welt on your baby's skin.  For some, the sting might feel itchy and others may develop hives. Most often the sting is harmless but painful.
The symptoms of honey bees and wasp stings
Severe pain
Swelling and
Itching
How to treat a bee and wasp sting
Scrape the stinger with your fingernail or a credit card.
Wash the area with mild soap and water to prevent infection from spreading
Apply an ice pack to reduce the swelling and redness
Apply a paste of baking soda and water and leave it for at least 30 minutes to neutralize the venom
Apply honey and cover it with a bandage
Crush a garlic clove to release the juices and press it on the sting site to relieve swelling and pain
Apply onion juice
Crush plantain leaves and apply the juice for fast pain relief.

Red ant bites
Fire ants or red ant bites are quite common as mosquito and spider bites, can cause swelling, redness and some allergic reaction in rare cases.  If in case you see any allergic reaction like as hives, trouble breathing or stomach pain then, seek medical attention immediately.
The symptoms of red ant bites are
Pain
Itching
Hive
Pimples
Normal to severe swelling
Redness and
Anaphylactic reaction
First aid at home for red or fire ant bites
Seeking medical help is always recommend, but however, following simple first aid at home before heading to the hospital can be life-saving
Apply witch hazel
Apply oatmeal for itching and inflammation
Cold compress brings down the swelling and numbing
Apply cider vinegar for reducing your baby's discomfort
How to prevent insect bites?
If you know you will be outside for a long time, you will have to plan for the day and take preventative measures for bites.
Try to dress your little one appropriately. Wear only light-colored clothing so that you know when bugs and insects sit on them. Also wear long sleeves, pants, and hats to keep their skin covered
Apply sunscreen if needed. Today they are also available for babies from brands like Sebamed, Himalaya, Thinkbaby, Mamaearth and other well-known baby brands.
Don't allow your toddler to go barefoot in the grass
Invest in a mosquito net for protection
Avoid scented creams, soaps and lotions which can attract mosquitoes and bugs
Use repellent cream available for use depending on the baby's age
Keep a proactive mindset when planning outdoor activities with babies to prevent any bites in the first place. Be aware of the surrounding, dress, and guard accordingly. Check your baby when you get back home or during the bath time. For the sake of your baby, better to be safe than bitten.