As a new parent you are considered about the well-being of your baby, their laughter and their happiness. To promote healthy activities we need to combine healthy activities with fun. Seeing your child giggling while jumping and doing his age-appropriate activities is what will bring a smile to your face. Today's parents are very concerned about their child's safety and happiness. Baby Jumpers are among some of the most popular products which are considered to be both entertaining and educative.
Benefits of baby jumpers
Baby jumper is one of the best activity centers for your child and it comes with the following features:
Muscle Development: Among the various benefits of a good baby jumper for your kid, the most important is muscle development. It contributes to strengthening the leg muscle as jumping is involved in the process.
Motor-skill development: According to the experts' opinion, jumpers help to develop the pre-walking skill of the baby. This improves the functionality of the baby's limbs as during bouncing and jumping, the baby use the lower half portion of the body and learn how to keep balance.
Helps kids to fall asleep faster: One of the most significant benefits of the jumpers, especially for the parents who are sleep deprived during their early parenthood is that the kids sometimes get a good habit to sleep early. When the baby is allowed 15-20 minutes every day during the evening to use the jumper, may be due to the healthy jumping and bouncing he will fall asleep quickly. All the parents who want a good night sleep for them and for the baby will love to try out this opportunity.
Mommy gets 'me time': Most of the baby jumpers come with various toys, light and sound effects, play options and a comfortable seat to sit down while playing. This gives mommy some free time to task around the house or uses the time especially to relax as there is no such risk of falling for the baby.
Some of the best baby jumpers available in the market
As a parent to find out the best baby jumper for your infant is an important job. Here are some of the reviewed options to check out about the effective and reliable baby jumpers.
Graco Bumper Jumper
Graco is a trusted international brand and comes with all the latest features along with benefits and safety. This doorway jumper is surrounded by a fair bumper which helps to keep your doorframe safe. When the baby is not moving around there are two clip-on toys which can be a playful activity for your child. It also has a built-in toy tray, where you can put your baby's favorite toys and keep him engaged. It is easy to remove the baby when you want the plastic dome keeps the straps from twisting. It is for the children up to 25 pounds and the height is adjustable and the seat cover is easy to remove and machine wash.
Evenflo ExerSaucer Jump and Learn Stationary Jumper Jam Station
This jumper has a secure learn and play environment with 67 fun learning activities which will help the baby to develop mentally and physically through the natural workout. Baby will reach its development milestone as the bounce base of the jumper has soft landing pad that helps in stability. It has smart electronic light and sound toys that interact with each other with three genres of beautiful music. It's a baby activity station where he can jump and have his exercises with fun and frolic.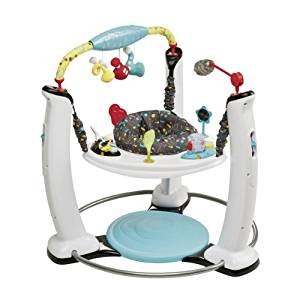 Fisher-Price Rainforest Jumperoo
It is a multi-colored and multi-functional baby jumper and has a unisex design with various fun features. It has a wonderful coordination of sights and sounds for the small explorers. It has safe and secure jumping fun activities with lights and music of rainforest. Tons of toys all around and even at the top with a comfortable swivel seat help the baby to explore all around freely. Baby can turn the drum and it will be activated to produce light and music. It has a soft spring cover to keep the small fingers secure and a 3-way height adjustment which is customizable. The seat has 360-degree rotation capability. The seat cushion is soft and machine washable. It is foldable for storage and the durable frame is easy to assemble.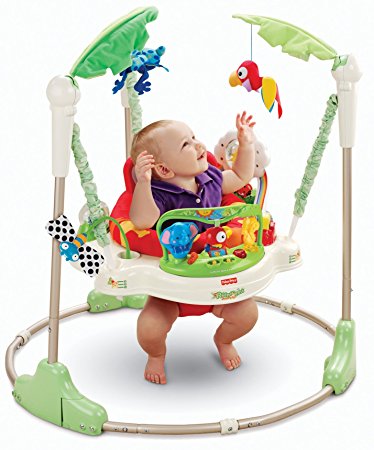 Evenflo Exersaucer Triple fun Fast Fold + Go Tree house
 It is a compact and lightweight designed baby jumper with more than 20 tree-house activity games. Babies will enjoy by seeing themselves in the mirror and will enjoy playing with the bead bar. The super cute chew toys will keep their gum muscles painless. The detachable toys can be used an s 'are along toys' and are easy to clean. The fabric seat cover is soft to use and machine washable. It has an easy height adjustment and can be custom fit according to the baby's growth. It is an ideal jumper where the baby can bounce, learn and have fun while the parents can enjoy some 'me time'.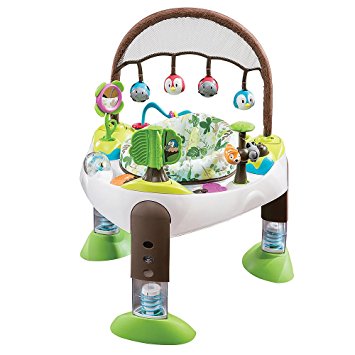 Skip Hop Explore and More Baby's View 3-Stage Activity Center
This is best for the babies' ages from 4 months and above. It has three stages which you can use as your baby grows – sit, swivel, bounce, and play. It also has a cruise and interacts and a play table where the baby can play with his favorite toy. It has a 360-degree rotating seat that stretches and bounce.  It has more than 25 developmental activities which are helpful for the mental and physical growth of the child. The discovery window TM helps to boost the motor skill as the baby can see the piano and their feet while playing with hands. It has piano mode, song mode and motion sensor mode. It is a modern activity center that enchants the baby from four months to toddler.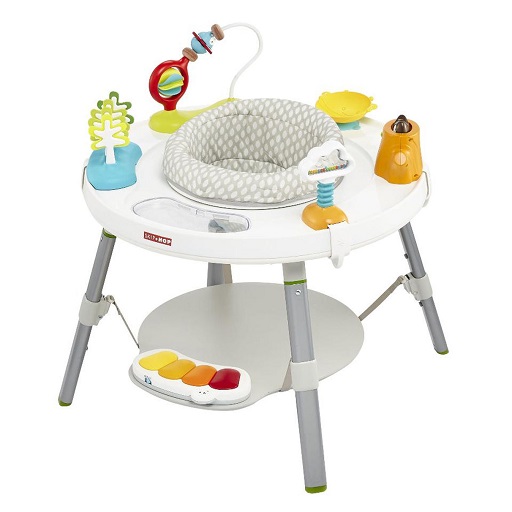 Evenflo Exersaucer Bounce and Learn Sweet Tea Party
 It is a secure learning and play environment in which the baby can have a fun and activity time. It has three height adjustment system that can grow with the child and hence provides maximum product value. It has a removable machine washable seat pad that is easy to open and convenient to clean. It offers a 'safe alternative' to walker to the parents. It also has the variety of age-appropriate toys that will keep your baby engaged as the time goes on. The interactive toys stimulate visual, sound and touch activities. The bounce, rock and spin option provides your child enough exercise to strengthen the muscles of legs, back, and neck.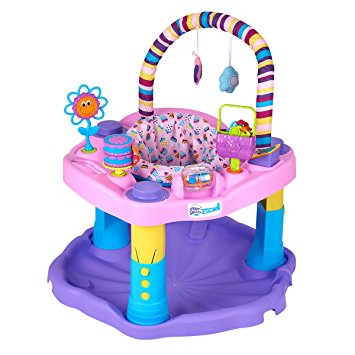 For a parent, the fun and enjoyment of your child is the most important thing. The toys and gears play a major role in that happiness. And, if that can come with the usefulness and educative value like a secure baby jumper then you cannot be more satisfied. You growing baby will be able to develop his skills and motor all by himself through the help of a proper baby jumper.