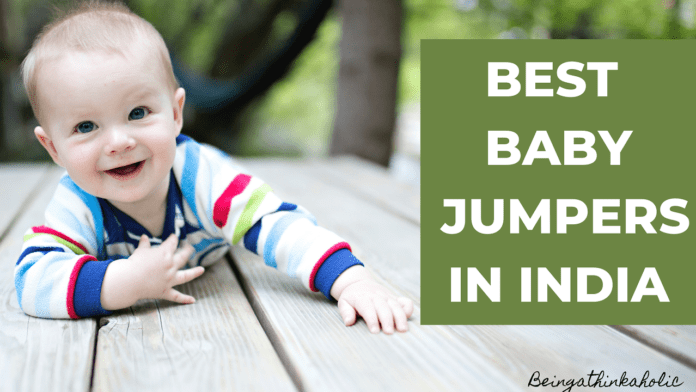 Have you considered buying a baby jumper for your child? Are you wondering which is the best baby jumper in India for your little one? If your answer is yes, you have come to the right place as we will give you the best options available.
Since a baby is born and till they are independent, each parent's constant endeavor is to ensure that the baby gets everything needed and which is good for their development. As a new parent, you are concerned about the well-being of your baby, their laughter, and their happiness. To promote healthy development, it is essential to combine healthy activities with fun.
When your bundle of joy is playing and kicking and moving even before they sit, it undoubtedly is precious. I have so many videos of Little Miss A moving to nursery rhymes. There is nothing more satisfying than seeing your child giggle while jumping and having fun. And when you know the baby is engaged in age-appropriate activities and is also enjoying, it surely will bring a smile to your face.
We as parents, always want the best for our child and we settle for the best we can afford. From the best baby teethers to the best wooden cradles, we research extensively and get the most suitable ones. Jumpers are no exception and all parents want to buy the best baby jumpers in India for their little ones.
All parents are very concerned about their child's safety and happiness. Baby Jumpers are among some of the most popular products which are considered to be both entertaining and educative.
Before we talk about the best baby jumpers in India for your baby, first let us talk about the benefits of baby jumpers.
Benefits of Baby Jumpers
A baby jumper is one of the best activity centers for your child and it comes with the following features and benefits:
Muscle Development
Among the various benefits of a good baby jumper for your kid, the most important is muscle development. It contributes to strengthening the leg muscle as jumping is involved in the process.
Motor-skill development
According to the experts' opinion, jumpers help to develop the pre-walking skill of the baby. This improves the functionality of the baby's limbs as, during bouncing and jumping, the baby uses the lower half portion of the body and learns how to keep balance.
If you want to know more about the gross motor skills your child should develop, you should read this informative post on Gross Motor Skills: Birth to 5 Years.
Helps kids to fall asleep faster
One of the most significant benefits of the jumpers, especially for the parents who are sleep deprived during their early parenthood, is that the kids sometimes get a good habit to sleep early.
When the baby is allowed 15-20 minutes every day during the evening to use the jumper, maybe due to the healthy jumping and bouncing he will fall asleep quickly. All the parents who want a good night's sleep for themselves and the baby will love to try out this opportunity.
Mommy gets 'me time'
Most of the baby jumpers come with various toys, light, and sound effects, play options, and a comfortable seat to sit down while playing. This gives mommy some free time to task around the house or uses the time especially to relax as there is no such risk of falling for the baby.
You should read the post, Baby Milestones in the First Year, if you are a new parent and always stressed about your baby's growth.
Things to Keep in Mind When Buying Baby Jumpers
The foremost thing to consider if you are planning to buy a baby jumper is that the child should never be placed in a jumper till they have neck control. This usually comes around 4-6 months. The neck muscles should not get strained in the jumping motion and thus, this strength in the neck is essential.
Another important thing to note is that the child should not be placed in the baby jumper for more than 15 minutes at a stretch.
Other things to consider are:
Age and size
Size of the jumper
Adjustable height
Washable seats
Toys and features in activity centers
Bungee cords in doorway jumpers
To know more details read this helpful post, When Can a Baby Use a Jumper Toy?
This post contains affiliate links, which means, if you buy any product using the links in the post, I earn a small commission at no extra cost to you.
Best Baby Jumpers in India
As a parent to find out the best baby jumper for your infant is an important job. Here are some of the reviewed options to check out about effective and reliable baby jumpers.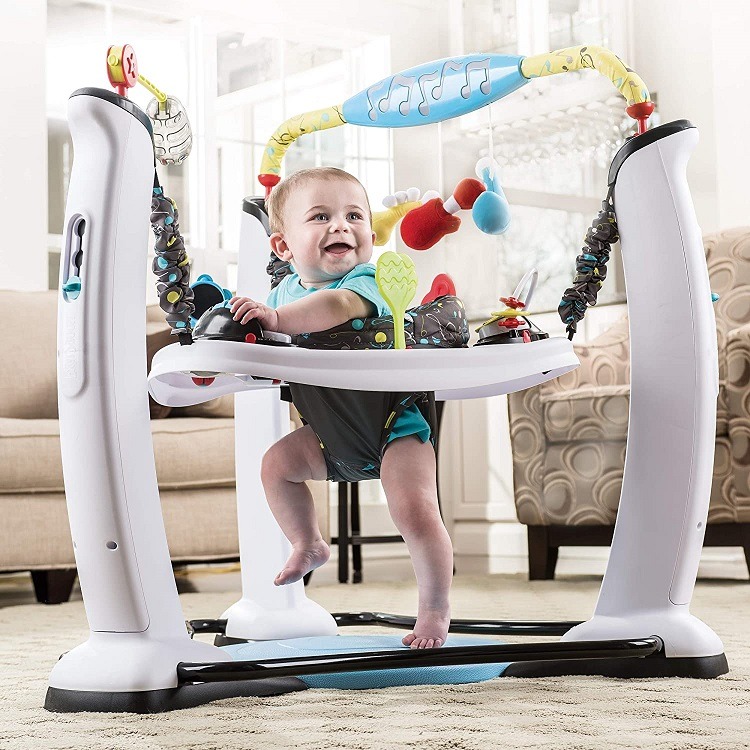 This jumper from Evenflo is one of the best baby jumpers in India. It is a compact and lightweight baby jumper designed with 67 fun learning activities that are beneficial in the development of gross motor skills. The soft landing mat is good for early development as it provides stability.
Smart electronic toys entertain the baby with different music genres. The detachable toys can be used to carry them around and are easy to clean. The fabric seat cover is soft to use and machine washable. It has an easy height adjustment and can be custom fit according to the baby's growth.
The baby learns to push, pull, jump, and turn around in a playful way. These seem simple for a parent, but these are very important and crucial for the development of a child and achieving milestones.
 It is an ideal jumper where the baby can bounce, learn and have fun while the parents can enjoy some 'me time'. This jumper can later be used as an activity table and thus, can be used for a long time. Though it is worth the money, the only downside is it is huge and not easy to carry from one room to the other.
You can click here to buy this jumper from Evenflo.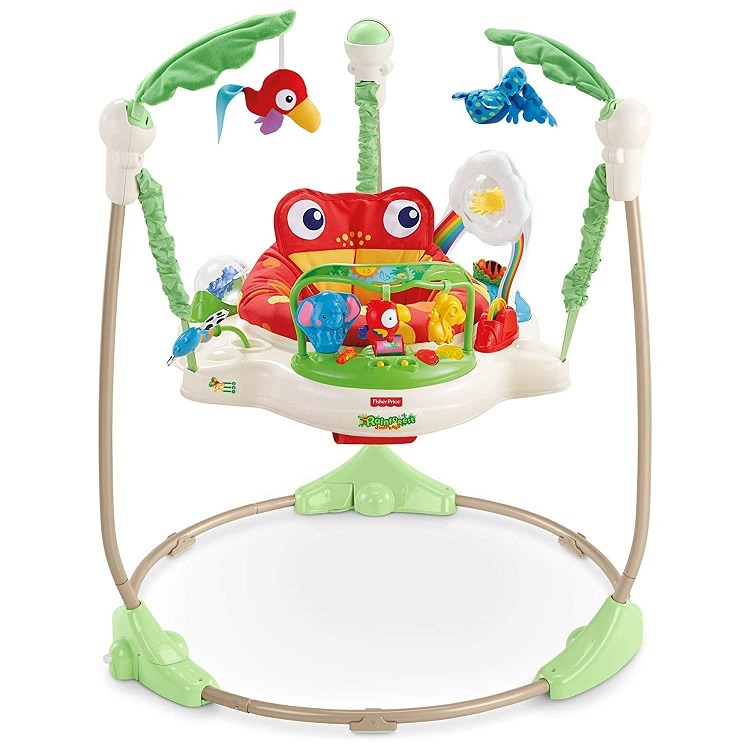 It is a multi-colored and multi-functional baby jumper and has a unisex design with various fun features. It has wonderful coordination of sights and sounds for the small explorers. This is one of the best baby jumpers in India and has safe and secure jumping fun activities with lights and music of rainforest.
Tons of toys all around and even at the top with a comfortable swivel seat help the baby to explore all-around freely. The baby can turn the drum and it will be activated to produce light and music.
This baby jumper has a soft spring cover to keep the small fingers secure and a 3-way height adjustment which is customizable. The seat has a 360-degree rotation capability. The seat cushion is soft and machine washable. It is foldable for storage and the durable frame is easy to assemble.
Though expensive, it is amazing for the growth of the baby and it comes from one of the best brands in the world when it comes to baby stuff.
You can click here to check out more details and buy it.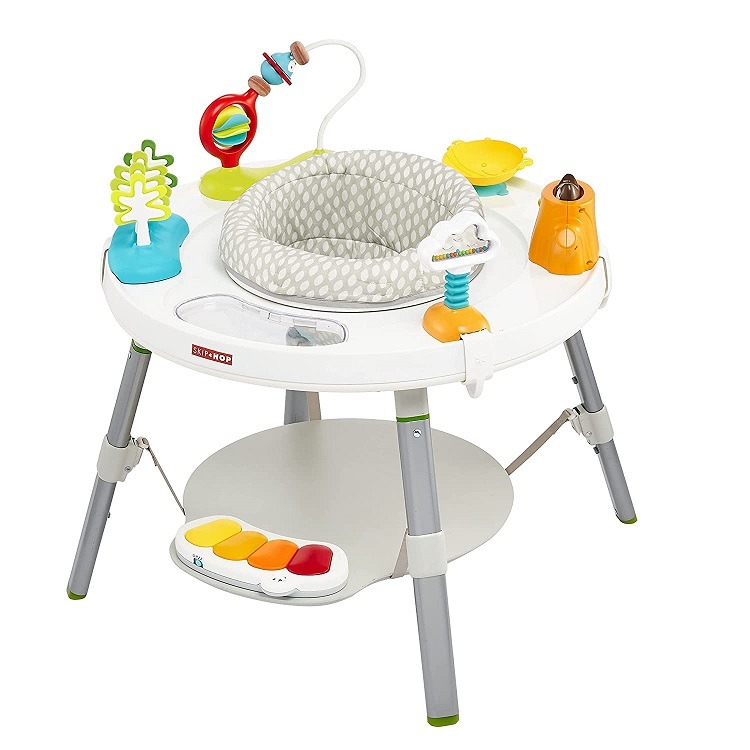 This baby jumper can act as a baby activity center and has been designed in collaboration with a pediatrician. This jumper is an ideal option for a 4-month baby to a toddler. There are four movable toys present in the jumper which can help your little one in enjoying around 25 development activities. This jumper has a rotating seat that rotates at 360 degrees.
There is a unique discovery window that will let your kid play piano by their feet. This would help in learning the cause and effect theory through hearing and spatial awareness. With the growth of your little one, this activity center can get converted to a table that can be utilized for activities like coloring and playing.
You can purchase this jumper for your little one by clicking here.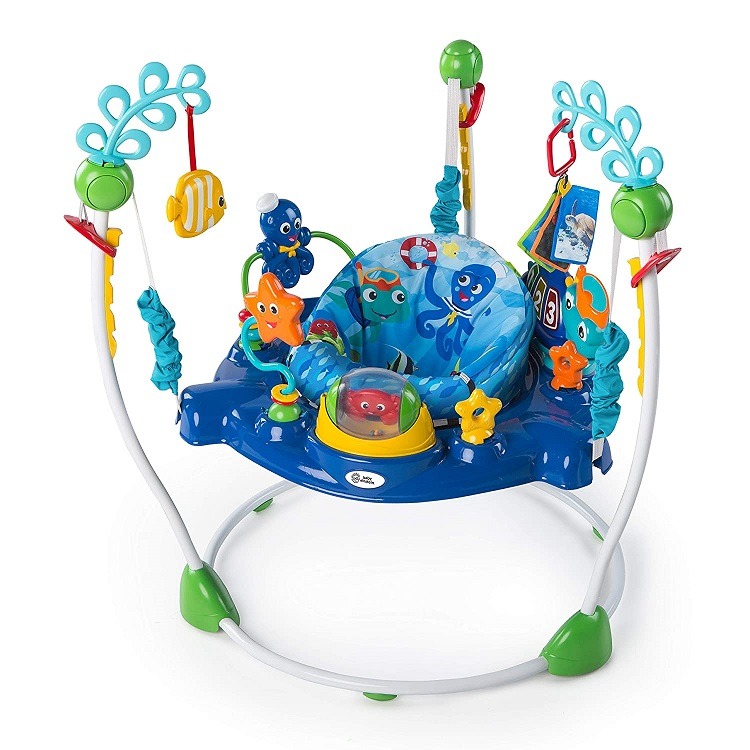 This baby jumper has 5 easily adjustable height positions which can grow along with your little one. It helps in captivating and cultivating the curiosity of your baby with the help of 12 interactive activities. It also helps in the introduction of new languages such as English, Spanish, French and also promotes the development of language.
You can easily wipe the toy stations with the help of a damp cloth and the seat cover is washable in a washing machine. It would be fun for your little one and it can be used along with a 360-degree seat rotation.
You can easily purchase this baby jumper by clicking here.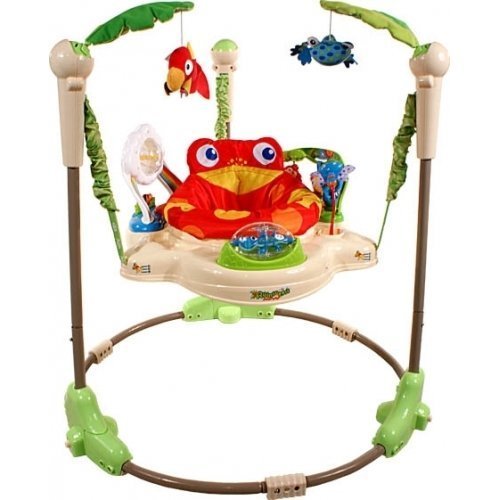 This baby jumper has beautiful light and music display when your baby jumps. It can be easily folded and carried from one room to another. There are more than 10 animal friends for your little one to play with and enjoy.
The assembling of this jumper can be done easily by following the instructions in the manual. The light and music would keep your little one happy and make him dance or bounce all the time. This baby jumper is quite reliable and you will not have to constantly keep on monitoring your little one while playing in it.
You can purchase this baby jumper by clicking here.
Disney Baby Finding Nemo Sea of Activities Jumper
This baby jumper is one the best baby jumpers in India on the basis of the features and the pricing. The best part of this jumper is the lack of need to hang things. The toys are good and very engaging, ensuring the child stays busy for long.
There are melodies, lights, music, and sound and there is no way the little one will not enjoy it. If you have noticed, kids react more to music than to talk. This is a reason there are nursery rhymes and songs for good. It also rotates 360 degrees and works well on the development of the gross motor skills of the baby.
This cute baby jumper is easy to assemble and can be bought by clicking here.
Jolly Jumper with Stand
The Jolly jumper with stand is highly rated, high quality, and thus, one of the best baby jumpers in India. The jumper is safe and also great for the development of your child.
There is an option to take the jumper without the stand and fix it on the door. This saves space but with respect to safety, it is recommended to use the stand.
Though expensive, the product is worth every penny for your little one. The jumper can be folded easily and carried easily. The seat is of a saddle design which ensures the baby sits in the right posture and does not harm their delicate spine in any way.
You can click here to buy this jumper and see your child jump in joy.
Which Baby Jumper Are You Buying?
For a parent, the fun and enjoyment of your child is the most important thing. The toys and gears play a major role in that happiness. And, if that can come with the usefulness and educative value like a secure baby jumper then you cannot be more satisfied. Your growing baby will be able to develop his skills and motor all by himself through the help of a proper baby jumper.