A safe place to sleep for your baby is one of the most important aspects to consider, and it is the most fundamental need of a child. The crib is the centerpiece and you can't miss that out. Since cribs are vital furniture pieces, there is something for all tastes; modern and traditional and a blend of both too, and for every pocket. We have picked the top wooden cradles, tested by experts and they are their true favorites. We have also combed through expert moms and bloggers feedback on popular ones that are available in India. Our picks include, affordable, sturdy cradles for traditional nurseries, a high-end one with a unique design, a space-saving one and a travel-friendly cradle that you can just snap anywhere.
Babyhug Hamilton Wooden Cot – Natural Finish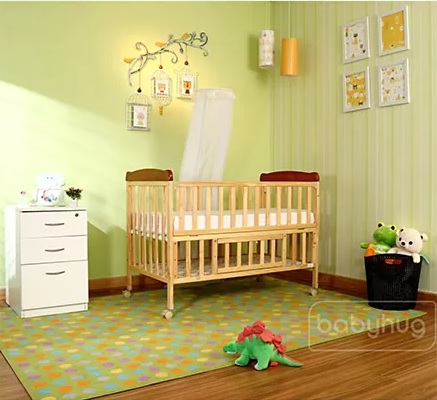 Babyhug Is a well-known brand in India for classy and affordable baby furniture. This Hamilton wooden cot combines premium quality as well as safety and convenience to make sure your baby sleeps peacefully throughout the early years. The cot can be adjusted to two heights and it's flexible. It grows with your child. Wheels with lock function gives you the ease of portability. You can take it to any room and the storage space can be used to keep the essentials and bedding intact.
Made from New Zealand Pine wood
Can also be used as a baby co-sleeper.
Has three adjustable height features
Has a storage space under the cot to store all your baby's bedtime essentials.
Comes with a safe mosquito net. Your baby will be safe from insects too.
Includes four wheels with lock
Click here to buy it.
Mee Mee Baby Wooden Cot with Swing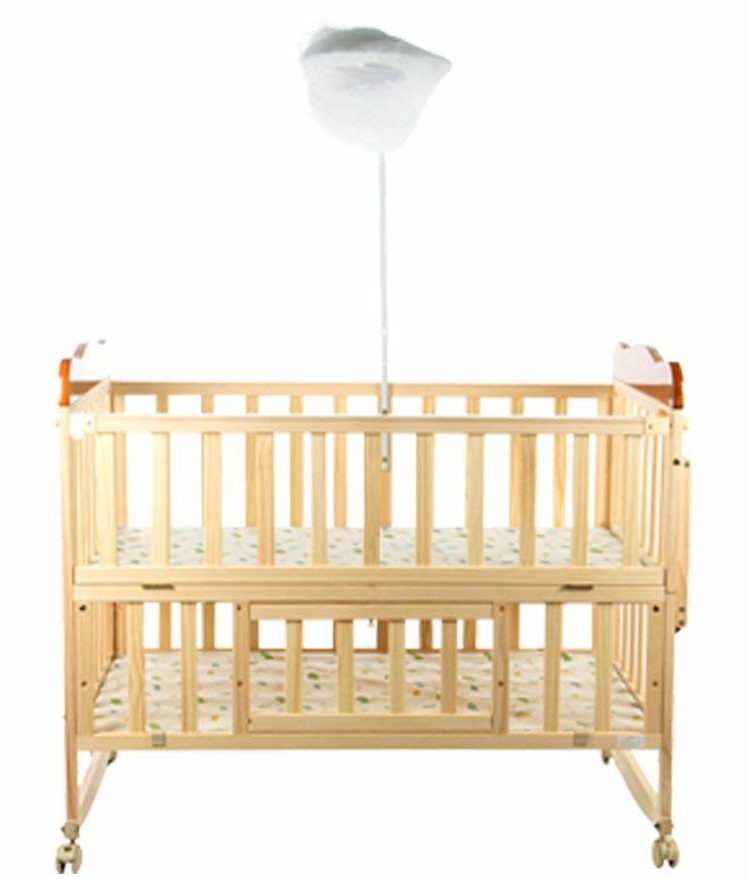 The Mee Mee baby wooden crib with swing is an eye catcher. It has a graceful shape that looks modern and minimalist. Unlike other cribs, it can also be used as a bassinet to a full-size cradle. Equipped with spacious storage shelves which allows you to store all your baby essentials under one roof. The swinging motion helps you to put your baby to sleep. The crib also comes with an attached mosquito or insect net to safeguard your baby from insects and flies and the height can also be adjusted. The model comes in attractive color like as Natural pine, brown, cream, clear wood, teak brown, wooden and light oak. The wheels allow mobility and can also be locked when needed. This Mee Mee cradle creates a perfect and cozy place for your little one to sleep. Click here to buy it.
BabyTeddy's 9 in 1 Bruno-The Dog Baby Wooden Crib Cot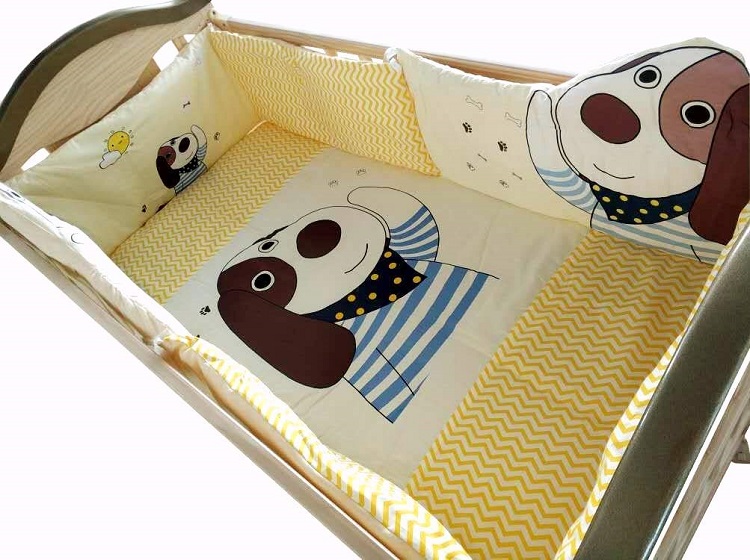 One of the best features of the famous and expensive BabyTeddy's crib, cot is its convertibility. After your baby's initial days are over, you can also make it as a toddler bed, daybed or also a co-sleeper. The crib has a modern look with smooth finish. The natural feel and the gold rest bars makes this cradle a fancy one for the ones who love to make their little one's nursery a fairyland. Its soft rocking function is well designed. The cradling motions are gentle like in mom's arms and the storage space allows you to store the diapers, toys and grooming kit. Today all modern cribs come with a storage space, but this one has ample space below.
Has a teething rail on both the sides so your baby can suck or chew on it without hurting.
Smooth finish to make sure the baby doesn't swallow small wooden flecks.
Can be converted as a playpen
Grows as your baby grows
Comes with an attractive bedding set and made from high-quality wood which is completely odorless and tasteless.
Hypoallergic and hand washable.
You can buy it bi clicking here.
Alex Daisy Fisher Price Wooden Baby Cot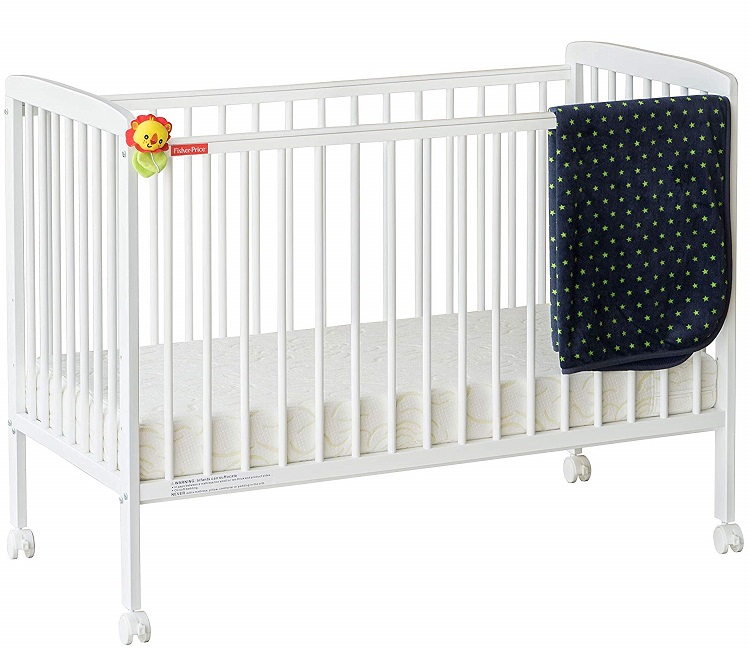 Modern and traditional, the Alex Daisy Fisher Price Wooden Baby Cot has an uncluttered line, clean and wheeled legs with a mid-century vibe. It is a moderately priced cradle that is easily available in India and is high in quality and durable. This is ideal for babies till three years. The crib rail on the sides is made of virgin plastic for teething. It's easy to move and made from solid seasoned wood. This cradle from the well-known brand can be easily assembled and is easy to access.  You will have to use a 60x120x10 cms mattress which is not included with this set. Click here to buy it.
BabyCenter Cot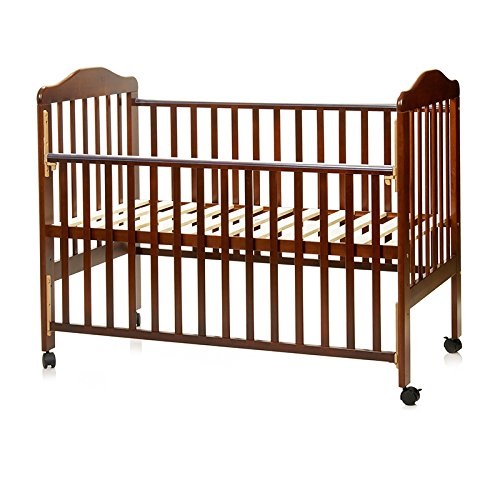 BabyCenter cot gives you a good old nostalgic feeling where the entire structure is made out of solid hardwood from Malaysia. The cot has curved edges all around which ensures that there are no injuries coming out of it. You can use the cot till your baby reaches 25 kilos in weight but you need to buy the mattress separately. Also, the cot uses up quite a bit of space, so you need to get the measurement right before you decide to buy one. Click here to buy it.
Dream on Me Crib
ream on me is a 5 in 1 convertible crib that you can use as a crib, twin size bed as well as a day bed. You can use any one of the four height settings available to have easy access to your kids while you sleep. Though the crib supports twin sized beds, you would need to buy the additional bedding as well as railings. The length of the crib is about 53 inches which allows you to use it till your baby reaches the 25-kilo mark. And it goes without any saying that the white color crib adds visual appeal to the room where it is placed. Buy it by clicking here.
These are the top wooden cradles for babies that are available in India. While there are few other brands too but these are the ones that are loved and approved by mommies and babies. If you are a first-time mom then this list come handy when you shop for your baby cribs or cradles.