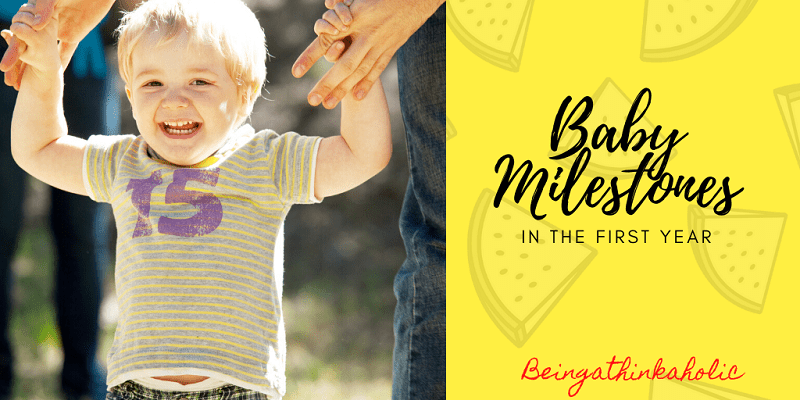 Do you remember the conversations about baby milestones in the first year? In our last post for Blogchatter A to Z we wrote each child is unique and we must not compare, but are these not the first basis of comparison. Developmental milestones are certain physical skills or behaviours a baby should develop at a certain age.
As many of you would know Little Miss A was a pre-term baby born at 34 weeks. Before being discharged we were told to not expect her to reach milestones as per her real age but calculate her adjusted age. For a new parent, it becomes a bit of stress as people would call the baby 'slow'. I will not lie that I took help from my best friend, Google, and read up on what all she should do and when. As if the struggle to breastfeed was not enough, I had one more reason to worry and lose sleep over; baby milestones in the first year.
Work with the Doctor
When I took Little Miss A for her vaccination at about 2 months, the doctor asked me some questions about her. And to my surprise, all my answers were yes. Yay, my baby was doing it all! My little champ. I felt like a mother who just won a gold medal. At the end of the appointment, I asked the paediatrician that how concerned we should be about her milestones and if she was growing fine. He laughed and said, fine? She is super fine and the milestones are for me to see how she is growing. You just enjoy her company and come for a follow-up visit when I call.
A few days before this I had realised that I have to stop stressing about feeds and now the stress of the milestones was gone too. Wow!! I felt like a free bird out of a cage, and suddenly now I saw her like my little toy to have fun with it and not an examination I had to pass.
When it comes to milestones, ask your doctor and trust him. You need to give them time and they will develop and grow at their own pace. If there is a concern, the doctor will tell you. If you have a doubt, ask your doctor and not Google or family or friends.
(You may like to read our post, How to Choose a Paediatrician for Your Baby)
(You may like to read our post, Growth Spurts in the First Year)
They Could Be Late and Lazy
In the first few months, Little Miss A was doing everything the doctor asked us at check-ups (not expected). She slept through the night and started solids also a few days before turning 6 months old as the doctor suggested it was needed. I do not remember any time her doctor being worried or concerned.
Yes, the family was worried a bit as she did not start crawling. She was not crawling on her first birthday and now the issue was when she will walk if she has not passed the first hurdle yet. I had stopped stressing about these things long back so it did not bother me. I used to play with her and try and encourage her but never forced her. My baby was or rather is lazy so she likes to not exert herself. She started walking by holding things and again was called lethargic as she did not put too much effort. But one fine day, a few days before she turned 16 months, she started walking. Whoa!!! No one cared after that day so I wonder what was the stress all about?
My Thought
Till the time she was not toilet trained which was at 3 years, I was often questioned on a lot of things she did or did not do. My answer has always been, "Have you seen a 30-year-old who does not walk or wear diapers or sleeps with the parents''. If not, then don't worry be happy.
If there is a delay in milestones discuss with your doctor and clear your doubts. You are not a bad parent, just that your baby has a mind of their own. Some will walk late some will talk late and some are super achievers. Mine was not, and I don't want her to be one. She is the perfect baby I could have asked for.
(You may like to read our post, Want to Know the Right Toilet Training Age)
Things to Notice for Baby Milestones in First Year
As I have said the only person to trust is your doctor. As a mother, you need to be alert but not hyper and there are some things you can notice and discuss with your paediatrician:
The baby does not respond to a noise or does not move eyes when things come closer or go far
They do not inquisitive or react to things happening around them
They do not hold their head up by 4 months
They are unable able to sit without support by 10 months
If they are not interested in supporting their weight or do not use both hands and legs by 12 months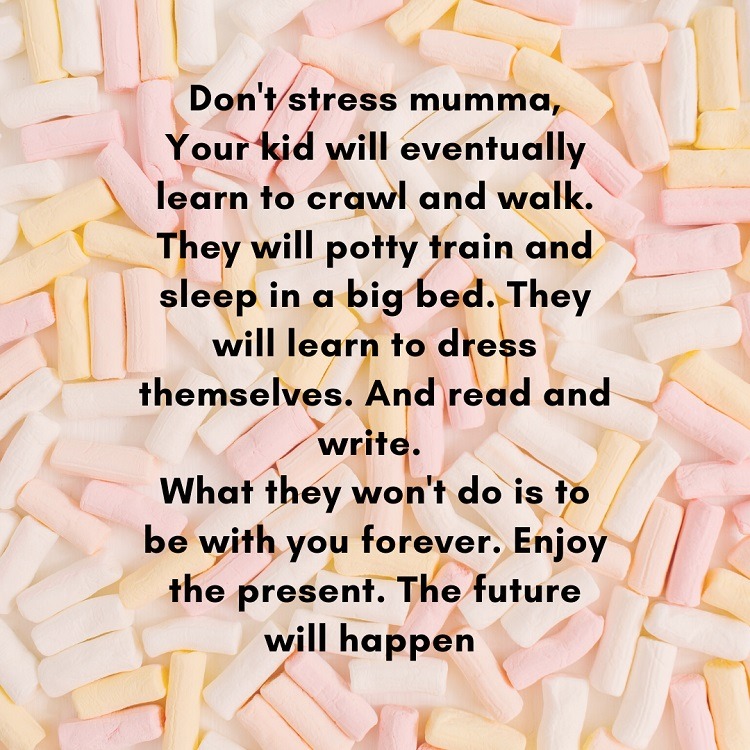 Homework for you
If you are a mother worrying about baby milestones in the first year or later, stop right away. Be patient, love them unconditionally and be there for them always. If they are late or there is any concern, it will get fine and your doctor will be your best guide. Trust your mummy instincts as they would never go wrong. Doctors are good students and do their homework and classwork both well, and thus, you do yours and leave their part of the job to them.      
Do not let the milestone calendar be a cause of stress. All you need to do is cuddle them, play with them and enjoy your moments and create memories.
This was a post on W and I would love to read your comments on it. Did you worry about the milestones? I will wait to hear from you. See you tomorrow with X for the Blogchatter A to Z. I cannot believe it we have come this far and just few more days to go now.