Bath time is a great time for parents to bond with their babies. I remember I was always told that a massage and bath must always be given by a parent, as this is good for the baby and also helps in bonding. While preparing for Little Miss A's arrival I wanted to buy the best things and thus, I researched extensively. I went through the best baby bath tubs, before I chose mine. In three years, there are many more nice options and parents can choose the one they like. There are bath tubs for bathroom and baby bath tub with shower and many more.
Babies tend to either love their bath time or simply detest it. When Miss A was born, she fell into the latter category. It was after about 3-4 months, that she started enjoying her bath time and till date, that is her most favorite activity of the day. Bath time is undoubtedly a nerve-wracking time for a mother, as she not only needs to take care of the baby in the soapy water but also needs to take care of the safety and of course, not to forget the mess that the babies make.
New born babies cannot even sit upright, and thus, extra caution is needed when they are in the bath tub. Once they start sitting, extra care has to be taken of the water level and also, they should never be left unattended. Traditionally, mothers would hold the baby in the lap and give them a bath. Bath tubs are undoubtedly more fun and convenient. Some advantages of using baby bath tubs are:
Easy to carry anywhere in the house
Toddler sits in one place while having a bath
Restricted use of water
The baby has a lot of fun splashing in the water and playing with bath toys
Baby feels relaxed
Very easy for a mother to manage a bath
Though the bath tubs are convenient, there is some precaution which needs to be taken:
The water must be at the right temperature
Never leave the baby unattended
The bath tub must be cleaned after every use
The water must never be above the waist level
Before bath, all things that are needed must be kept in a comfortable place
Never leave the baby in running water
When you start to look for baby bath tubs, you will be amazed to see the variety available. The choice is not only about the brand, but also about the type of bath tub. There are some which are mainly suited for new born babies whereas some can be used till later. Also, one needs to see the space where the tub will be used. Another important thing to check is the quality of plastic used and it is portable and light in weight. One thing, I was very particular about was the non-slippery surface and the draining out facility as this was about the safety of the baby and my convenience.
Let us talk about some of the best baby bath tubs available in the market today.
Once you get past those washcloth or sponge baths, you can invest in an infant bathtub that keeps the baby squeaky clean and secure without giving up comfort. The Puj bathtub is made from soft foam and can fold easily to fit into any sink and thus, is great for infants. As the baby stays safe and comfortable, you can easily use both hands to bathe the baby. Easy to clean and dry, this is a great product for new born babies who enjoy the water time.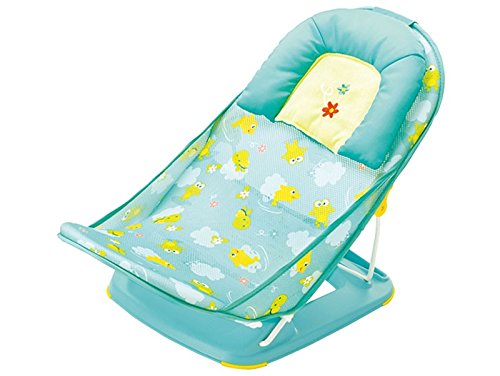 This was the first bather I bought for Little Miss A. This was easy on the pocket and portable. With a non slip base and a washable sling, it was good to use. Neck support is very important for a new born baby, and this bather is most suitable from that angle. The issue with this is that it can only be used for babies till 2 months and if the baby, like mine, does not like bath time, it gets tough to give them a bath without support. Click here to have a look.
You may like to read our post, Tips to Care For A New Born Baby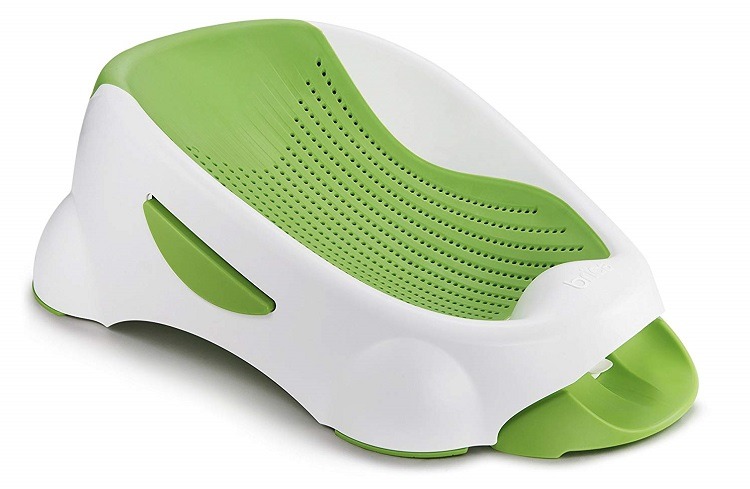 If you are looking at a bath tub to be used for the first few months, the cradle tub is a good bath tub for babies to invest in. It is non-slippery and compact and as it channels the dirty water out from the outlet, it makes the bath time clean. This tub is easy to clean and can be dismantled into two parts for cleaning purpose. There is a headrest that keeps water out of your baby's ears. The major disadvantage of these types of bathtubs is that is cannot be used over nine months.  Click here to buy this tub for your little one.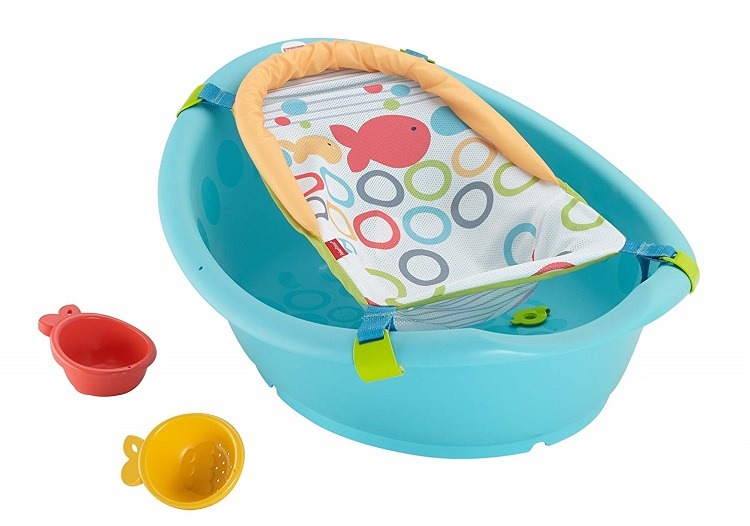 This is one of the best baby bath tubs available in the market today. The best part about this one is that it can be used from the new born stage till they are toddlers. Thus, it grows with the baby. For newborns, the bath tub has a sling hammock which is detachable and can be hung for drying. The tub is made from non-toxic plastic and is non-slip too. The oval shape makes it easy for toddlers to sit with their feet stretched out. The tub comes with two bathing mugs which the kids love to play with too. Though this tub does not come with a drain, the front of the tub has a lower rim which can be easily tilted to throw away the water. Click here to buy this bath tub for your baby.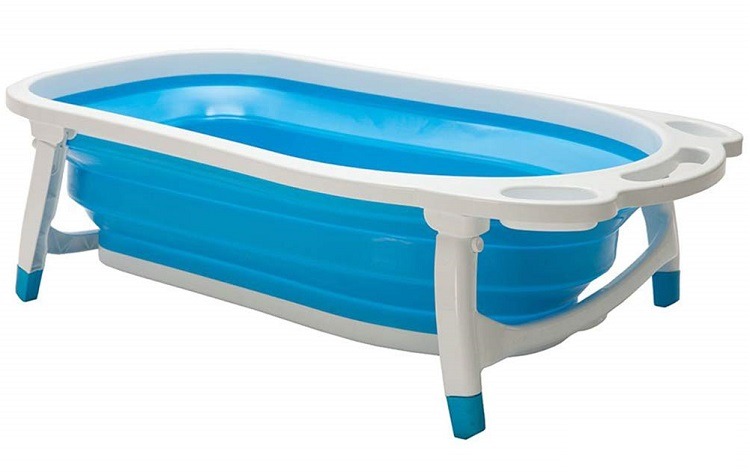 For moms who have issues of storage, this one is a great option. The collapsible baby bath tub for bathroom is portable and can be used from newborn to toddler stage. The bright colored bath tub is liked by babies though it can get slippery for new borns so a little care is needed. If you like this tub, you can click here to buy it.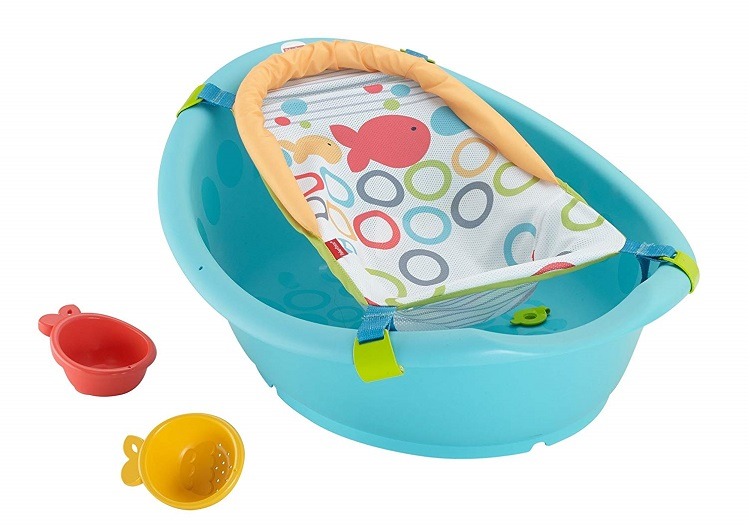 This is another baby bath tub for babies by Fisher Price which comes with colourful bath toys which the babies love. Bath toys always make bath time fun for babies and make it easy for parents to give a bath to the babies as they stay busy. This bath tub for bathroom comes with a sling which is like a hammock which keeps the baby secure and safe. You can check this put by clicking here.
You may like to read our post, Get Ready for the Baby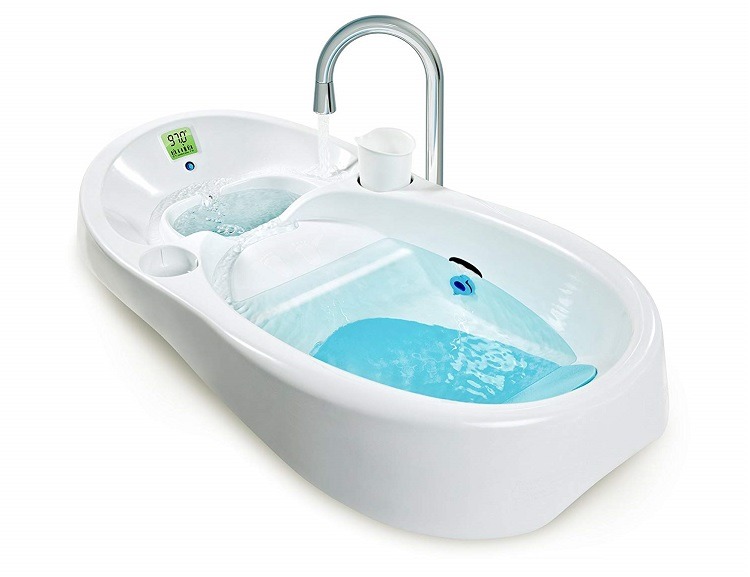 We know that 4moms are always pioneered in baby products and when it comes to bathtubs there is no exception. This infant bathtub displays the water temperature, making sure your baby is comfortable. It comes in a clean white BFP free plastic and can be used until your baby reaches the toddler stage. The major advantage of this bathtub is the water circulation system that lets the dirty water out.  Its highly spacious and comfortable bath tub for babies. Some things to keep in mind about the 4moms infant bath rub are that it is more expensive than most other bathtubs and consumes more water and can get slightly slippery for newborns.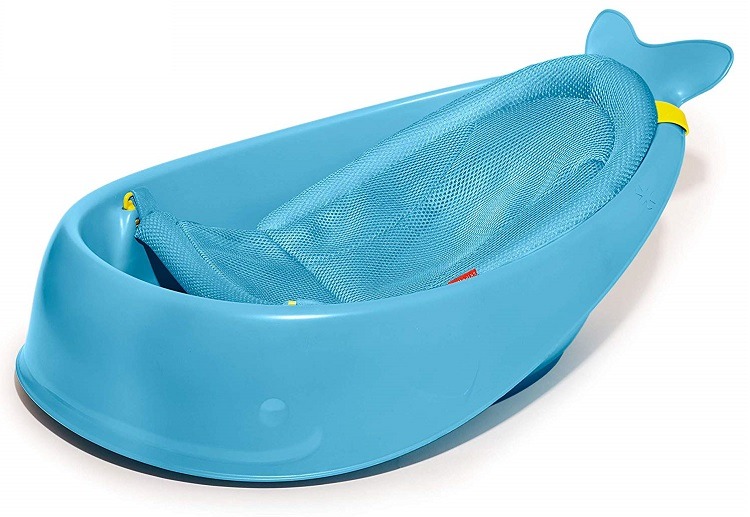 This bath tub for babies comes in an eye-catchy whale shape and is a great addition to your baby's bath routine.  Skip Hop Moby grows with your baby and comes with an infant mesh to hold your new born baby securely. The mesh is adjustable to securely hold the baby. The bottom mesh can be rolled up and also works as a backrest. The design concept is so excellent and it is made with a BPA – free plastic which is safe for your nugget. One reason why parents love this bathtub is that comes with a hook, you can keep aside without the hassle of bothering people using the bathroom. Click here to get this for your little baby.
You may like to read our post, Best Baby Soaps for Perfect Skin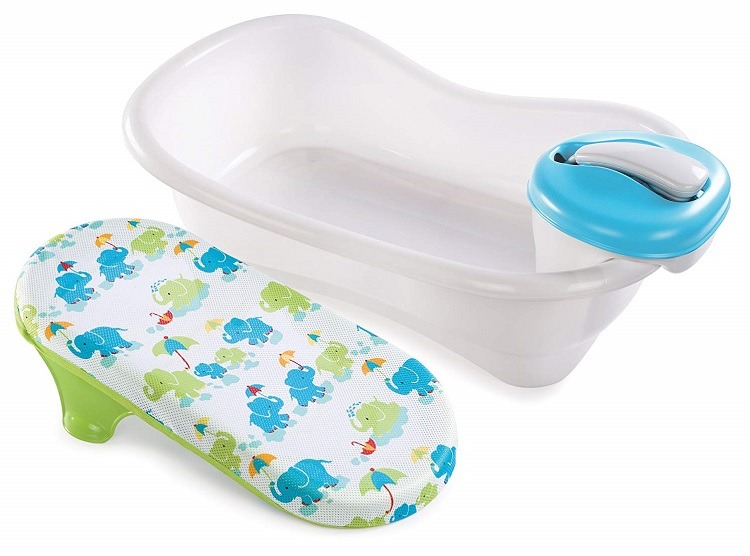 This is another great choice if you are looking for a bath tub for babies which will grow with yours. For a new born baby, this bath tub comes with a sling which can be removed later. The bath tub for bathroom comes with a spray which is perfect to give a quick rinse to the baby. As a baby bath tub with shower and which can be used for a long time, this is a must buy. Click here to buy this.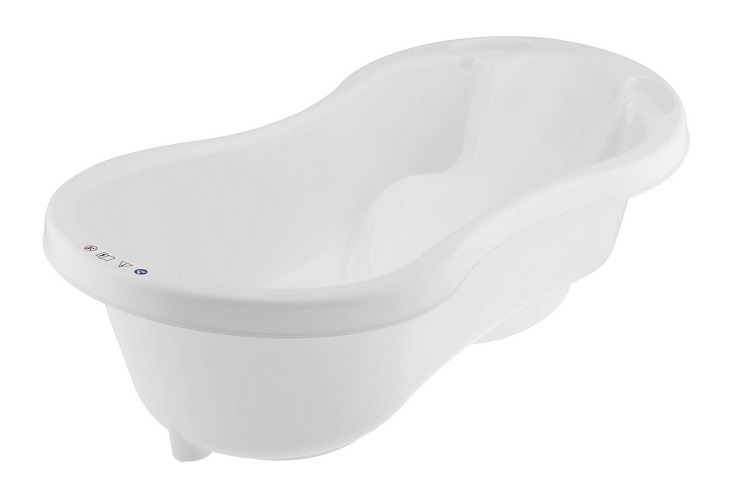 In 2016 I looked for many baby bath tubs and I used this one by Chicco for Little Miss A. We used it till she turned 3. I had chosen this one as it had a valve at the bottom so I could change the water if needed. The bath tub might not be very comfortable for healthier babies, but it was very comfortable for my little one. She could lie down comfortably and once she was able to sit, she loved playing in the tub with her bath toys. The tub has a mound too which avoids the baby from sliding in which made it safe too. Click here to buy this.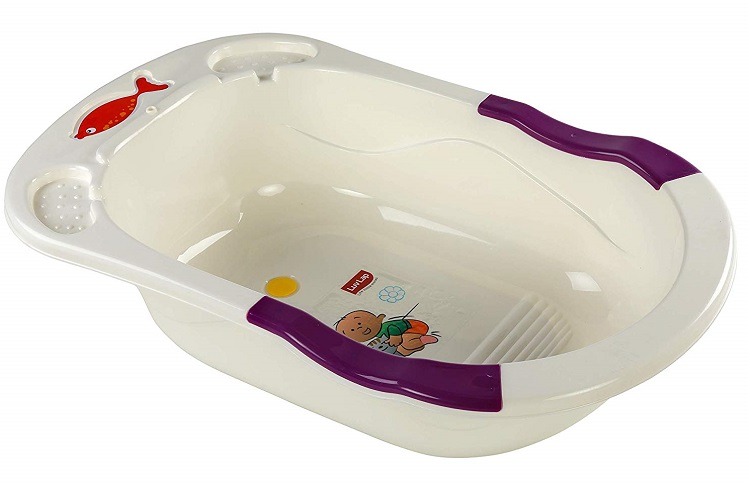 This baby bath tub comes in different colors and has an anti-skid surface making it a good choice for a bath tub for your baby. There is a place to keep the soap, which makes it very convenient. The bath tub is made from good quality plastic and can be used for a new born baby till the age of 2. The tub has a plug at the base and is light in weight and thus, easily portable. Not an expensive option, you can click here to buy this tub.