My daughter and my husband are two very important people in my life and this is something I say many times. One thing I do not say often but I know in my heart is true, my father is an equally important person if not more. This is because I think I take him for granted knowing he will there when I need him and is just a call away.
From the time, I remember I never did anything important without him or calling him. Every exam I sat for to every interview I gave, the person I spoke to before was my father. In fact, before going into the operation theatre before my c sec, I called him. He is my lucky charm and I know everything will be fine if he is with me.
You may also like: My Mind When I Went Through the C-Sec
While growing up there were many things my dad taught me and some I feel have really helped me. When I got married, the world changed overnight. Knowing someone and staying with him were two different things. One person I always went to for advice was my father. There were some things which he taught me which helped me immensely in this new journey and they still do.
Adjust but Do Not Lose Your Individuality
My father always taught me to adjust to people around me. This was not because I was a girl but because relationships are important in life and you need to nurture them. Adjustment is the key to many problems. Though, he always told me to compromise but that did not mean I lose my individuality and forget myself in the bargain. You cannot keep ignoring your happiness for someone else. This has always given me the courage to take my decisions and understand what is good for me and my family.
Be Patient
Patience is a much-needed virtue when you are married and especially to a short-tempered guy. My father, though, would also get angry easily but I saw him handling problems very patiently. There was nothing as a hasty decision in our house. Everything was well thought of and this was something that came in very handy once I got married. I learnt to think about a lot of aspects before I took a decision.
You may also like: How I Decided to Get Married?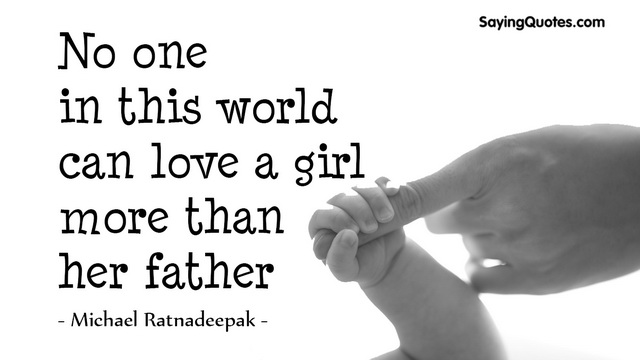 Stand Up for Your Family
I have grown up seeing him standing up for me always. He did not do this because it was his responsibility but he always protected me because he loved me. Doing anything extra for my happiness was never a problem. This was something that really helped me make my marriage stronger. There are many times you have to put the family or your husband before you and there is nothing more important than seeing them happy.
Family Time
It was a daily routine in our house where we would tell each other about our day. The family time not only helped us be connected but always taught me how important it was to have a conversation with your family. My parents and I still talk about our day daily but this is something I do with my husband and my in-laws too. Communication is the most important thing in a relationship and half your problems get solved when you talk.
Respect Your Husband
This is something my father did not teach me alone but both my parents did. It is not the fact that you respect your husband because he is a man and you have to give him the status of god because he married you. Respecting someone is a basic human right and you have to give respect to earn it. When you respect each other's professional commitments, thoughts and families you will be in a happy space.
You may also like: What to Look for in a Husband?
Raise your Volume
I am not saying my father never shouted at me or scolded me, but I was never allowed to raise my voice in front of him and my mother. It was not acceptable to be rude to someone especially anyone elder or the working staff. It takes a lot of anger in me to be able to shout at someone till date. Yes, sometimes people take undue advantage but most of the times I am able to get my work done or put my point across politely. Patience and politeness are a part of me thanks to him.
While growing up many things our parents teach us seem irritating and annoying but when you grow up and have your own family you realize the importance. The life lessons my father taught me knowingly or unknowingly, are a part of me today and they make me and my family happy. Thank you, Papa. I love You!!