Pregnancy, today is not really the concept of just sitting around and taking complete rest.
Today, pregnant women are pro-actively taking up all tasks that are related to daily life like going to work, exercising, shopping, taking care of the household etc. The doctors also advise to remain active during pregnancy and to continue following the daily routine. Regular exercises during pregnancy, even if done for a smaller duration of time, will help the expecting mother to stay healthy both physically and mentally. If you have had a healthy and active life before pregnancy; then you can even maintain that during pregnancy by doing certain exercises in moderate quantities.
Usually, regular exercises during pregnancy will help in maintaining the posture of the body and to overcome some major discomfort like back pain and fatigue. It is advisable not to opt for very rigorous exercises during pregnancy, but rather mild exercises like low impact aerobics with your doctor's advice. This can be really helpful during the course of pregnancy as well as at the time of labor and delivery.
These days many pre-natal exercises classes are available which are designed keeping in mind the needs of a pregnant mother. I had joined the ones at my hospital and they were of a great help in soothing aches and pains and also the meditation at the end of the class helped me relax and stay calm.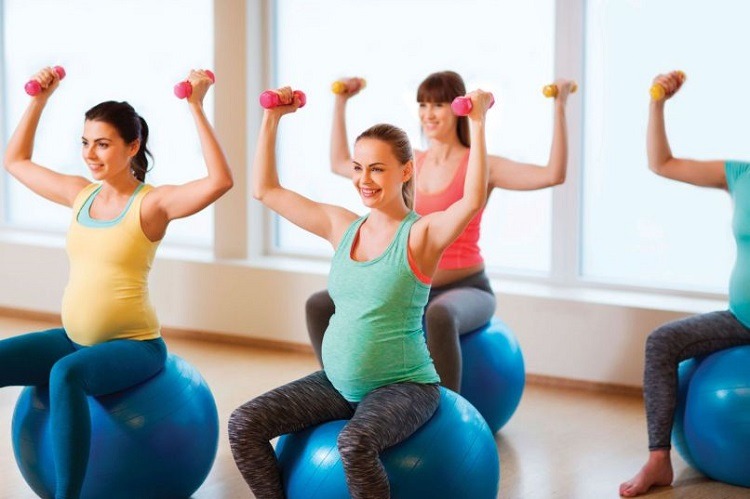 Benefits of exercises during pregnancy
Back pain is one of the major discomforts for pregnant women. By doing some moderate exercises during pregnancy, the body posture is maintained which in turn helps in reducing back pain up to a certain extent.
You may like to read our post, How to Get Relief and Reasons for Back Pain in Pregnancy
Most women experience constipation and bloating during pregnancy. Regular exercises can help in reducing constipation and bloating as well. Exercises can also improve the process of blood circulation and increase heart rate steadily.
Gestational diabetes is mostly seen in expecting mothers who are in their 30s. In this case, the body does not produce enough insulin to regulate the sugar during pregnancy. As a result, there can be frequent urination and other symptoms like nausea, fatigue etc. So, there are certain exercises which are suggested to be practiced to get good relief from this condition
Exercises during pregnancy can help in improving the muscle tone, strength and endurance of the body. It increases the energy of the body, keeps weight gain under control and also keeps the mind and mood of the expecting mother fresh.
During pregnancy, sleeplessness is a common problem. You have anxiety and you are more likely not to have sound sleep. But exercises will help in bringing sound sleep to the expecting mother easily. Furthermore, exercises will help in improving the body's ability to cope up with labor and endure the pain.
You may also want to read this post to know more about the benefits of exercises during pregnancy
https://www.webmd.com/baby/guide/exercise-during-pregnancy#1c
Defining the Exercise Program
Following things should be kept in mind when choosing the exercises during pregnancy:
A pregnancy exercise program should be designed in such a way that it helps in strengthening the muscles of the expecting mother.
Firstly, the program should begin with a few minutes of warm-up session and then followed by a cardiovascular activity.
Further some aerobic activities can follow along with other slower exercises and moderate stretching of the body. This will help the mind and the body to be fit during pregnancy
It is advisable to wear loose fitting clothes and proper shoes during exercising.
Food should have been eaten at least an hour before the exercise session. It is very important to drink water during the exercise session and after the exercises as well.
An expecting mother should not exercise till exhaustion. It is always advisable for her to moderately exercise without exerting herself and still stay fit during pregnancy

Safe Exercises during pregnancy for expecting Mothers
The safest way to start physical activity during pregnancy is walking. A gentle walk around the locality is helpful in refreshing the body and mind as well. Walking can help in the cardiovascular workout without much exertion. The only thing to take care while walking is your balance and the condition of the roads.
One of the most popular exercises among expecting mothers is low- impact aerobics. This puts less stress on the joints and helps in maintaining balance. Low impact aerobics should always be done under the supervision of an instructor.
Prenatal yoga is of great benefit for expecting mothers. These yoga practices help in strengthening muscles and stimulating blood circulation. It also helps in maintaining normal blood pressure during pregnancy. However, lying on the abdomen or lying flat and overstretching should be avoided as they can be harmful.
Swimming, aqua aerobics are helpful throughout the period of pregnancy and are beneficial without putting much pressure on the joints. Diving and jumping should not be practiced during this time as it can be harmful.
There are some other activities like indoor stationary cycling which helps in keeping the heart beat normal without much pressure on the joints. The risk of falling and getting injured while cycling is low as it is stationary in nature.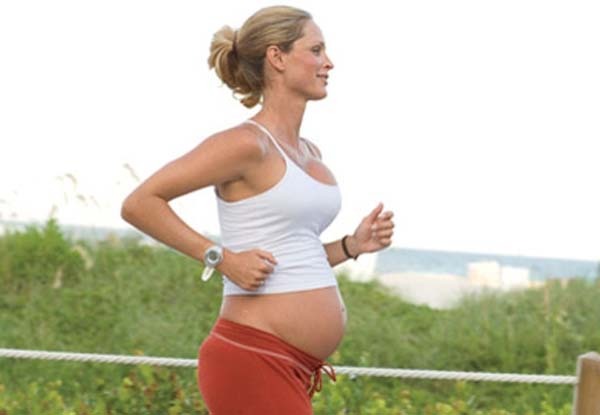 Physical Activities During Pregnancy that need to be avoided
Activities which involve chances of falling like skiing, horse riding etc. should not be practiced during pregnancy.
Physical activities involving abdominal trauma such as activities involving jarring motions or very fast changes in directions etc. should be avoided.
Activities which involve running, hopping skipping, bouncing, waist-twisting movements etc. should not be practiced.
Activities which involve holding of breath even for a very small interval of time should not be practiced.
Deep knee bends, exercising in hot and humid weather, full sit-ups, running etc. should not be tried during this period.
Precautions to be taken doing exercises during pregnancy
Exercising should be a daily routine for pregnant women as it is highly beneficial for their health and are also advisable by doctors. However, there are some health conditions during pregnancy in which it is not permissible to exercise.
If the expecting mother has asthma, any kind of heart disease or diabetes; then she is not advised by the gynecologist to exercise.
There can be certain pregnancy issues because of which the gynecologist will refrain you from exercising like
Bleeding or spotting
Recurrent miscarriages
Weak cervix or low placenta
Previous history of early labor and premature delivery
Exercising during pregnancy is an excellent option of keeping yourself involved and feeling rejuvenated.  It not only keeps the mother healthy and fresh but also has a refreshing effect on the mental health of the baby in the womb.
For relaxation, one can also get pre-natal massages.
You may like to read our post know more, Prenatal Massages-The Best Part of my Pregnancy
However, it should always be practiced moderately without much exertion and only after medical supervision. It is always recommended to consult your gynecologist before starting any exercise plan.