Are you a new mother? One toy you must buy for babies if you have not got as a gift, is a play gym. There are many developmental benefits of using a play gym for your baby as this is considered as the most multi-faceted toy for them. It not only can be used in various ways but has many developmental advantages which are important while your baby crosses a certain milestone in his life.
A baby play gym generally comes with a soft, colourful mat with two arches which support the toys separately hung overhead. Some of them have beautiful lights, soft musical sounds, a baby safe mirror, a tummy time pillow hold or kick activated piano and many more textured small toys with it, that can be hung or held in hand. Many therapists recommend a baby gym and they can be used from day one of your baby's life until they start crawling. Some babies after that stage also, enjoy the baby gym.
Benefits of a Play Gym
Cognitive Advantages
It helps the baby to learn about cause and effect, and the secondary circular reactions. They learn to pull, grab and kick the toy in order to enjoy the light and sound of the play gym. This skill encourages them to interact repeatedly.
Benefits in Visual Development
Always make sure to spend more face-to-face time with your baby as they are can only see things very close to them when they are born. The baby develops to observe things around them around 4 months of age and the bright contrasting colours of the play gym help them achieve that skill faster.
Develops Grasping or Reaching Skill
Baby gym encourages the child to develop and use the muscles of arms, legs back, tummy and neck. They stretch and try to reach the hanging toys which make their muscles strong and helps them to learn to sit up.
Development of Gross Motor Skill
Play gym is a great way to practice tummy time while they are awake. It strengthens a baby's neck and back along with the arms. Make their tummy time more fun and easier with a play gym.
Development of Self-Awareness and Sensory Simulation
Babies love to spend time while watching themselves in the mirror. Baby gyms have the non-breakable mirror where they can be playful and enjoy their own smile. These skills are important for the self-awareness of the baby. A baby gym also helps to develop the sensory stimuli like visual and auditory.
The Best Baby Gyms You Can Check
This is an action-packed activity gym that converts into a fun ball pit, which later on is a perfect activity source for the toddlers. It comes with four adorable sea pals, pop-up mesh sides, and a surround little movers and shakers. It has five activity toys that have unique textures and sound. These toys can be positioned in various places of the gym as well as a ball pit. It also comes with a large beautiful visually stimulation coloured mat and forty light-as-air balls. You can surround the pop-up mesh around the comfortable play mat to create a ball pit area.
This play mat can be used in three ways – lay and play, sit and play, and ball pit play.
The lay and play format encourages visual development and creates a sensory playground for small babies. They develop the skill like tracking, grabbing and kicking with the hanging toys. The large mat helps the babies to be comfortable while they lay and play. The sit and play format has the activity play area which develops motor skills, object and colour recognition along with basic problem-solving skills. The ball pit play is a fun-zone for the busy toddlers when they can move around within the pit. This is great for the child's object recognition and descriptive language development skills. Order your play gym here.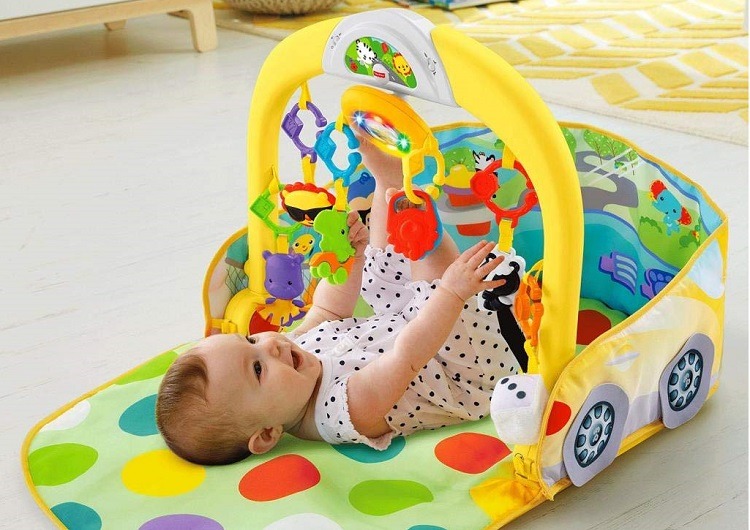 Two-in-one or three-in-one baby gears are always fruitful as they serve different purpose at different times and you can use them for long years. Fisher Price is one brand which takes this into serious consideration. The 'grow with me' activity centre is non-stop fun for a child from new-born age to toddlerhood. It is a fun activity toy that starts from developing the baby's basic senses by the accessories that dangle overhead and a light up musical steering wheel for their lay and play time. The comfortable floor mat is great for their tummy time practice. When the baby is able to sit up you can move the toy bar to 45 degrees angle and encourage the baby to push up and catch the steering wheel to sit up and drive.
The activity centre has 20 minutes of lights and music, 8 movable activity toys which include hula hippo, key clackers, fuzzy dice, lion rattle, skunk air freshener, toucan teether, and a steering wheel with light music and sound with a mirror in the middle. It is a large play mat which is machine washable. It is a great way to develop the baby's motor skill. Click here to buy this great product from Fisher Price.
Make a fun park at home for your new-born so that it can be with him through the growing phase of his life. It has three different playing options and it comes with cushions that can be horizontally or vertically combined with the ties, two arches, a circular toy to play hide and seek and some amusing hanging toys.
The baby park can be used for 0 to 6 months when the little baby can use the floor mat to lay and play with the hanging toys. At the age of 6 to 12 months, it can become a crawling course where the baby is encouraged to push hands and knees and crawl to explore things. At the phase of 12 to 14 months, it can become a fun three-dimensional activity park where the toddlers can crawl though, the soft rimmed hole and play hide and seek. Click here to check this one out.
Let your baby play, work out and relax in his cute and comfortable Activity Gym. Your baby will love to cuddle on the extremely soft and comfortable mat. It has detachable toys, and rattle that develops hand to eye coordination. This activity baby gym is easy to maintain and it can be wiped and cleaned with damp cloth and you can air dry it anywhere. Click here to buy it.
The multi-coloured play gym features beautiful, colourful pattern and it comes with attachable soft toys, rattle, teether which keeps the baby engaged for hours. It also encourages the baby for hand, eye and muscle coordination. The play gym has a soft, cuddly mattress that gives ultra-comfort and keeps the baby engaged for hours. The play gym has a unique twist and fold action and it is easy to assemble and stored. It can be used from 3 months onward until the baby starts crawling. The baby gym is of high quality, soft and durable material.
 Baby gyms are essential and a fun toy, but you should supervise your baby at all times. Use the play gym only on the floor and not on any high raised surface. Remove the baby from gym if it becomes over simulating for him after some time. The toy is a great option for development of the baby and a must have for all parents.