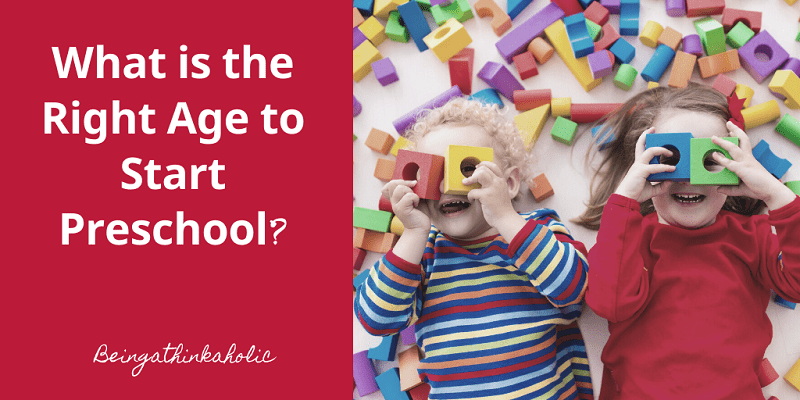 There comes a stage when all new moms are exhausted and they want to know the right age to start preschool. You will find many advise popping up but it is you who needs to decide when to send the child and if your child is ready for preschool.
I remember as soon as Little Miss A turned 2 years old, I was under immense pressure to send her to school as she apparently was the right age to start preschool. I was always of the opinion that as I was home, she did not need to start a school routine at that age.
Once you start school, there will be a routine all your life. As parents, we both wanted her to explore things at her pace and enjoy some relaxed years of life. She had a routine but she enjoyed the free play. We traveled a lot and I think that was a great learning tool as well. Eventually, she started going to a preschool when she was 2 years and 7 months old.
Many people questioned and were surprised with our travel with the little one. We feel travel is life education. You must read my post, Travel with Your Child and See Him Grow to see how travel is important for the growth of your child.
What is the Right Age to Start Preschool?
This is always a confusing decision for parents. If you ask me, there is no age which can be right. It is about the development and readiness of the child. Each child is different and they grow at their own pace in terms of social, emotional and of course, physical development.
There are some basic points you can check to find if your kid is ready and most of these depend on the structure of the school. In my opinion, there was only one thing I wanted to be sure of; communication.
Communication
The child should be able to communicate clearly what they want and if something is bothering them. When they go to school, if they are not able to tell the teacher or helper, it is an issue for them as well. The inability to communicate clearly can also frustrate the child and create an aversion to school.
The child should be able to come back home and tell the parent if there is any problem they are facing or even tell the teacher if they are uncomfortable.
Also, communication is essential for them to take instructions from the teacher and interact with other kids which is the main reason why you send them to school. Communication is a large part of most activities in a preschool and thus, I feel the right age to start preschool is when your child can communicate.
Other Factors
Besides the above, depending on your school you should also ensure the following:
If your school only takes potty trained kids, ensure the child is trained. In our case, they were ok for kids to wear diapers and in fact, helped me train her.
The child should have dropped the mid-morning nap and has the physical stamina to be in school for the required time. Though, many day cares break the day into intervals and let the child nap. Here I am only talking o preschools with a schedule of 3-4 hours daily. 
The child should be able to eat basic food and drink water on their own.
If the parents are working, it is a good idea to start preschool where the child has more scope to interact with kids their age and learn.
The child should be emotionally ready to handle the separation.
Children above 2-2.5 are usually more likely to enjoy interacting with their peer group
Why is Preschool Important?
Many parents do not send kids to a preschool and there is nothing wrong with it. If you can ensure some kind of social interaction with other kids and do some activities to stimulate their growth, there is no need to send them. Preschools teach very simple and basic concepts in a fun way.
In our case, sending Little Miss A to a preschool was a good idea. It helped her overcome a lot of her inhibitions and she did learn a lot. Teaching kids is an art and not all moms have it. (I for sure did not have it).
Also as most parents are working, it is tough to give them quality time and attention. In such a case, it makes sense to send the child to a preschool. Most preschools have shorter working hours, thus, this prepares the child for formal school with longer working hours.
Sending the child to a preschool or not or when to send is a parent's decision. There are no rules. There is no right age to start preschool. Parents have to see their situations and convenience and then decide. Preschools are like an introduction for formal schools and a great way to gauge the kind of teaching style which will suit their child.
Tips to Send Child to Preschool
Seeing your little one walking into a school is an overwhelming experience for all parents. Getting a child ready mentally and physically always helps. Showing them videos and reading stories like Goat Goes to Playgroup get them excited and ready. To read more tips, read our post, Tips for The First Day of School.
Conclusion
It is not easy for a mother to send their child to school. You will go through a myriad of emotions. I was no different. Read my post, First Day of School, A confused mother to know what I went through that day. Each milestone your child reaches comes with its challenges and only a mother knows what she goes through.
Little Miss A will start formal school soon and again it will be a big change for both of us. Somewhere, we both are ready but I am sure when the day comes we will experience something we had not anticipated. So as we get ready for this new phase, all I want to tell parents, there is no right age to start preschool. Do not take stress, there will be many more situations where you will need to stress.
(Read our post,  A Letter to My Daughter Starting Formal School)