Have you ever been a victim of gender inequality in India? Are there any other social issues which upset you? If you ask me, they do. This weekend I managed (that's the word to use when you have a three-year-old) to see the much-acclaimed movie Article 15 and by the end of it, I had so many thoughts running in my head. I have always had one belief that we need to respect a human being, irrespective of their sex, caste, creed, religion and economic status. And the movie did give that message.
In this post, I want to talk about gender inequality in India. In simple words, gender inequality means when women are discriminated based on their sex. The society always treats women as the weaker sex and thus, they have a lower position than the men. When I talk of gender inequality, I mean it exists at all levels. Gender inequality in India is a big issue but it exists worldwide too. Though we have many social issues which are deeply embedded in the system, this one surely needs attention.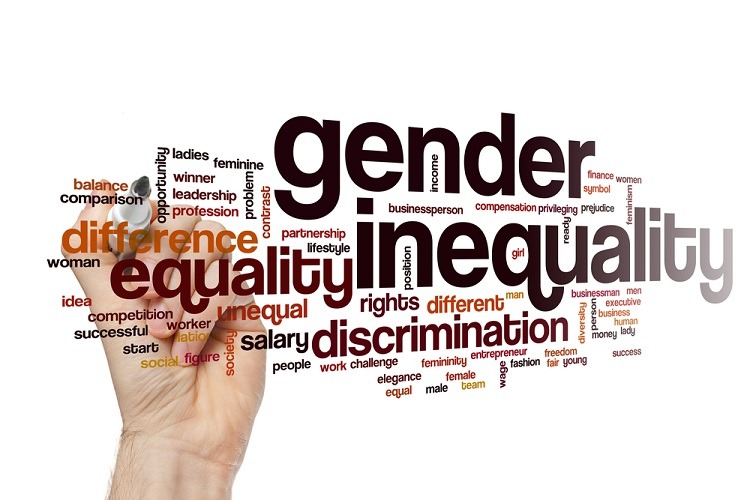 Some Facts on Gender Inequality in India
Let us look at some facts to know where we stand as a nation today:
India ranks 130 out of 189 countries in UNDP's Gender Inequality Index- 2018
Oxfam published a report in January 2019 which says that women are paid 34% lesser wages when compared to men even today for the same work.
Of all the billionaires in the country, only 7.5% are women.
The World Economic Forum released a report on Gender Gap and India ranks 108 out of 149 countries
These are some very basic facts and I am not even going into indicators like female infanticide, female foeticide, female literacy, and the sex ratio. Despite, being illegal, many unborn girl children are killed in the womb of the mother even today and this is where the problem of gender inequality in India starts.
The Main Issue with Gender Inequality in India
In my opinion, the main issue with gender inequality in India is that it exists at all levels. It is not a problem which is common with the poor or practiced by the uneducated. It is something that exists among all levels of the society and this does not get any discrimination. The most educated and the wealthiest of the families are biased towards the male child.
I am the only girl child of my parents and in no way, they ever discriminated. The issue is some very small things that happen in daily life which are a clear example of the same, and no one questions them because we have just accepted them. I am not going to lie, I also did but since Little Miss A was born, I have started noticing them more and I want her not to grow with these set notions.
Scenario in a Normal Household
Let us look at a normal upper-class household. Some issues which show a gender bias even today are that women have to ask the man of the house where and how to spend money, obey the man of the house, care for the children, not able to independently take financial decisions, look after the house and so on. The maid in the house works harder but her salary is lesser than the male driver. Boys are given more freedom than girls on account of security. Coming to the poor, I will cite the example of my driver. He is willing to take loans to ensure his son gets a good education but the academically better daughter did not get to do her post-graduation or a masters because who will marry an educated girl. I tried to explain so many times but no affect. My apologies to anyone who gets offended, but this is a scenario in a normal household. I think you all will agree the problem of gender inequality in India does exist at all levels.
You may also like to read our post, Patriarchy is Deep Rooted

It is Not About Man vs Woman
Gender inequality is not about putting the woman above the man; it is about being equal. Is this not what feminism is all about? We have to be treated as equals. Women also have taken advantage of the situation many times and have mistreated the men. Sadly, our courts favor them and they tend to take advantage.
Let us talk of divorce cases. It is a known fact the courts always favor the woman. My point is to be unbiased and not get prejudiced because of the sex. Recently it is noticed that gender justice is done for both the genders and without any bias and prejudice. We are talking of a contemporary society where "equality is considered the first pillar of the basic structure of our constitution", we need to re-look and reconsider the roles of both the sexes.
When both sexes are treated equally, there can be some change. We have to stop taking advantage of our sex; and this is valid for both men and women. If you are a part of the social media groups, you will see how judgmental women are towards each other. If we all just accept one simple thing, respect all human beings, trust me half the battle is won.
You may want to read our post, Education and Women Empowerment

Causes of Gender Inequality
 There are several causes of gender inequality in India. Let us highlight a few major ones here so we might be able to find a solution to the problem. Explaining them will need a separate post and thus, I will only mention them here.
Social Attitude
Lack of Awareness in Women
Social Beliefs, Customs and Practices
Illiteracy
Poverty
The Solution to Gender Inequality: Raise Feminist Kids
I am a strong believer of one fact. If we want to bring about any change with respect to the society and the environment, we need to start at home. Unless and until we teach our kids, there is nothing which will make a difference. A child learns at home and sees what the parents and the caregivers do. We have to set examples at home and there are some very simple ways which we can do. We have to teach kids the concept of equality and raise feminist kids. Let us talk about some of them:
Fight Stereotypes
Gender is defined as per the biological differences but in our society and in our homes, it is defined on social conditioning and some preconceived notions. This is the root cause of the problem of gender inequality in India. Children start observing from the age of 3 and they see how certain roles in the house are meant for one gender. To raise feminist kids, we have to have conversations with the child from a very early stage is very important. We have to tell the boys that it is ok to cry and tell the girls you do not need to cook. It is ok for everyone to cry and as hunger does not discriminate between the sexes, the role to cook should not too.
You are Not Special
We have to ensure that the children do not feel special on any count. Especially the boys have to be taught that they do not have ant privileges because they are males. Each child, whether a boy or girl, is as good as the other one. When we raise feminist kids, they will understand they all are equal and no one gets any special treatment.
Be Independent
We are teaching our girls to get educated and get a job and be independent. But what about the boys. The boys are entitled to stay with their parents and inherit their property. He also has a privilege to get dowry when he gets married. The boys are not taught the concept of self-worth. At some point or the other, all kids should be allowed to stay independently, learn to take their decisions and manage in their income. In no way, I am saying family support is not important or you do not need to take care of the parents. But you need to learn on your own and make your own identity.
Talk About Sex
Talk to the children about sex early on. They need to understand good touch and bad touch as early as possible. With all this talk comes a very important aspect, a 'No means a No'. There is something called consent and boys and girls need to understand it. If we carefully analyze the rape cases, you will know that more than half the cases are because the girl said no. It becomes an ego issue for the man because he is a 'man' and how can a 'woman' say no to him. Respecting the wishes of the other person is very important and kids do need to understand this.
People are Different
All human beings are equal. They can be different from each other and can have many opinions, but that does not make one superior to the other. Kids need to understand that they cannot judge the others and have to always believe in themselves. They need to be empowered to speak up and stand up for themselves and for the people around them. Tolerance is the biggest lesson we need to teach our kids in the present times.
Set Examples
One of the best ways to raise feminist kids is and teach them to not discriminate on the basis of gender is to set examples. Mothers need to be strong and learn to stand up against these rules. Fathers have to stop feeling privileged and ensure they teach the kids they are same as the mother. Because the father earns and the mother stays at home, does not make one superior than the other. The paternal and the maternal grandparents are equal and there is no difference in the way they are treated. Respect the maids and the drivers. There are very small things which will set the right example for your kids. When kids grow with an open mindset, gender inequality in India might reduce.
Conclusion
Teaching kids about gender inequality and ensuring they treat everyone equal is the best way to ensure a better future for our kids. Boys need to understand woman do not exist to please them and girls need to understand that the only job the boys have is to pay for their bills. Share the responsibility and respect each other. Everyone has a will and a choice and no one can run the other one's life. Parents need to set the same rules for both boys and girls and set an example that everyone is equal. I think this is the best way to break the shackles of gender inequality in India. What do you think is the best way to reduce the inequality?
I am taking my blog to the next level with Blogchatter's #MyfriendAlexa