As a new mother, I did everything for the baby. (You may also want to read all about how to get ready for the baby.) I was able to manage all her work alone, but there was one thing which I was very paranoid about and that was to cut the nails of the baby. This is quite intimidating for a majority of new moms as they are afraid of hurting their little one during the process. This fear and apprehension are natural as they tend to have little experience related to this task. But as we know cutting baby nails is an unavoidable task as they tend to grow very fast and small babies can hurt them by scratching their faces with these nails.
With time and practice, new moms can master this task which appeared to be frightening for them once. (I still avoid and have delegated this to my husband. But I can manage the task for sure). For the perfect execution of this highly important task, we will need the perfect equipment and tools with us. With the availability of quite a large number of baby nail clippers in the market today, trimming and cutting baby nails is undoubtedly becoming an easy task gradually. It is always advisable not to attempt cutting baby nails with the clippers meant for adult nails as it would end up hurting your baby because of the mismatch between the size and thickness of the clipper and your baby nails.
You might like to read our post, Tips for Cutting Your Baby's Nails
Baby Nail Clippers and their Features
There are a variety of options available as nail clippers for babies on the online shopping portals. You can easily select the ones of your choice and trim your baby nails conveniently. However, there are some points which you should keep in mind while placing an order for your baby's nail clipper.
Firstly, you should ensure that your baby's nail clippers are made up of good quality stainless steel. This is important as it guarantees the safety standard of the clippers.
Next, the Clippers must have a good grip to help in cutting the nails with precision and it is also good to purchase nail clippers with round edges for safety.
Nowadays, there are a lot of advanced features available along with the baby nail clippers which can make this scary procedure easier and simpler. Some of these additional features which you can look for in your baby's nail clippers while purchasing can be spy hole which helps you to see exactly which area you are going to cut, LED light which can help you see properly the area you are going to cut and can be used in a dark room as well, small magnifying glass which will help you in hurting your baby's skin while clipping and many more.
Let us list down some of the best quality baby nail clippers available in the Indian market today.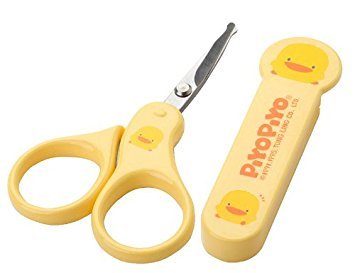 These baby nail scissors are convenient to use and give a clear view of the nails. They have a handle on the loops, so are easy to be used by both right-handed and left-handed persons. It has additional features for safety i.e. it has a safety cover which allows you to carry it safely to any place in your baby's bag. Moreover, it has rounded tips and hence is safer than nail scissors having pointed tips which can be extremely dangerous for your baby.
However, the PiyoPiyo baby nail scissors are somewhat expensive it can be only used tillyour baby has soft nails. Once, they are tough it is difficult to trim or cut them with these baby scissors. However, until the baby is small, these are super convenient. You can click here to buy them: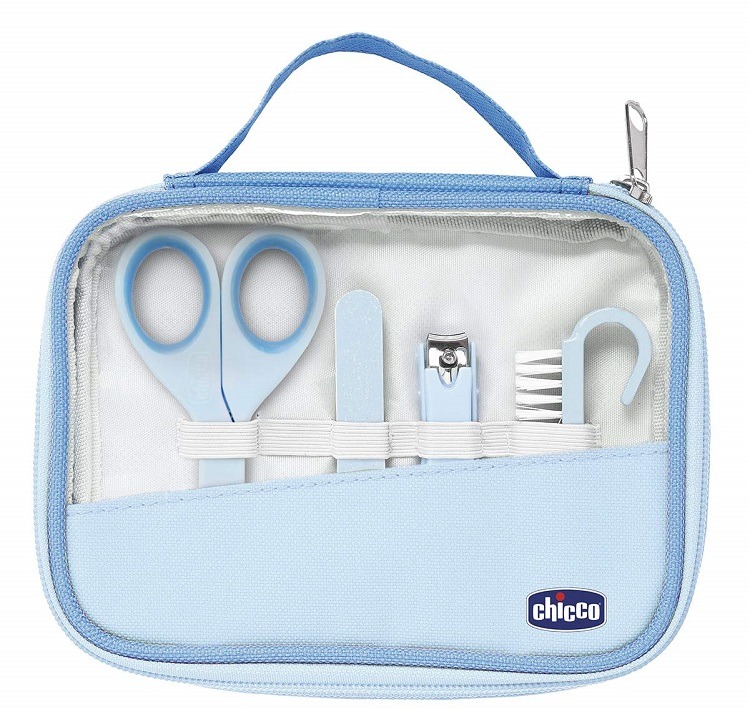 This kit has baby scissors, nail cleaning brush, and new born baby nail cutter. The baby nail scissors which is present in the kit has a rounded tip which ensures safety even if it is left unattended with the baby. Also, the curved edges of the nail scissors help in protecting the cuticles of your baby while cutting the nails.  It is one of the best options for baby nail clippers as it ensures both the safety and the hygiene of your baby. Moreover, the entire kit is present inside a bag which makes it compact and convenient to carry while traveling. Though the product is somewhat expensive but the quality of the product is definitely worth its high cost. It is available in pink and blue colors. You can click here to buy it.
Babyhug scissors and Baby Nail Clipper Set
It is one of the best nail clippers available in the Indian market. This kit is perfect for baby manicure and consists of baby scissors and nail clippers. The entire product is available in various attractive colors like pink and yellow for your baby. Moreover, the clipper is protected by a plastic cover for ensuring better grip on the equipment while cutting the nails of your little one.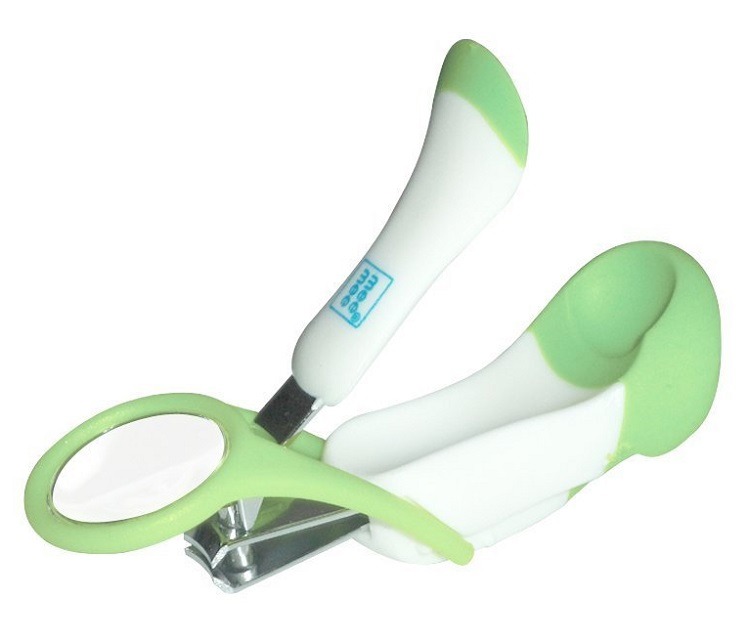 This baby nail clipper has the additional feature of a magnifying glass which will help you in being alert if you are cutting the nails and can tend to hurt your baby's skin accidentally. It is quite sharp in nature and helps in the precise cutting of baby nails. The Mee Mee Nail clipper with magnifier is made up of stainless steel which is durable and ensures safety. Moreover, it has been designed and manufactured in a process which adheres to international standards of safety. It has a perfect size of 5×5 cm which is fit for carrying it in your baby's travel bag. It has round edges to make it suitable for use by providing a perfect grip. Since it is made up of stainless steel, it can be easily sterilized to ensure hygiene. Click here to get one for your baby now.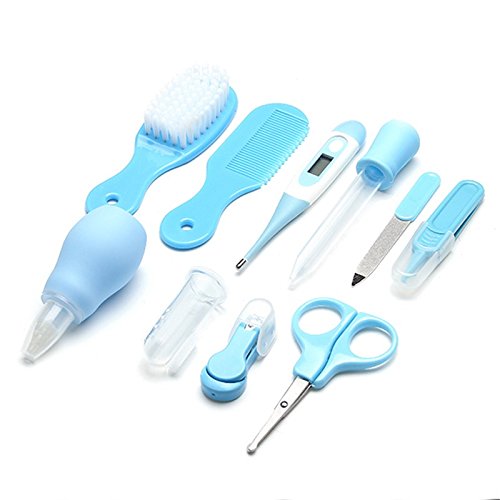 The main advantage of this grooming kit is its lightweight and compact nature which helps in carrying it everywhere. The kit consists of a total of 10 items used for the grooming of your baby. This grooming kit consists of a baby comb, a baby hairbrush, baby nail scissors, a baby nail clipper, droppers, and a baby thermometer and baby nail file. These grooming products are hygienic and safe for the use of babies. You can click here and get this complete set for your little one.
This set is exclusively designed for the grooming and manicure of your little one. The components within this kit are baby scissors, a baby nail cutter, and a baby nail file.  The nail file will smoothen the rough edges of your baby's nails after trimming or cutting them.  This manicure kit is also available in a variety of colors to make it more attractive. You can easily carry this kit along with yourself in your baby bag. Since the edges of the baby nail cutter are round, it rules out any chances of injury during carrying it. Click here to buy it.
This product is perfectly designed and sized for the tiny nails of your baby. The magnifying glass helps you in identifying your wrong move if you are going to cut off your baby's skin accidentally. It is made up of stainless steel and is extremely hygienic for use. This product has a very good grip which ensures precision during nail cutting of your baby.  Moreover, it is ergonomic in nature and is a popular product among new parents. You can get one here by clicking here.
Babyhug Easy Grip Nail Clipper
The Babyhug Easy Grip Nail Clipper has curved edges which are extremely helpful in getting the baby nails trimmed.  It is available in 3 colors i.e. pink, white and blue. All these 3 colors make it look more attractive for the babies. The nail clipper has an external plastic covering which will help in providing safety and it can be carried easily along with you. Its size is 6.5 cm and so, it is perfect for babies who are 0 months and above in age.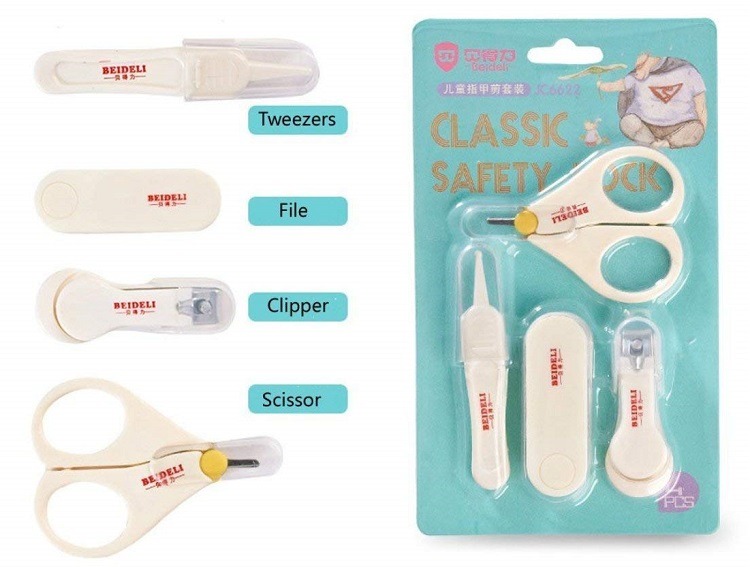 The Nirva Baby Nail Care Set has baby scissors, baby tweezers and a baby nail file included in it. The scissors have rounded ends which make them safe for use. The special feature of this product is its perfect design which helps in avoiding any injuries to the baby. This perfect design ensures precision while cutting the baby nails. It is very flexible in nature and can be used easily. It gives a clear view of the area being trimmed or cut to avoid any occurrence of accidents. Click here to buy it:
Apart from these mentioned nail clippers and grooming sets, there is a wide range of baby manicure sets and products available today. With advanced design and features of these nail clippers available nowadays, trimming and cutting of baby nails has become an easier and convenient task.  Hence, with the help of these equipments cutting your baby's nails will no longer be a scary task for the new moms now and with time they will definitely learn up the trick to master the task.
You also get an idea on what kind of monsoon diseases kids get into, especially when it comes to hand and nails.