When it comes to a baby, one of the toughest things that you need to do as a parent is cutting the baby's nails. I am always scared as I feel I might hurt her or I might not cut them properly (her father is very particular about it). I only cut the baby's nails when there is no way out. Usually, it is her father who does it. I remember the first time we had to cut her nails; we were so scared. Honestly, it is not that tough, a little cautious effort and carefulness while cutting your baby's nails can prevent injuries and also boost your confidence as a new parent.
Baby nails are very small and they tend to grow quite fast. You should make it a practice to cut the baby's nails   at regular intervals, especially the fingernails. Toenails grow slower as compared to fingernails and can be comparatively less harmful.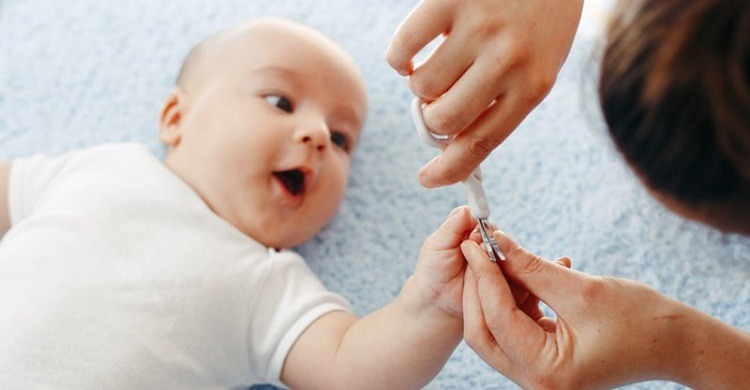 Tricks for cutting the baby's nails
With time and practice, the task of cutting the baby's nails would also appear to be simple for a parent who was once completely petrified of doing so. Elderly persons in our household and even pediatricians nowadays suggest some basic tricks to be used while attempting to cut the baby's nails.
The Timing is Important
It is mostly advisable to carry out the nail cutting process for babies when they are not awake. While in deep sleep, there is almost no movement of hands and legs making it easier to carry out the task. Moreover, you should cut the baby's nails in a perfectly lighted place so as to avoid any incidents or injuries.  If your baby is somewhat grown up and fussy about showing her/his nails properly for trimming; then you can try and get her/him engrossed in some other playful activities which would make your task easier. Also, you can talk to your baby continuously throughout the process; this will help in diverting their attention and eventually they will also become comfortable about the whole process.
Choose the Right Tools
Another important factor related to cutting the baby nails is the use of proper tools. Baby scissors, nail clippers and nail files are the major tools needed for the nail cutting of your baby. Use of the right equipment reduces the chances of hurting your baby accidentally while trimming the baby nails. Use of baby scissors can sometimes be risky as you can lose control while cutting; so, the use of baby clippers is the best for cutting the baby's nails. If your baby has somewhat sharp or rough nails, you can use mittens to prevent any injuries due to nails. In earlier times, our grand moms and moms used a weird method of cutting the baby's nails i.e. by using their own teeth. This might work right initially, but it is not much advisable from the hygiene point of view. This method can transfer germs into your own body and also it gives a rugged texture to the baby's nails.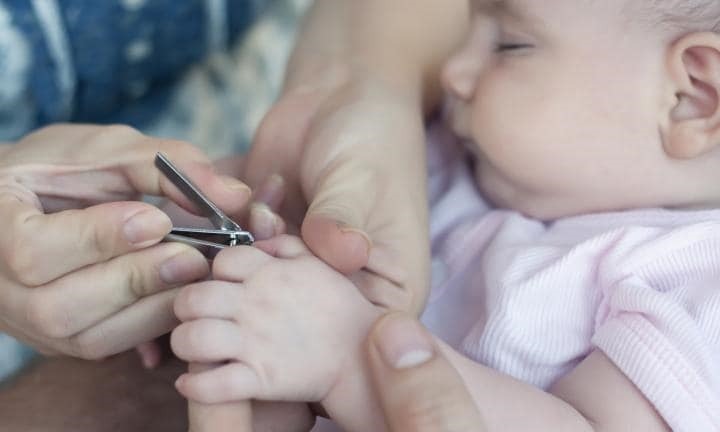 Press the Fingertips
It is always better to cut the baby's nails from below by pressing lightly on their fingertips to push them back from the nail. This is better as it will give a firm grip over the nails and allows you to clip the nails along the curve of the fingers. After the cutting is over, you should always clean your baby's nails with water and wipe it dry with a clean cloth. You can also use soap or some antiseptic hand washes prescribed for babies to maintain hygiene.
In case of an injury
There might be days when you end up accidentally hurting your little one while cutting her/his nails. You need not panic in such a scenario. The only motive during any such situation should be to stop the bleeding. You should first wash and clean the wound with a neat cloth or tissue. Applying some pressure around the injured area will definitely stop the bleeding and then antiseptic ointments can be used for healing.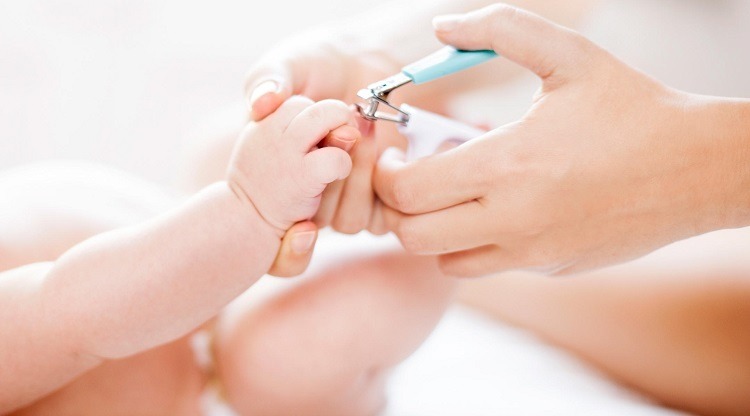 Perfect time for cutting the baby's nails
If you are wondering, what would be the perfect time to carry out the nail trimming procedure? Then it would be after a bath when your baby has been fed properly, she/he will definitely doze off to sleep in some time. This will be the accurate time to cut the baby's nails as the nails would be softened by bathing and there would be minimum movement due to sleep. Many-a-times, you can even try cutting the baby's nails while your baby is taking her/his bath. You can give a toy or a ball to your baby to play while she/he is sitting in the bath tub and you can take the opportunity for nail trimming. She/he can also get distracted by the slow running water and start playing with it giving you some scope for completing your task. However, these bath time activities may not be very suitable for new moms as they are inexperienced and might face trouble in exercising the method. It is best for the new moms to wait till their baby falls asleep and then carry on with cutting the baby's nails.
Make it a habit
This piece of advice is especially for new moms. You will need to make the baby's nails a habit. Fingernails of babies need to be trimmed at least twice a week; otherwise they will grow very fast and can be dangerous for your baby. Also, do remember to trim your baby's toenails as well; if not as frequently as fingernails but they should also be trimmed regularly.  Initially, new moms should take help from their partners or any other member of the household while cutting the baby's nails. They can do it all alone once they become a pro at it.
Grooming your babies is a tricky and at the same time a risky job. But you tend to achieve perfection and confidence with time. This task can induce anxiety in you, but you can perform the entire easily by just following the tricks and being a bit extra careful.