Two bundles of joy mean double the love as well as double the trouble. You have to keep everything in two sets and your eyes have to be always on the two babies all the time. Having twins means it's difficult to leave the house, but if you do, you need to organize and recheck every supply – wipes, bottles, snacks, extra clothes, wash clothes and above all lot of diapers. If you have twins, the most important thing for you is a spacious diaper bag. It's already hard enough to pack everything for one child and when it comes to two of them, it's quite challenging. But that doesn't mean, you will need a bulky bag which might be quite similar to the ugly trash bag.
Diaper bags are one of the greatest innovations for the mom and dads of twin babies who want a hassle-free outing and get rid of tantrums and excuses to leave early from the house. Those diaper bags handle everything you need from snacks, bottles, toys, books, wipes and of course bunch of diapers.
Important factors of diaper bags for twins
While choosing a diaper bag you must think of the key features which are common for all diaper bags for twins:
Storage and Pockets
Diapers are the lightest weight items among all of your supplies, yet it needs a good size vacant space in the bag. Other than that you will need space for wipes, snacks, formula, outfits, your keys and phone, hand sanitizer and everything else you will need now and then. For those important things, exterior pockets and zippered pockets are a must.
Straps to Carry
Most of the diaper bags are tote style and therefore, comes with tote straps. The bags which have extra wide and ergonomically supportive shoulder straps are the best choice for the parents of twins as they need a hands-free option.
Stroller Attachment
A big adjustable shoulder strap or better yet specially designed clips which can easily fasten your diaper bag to the handles of the stroller is the most important thing for you while going out with twins.
Do you really need a backpack diaper bag?
As a parent of the twin, a diaper bag is a must-have thing and it is pretty much clear that a perfect spacious diaper bag is needed when you consider buying a diaper bag under your budget. Though it seems that a fashionable bag is a feel-good thing for a mom but a backpack diaper bag is the handiest idea for this purpose. Consider to get a diaper bag for these following reasons:
One large space: Pack of two sets of diapers needs large space where you can set all the diapers together. A backpack has that open large on space area where you can easily put your hands and take out the diaper faster.
Tons of pockets: It feels good when you see a lot of pockets enclosed with proper zippers. You can decide where to put your stuff and find it easily without making a mess. You can put your diapers and wipes in one and snacks and formula in the other.
Outer pockets: you can access your baby essentials as well as your small stuff like keys and makeup items easily if the bag has some extra outer pockets.
Insulating lining: Good diaper backpacks have the waterproof lining which is essential because at some point your bag may leak as you have to carry a lot of liquid products for the baby while you are outside. In an insulating waterproof liner backpack, you don't have to worry about the leakage problem.
Comfortable shoulder strap: Most of the diaper backpacks comes with comfortable wide shoulder straps which are padded for long-time carrying purpose. It also makes your hands free and keeps your torso straight and comfortable.
Some of the best diaper bags for the twins:
Multifunctional waterproof diaper bag
One of the most convenient diaper bag for twins, if you can find this wonderful bag, most of your problems will be solved in a minute. The chic and compact look of this backpack is cleverly made with the sturdy waterproof material. It has a double zipper and the size is neither big nor small. It has 16 pockets which are enough to organize your infants or toddlers essentials in one single backpack.
It also has 3 insulated pockets for bottles and one side insulated pocket for extra bottles or big enough for food container. It has an extra waterproof front pocket perfect for wet items. Two separate sections for bottles and clothing, so that nothing gets wet or stained. It fits perfectly under the airplane seat of you are traveling. It has ergonomically padded shoulder straps with airflow design and heavy loads. It has a larger lightweight changing pad, stroller strap, accessory pouch and wipes access pocket.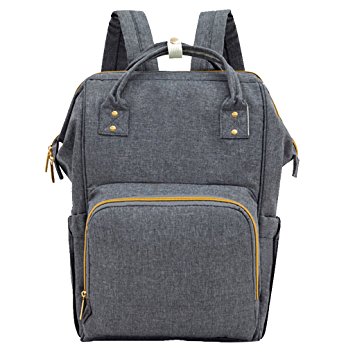 Diaper bags for daily use
This waterproof diaper bag has the cross body system with multiple pockets and two bottle holders. It is designed for the twins diaper bag to organize two sets of wet towels, dresses, toys, rattles, feeding accessories, baby prescriptions and files, water bottle and creams all separately. It is spacious and durable and has 2 insulated bottle holders to keep water and milk warm, 7 different compartments, one zippered front pocket, 4 side pockets and more. It has one adjustable soft strap and it is made with the washable material.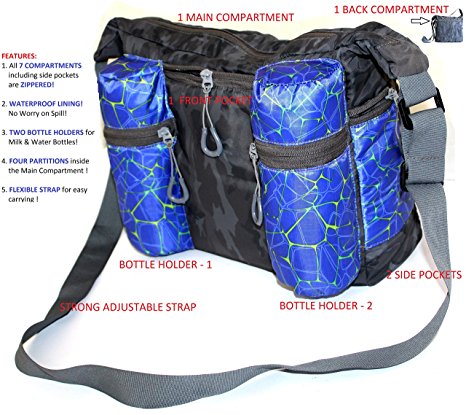 Designer baby diaper backpack
It is certified by European standard for safety of baby and toddlers. A multi-functional waterproof tote bag which has stroller strap, travel bag, and nappy changing bag. It has insulated pocket made from high-quality Oxford fabric, safest BPA free non-toxic eco-friendly foam material that is safe and durable as well as hygienic and washable. The bag is both stylish and fashionable along with compact look suitable for travel and excursion.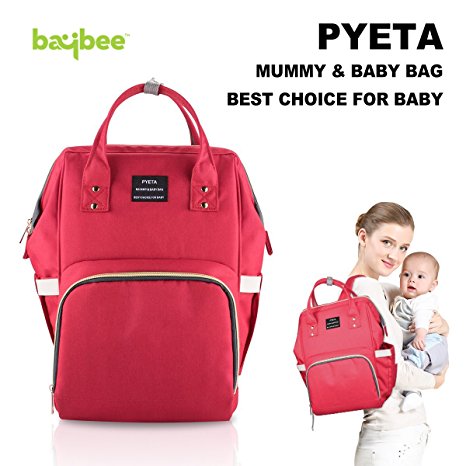 Smart functional diaper bag
The bag is made with export quality material which is durable to use for the babies in a perfectly organized manner. The exclusive design patterns and vibrant colours help to stimulate babies' sensory skills. This ultra-light weight diaper bag reduces bulk, yet it is roomy and strong enough to hold all the essential baby items. It comes with pretty colours, printed patterns, one main zippered compartments, one soft adjustable shoulder strap, two easy handles, and a couple of side pockets to keep bottles, one zippered pocket, and holder pocket. You can trash diapers, wipes, wet towels and all baby accessories organized in a fashionable way.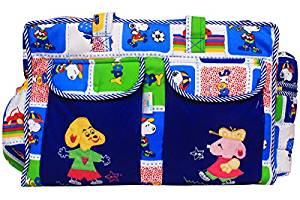 Premium quality diaper hand bag
This is a five piece set diaper bag certified by European standard for safety and security. It is made with 100% premium material, durable and easy to access. Multiple compartments and pockets offer enough storage space. It is comfortable, waterproof, easy to clean removable large pouch and wide opening changing bag. It comes with adjustable strap and two handles to carry easily in a different situation.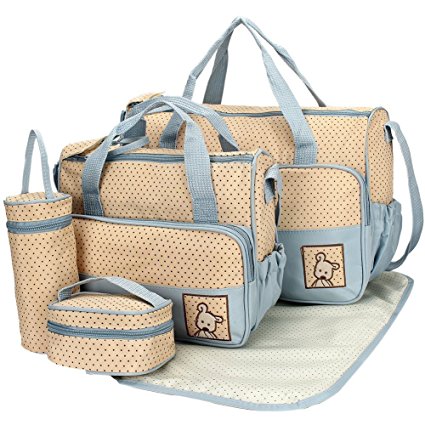 While deciding on the diaper bag for your twins always try to consider about budget and style, preferable look and quality but make sure to put the practicality and functionality above anything else. After all, you need to be comfortable while carrying your babies along with a smart diaper bag.