Diaper bags are the first few things that a mom buys! Let's get this fact straight. Babies can be very unpredictable doing the most surprising things at the most inconvenient places. No matter how hard you try to regularize your baby with the food or toilet habits, they do what they feel to do without any notification. And so, a baby diaper bag is very useful for a mom while going out! Therefore, a new mom needs to put in lot of thoughts before buying one. Diaper bags are not just 'diaper' bags but carry a lot of other stuff that you need while stepping out of the house with your baby.
You may want to understand about the best diapers for kids
https://beingathinkaholic.com/miss-lil-as-constant-companion-thanks-to-pampers-diapers/
Minimum features of Baby diaper bag:
Compartments: More the compartments, more is the convenience. Number of compartments to hold various stuff like the feeding bottle, diapers, tethers, toys and the list goes on. It helps you keep things organized and pick up easily at the time of need!
Space: Spacious is always better. There will always be some extra stuff that you would need to carry while on the go. Larger space means you can carry a pair of baby clothes as well along with everything else.
Comfort: Carrying a bag along with your baby can be a task. So, the bag should be comfortable. The straps should fall comfortably on your shoulder making it easier to carry on the move.
Style: You do not have to compromise on style just because you are carrying a diaper bag. Gone are the days when baby diaper bags used to be a bulky sac like piece that seemed more like a punishment! With evolving trends in fashion, diaper bags are not left behind and you can choose from a wide variety of styles and colors.
I personally feel you should look for all the above factors before you buy one for yourself and honestly, spending a bit extra on the diaper bag that you would carry every time you step out of the house with your baby will never hurt! So here goes my list of favorite baby diaper bags that you can take cues from before you select one.
You can  also read about which are the best diaper bags for twins
Diaper Bag with changing mat and bottle cover
The first one on the list is a very basic yet functional bag. Surely you would need a comfortable surface to lie your baby on to change that diaper and this bag just comes in handy with a changing mat attached to it. This makes the bag extremely useful and spacious since you would not need extra space to carry the mat. Plus, it also come with a bottle cover to carry the feeding bottle and is ideal for short outings. You can easily find them at an affordable price and vibrant colors.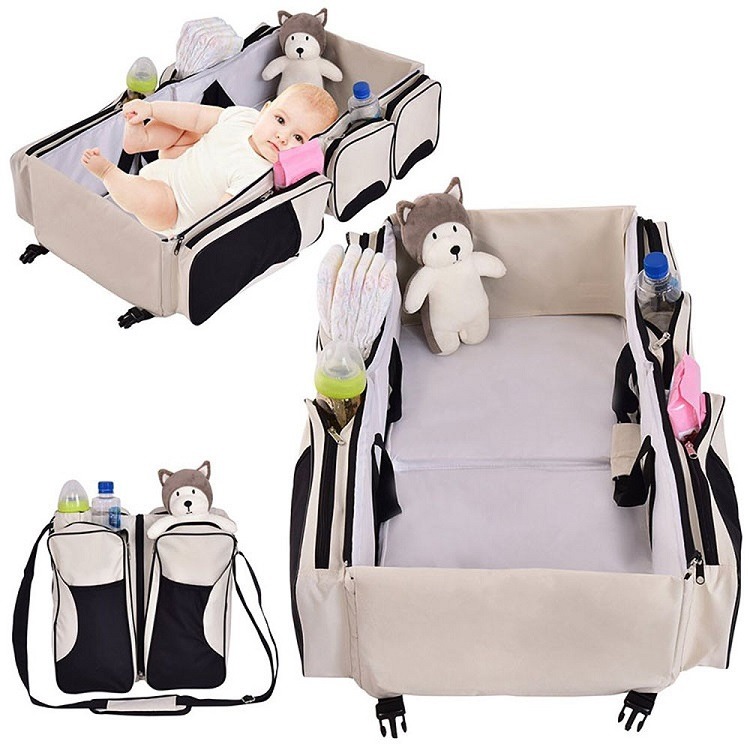 This is something I have found extremely useful for longer trips. With this bag in your possession, you no longer have to sacrifice those long drives with your spouse. This 3 in 1 baby diaper bag measures 40X40X16 cm and can be converted into a cot to put your baby to sleep. The unfolded version measures 74X40X20cm thus making good room for your baby to take a nap. It has four large storage compartments to carry all your baby's essentials and one of the compartments is equipped with isothermal covers to keep the milk and meals at constant temperature. So, there you go! No worries on warming your baby's food before feeding! Pick it up at the best deal from amazon.in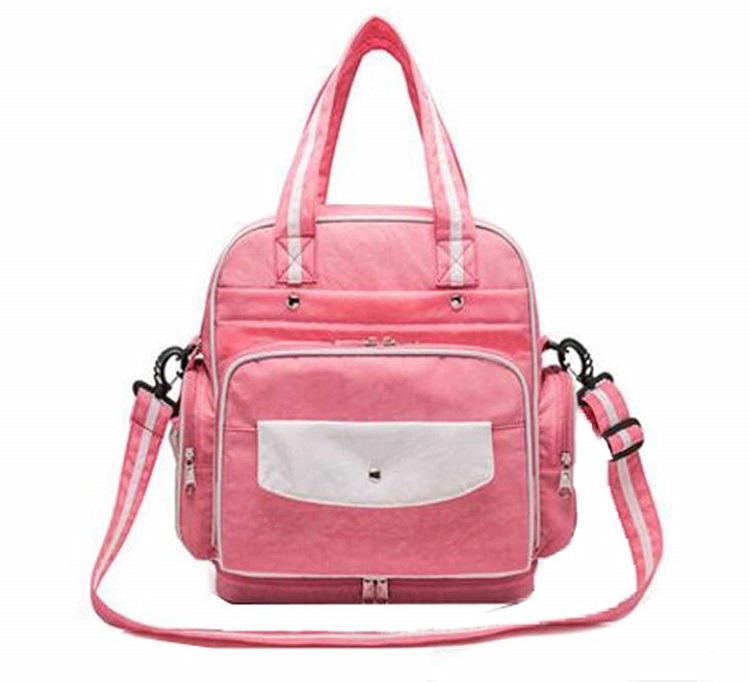 Yodo Convertible Diaper Bag Backpack is my personal favorite from the list of all baby diaper bags. It has everything you could ever ask from a diaper bag- style, comfort and storage. The bag has 7 exterior pockets and 5 interior pockets! Yes, that's something which surprised me! So, you have plenty of space to organize baby food, clothes, bottles, diapers, and every other essential. The most attractive feature of the bag is its convertible straps. You can easily reposition the straps to make it a backpack, a cross body bag or a messenger bag! Plus, this comes with a changing mat and detachable insulated bottle holder. Keep your hands free by converting it into a backpack! The bag is a bit expensive compared to the other available options. But with the features available, this is worth the expense. If you are looking for something that would go lighter on your pocket and still provide with similar features, then you must check for Di Grazia Multifunctional Water Proof Travel Bag, Baby Care Diaper Backpack Handbag at amazon.in. Though the number of compartments are lesser compared to the Yodo convertible bag, it still is one of the best diaper bags with waterproof material and all the other features of the Yodo Convertible Diaper Bag. And what more, it comes at almost half the price of the former.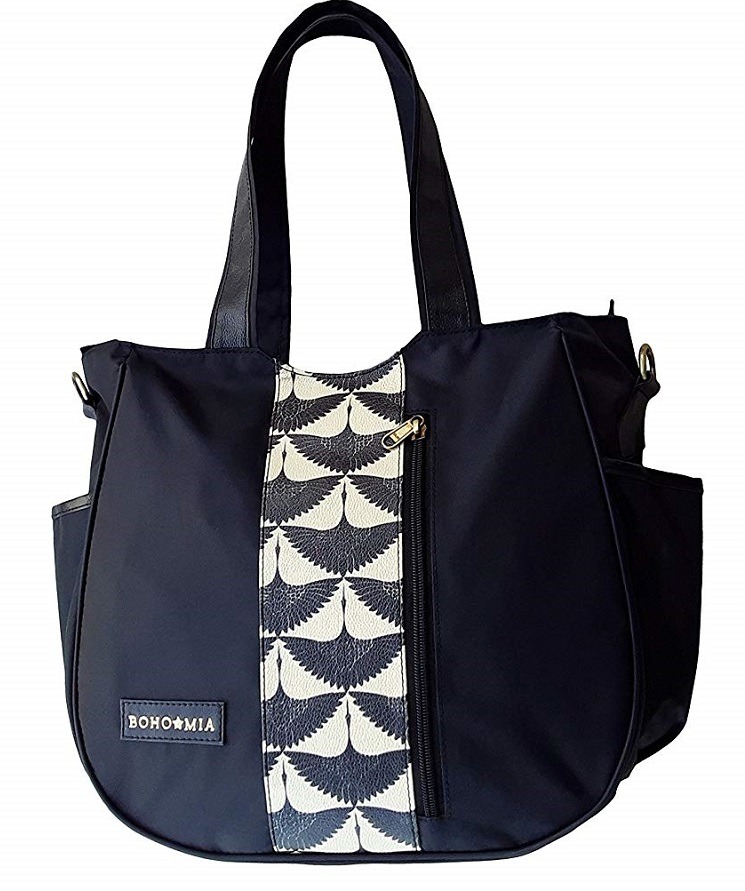 This bag is the most stylish diaper bag among all. The very look of the bag is classy and does not look like a typical diaper bag at all. It has total 13 compartments and thus lets you pack everything you feel you baby would need. The straps are multi functional and can be used to convert the bag into a handbag, a shoulder bag or a messenger bag! Additionally, the bohemian style tote look of the back makes it an ideal pick for mothers who frequent parties or carry the baby to work. You can buy it on amazon.in at a pocket friendly price.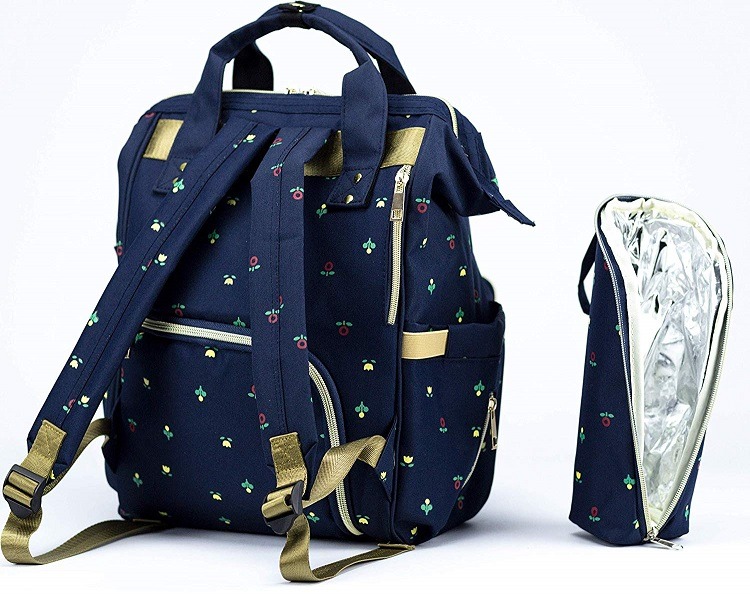 Why should mom do all the work? This unisex bag, particularly in the color blue, is a piece that you and your spouse can carry without compromising on the style. This baby diaper bag has the features of a changing mat, insulated bottle covers, tissue dispenser pocket and the best of all- stroller attachment hook that helps you attach it to the stroller and keep your hands free for all the soft caresses to your baby! This is one of the best diaper bags and is easily available in any of the baby product stores or you can also buy it from amazon.in.