After having babies, maybe you get little time to continue with your regular routine which you used to follow before pregnancy, but you can come back slowly to that routine even after you are a new parent. Taking a good care of yourself and snatching some 'me time' can make you an entirely new person who can be a role model for your kid – happy, strong and confident.
If you are a person who loves to run or jog, and just not walk around the malls, then you need something better than any traditional strollers. The jogging strollers are the best companion for this purpose, which keeps you fit by absorbing bounce and rolling through uneven surface. These are also safe and comfortable for your baby.
Some jogging strollers can serve the purpose of everyday stroller too, along with running through rugged surface. They have three super-sized wheels forming a triangle which enables less pushing for the parent and decrease the impact of jolts on your baby.
Right time to use jogging strollers
Your baby needs to be minimum eight months, though it is advisable to be twelve months before you run or jog with your baby in a stroller. This is because a child simply doesn't have the capability to keep the head and neck stable during the jolts and bounces. Once you are able to start jogging with your one year old baby, you will get up to 5 years to accommodate your child in the jogging stroller.
How to choose the best jogging stroller?
Everyday stroller and the jogging stroller have different purposes and need. The normal strollers will not serve your running purpose, ensuring the safety of your baby. Jogger strollers are made for rough surfaces, dirty roads and jumpy pathways. However, while choosing a jogger stroller you must keep some of the specific features in your mind:
A front wheel that locks: To make sure that the stroller stays on the path, some of them have permanently locked front wheel system. It helps the stroller not to vibrate and slip from one side to another. Unlike the normal strollers or prams in which the front wheels are needed to swivel for sharp turns, jogger strollers locked wheel feature helps to run and walk in a more flexible way.
Safety Tether Strap or Wrist Strap: You need not to worry about runaway stroller as this leash will keep it in place by circling your hand and attaching with the stroller. You will have a better control over the stroller with this feature.
Wheels built for gliding over terrain: The jogger stroller which has three air-filled tires just like the bicycle gives the strength to maintain the stability during running on the rough roads.
Five point harness: To maintain your child's security just like in the car seat, the stroller should also have the five point harness facility in it.
Brakes: Some jogger stroller has the hand-brake which is a great feature to slow it down. You should use a parking brake every time you come to a stop.
Canopy: An extra-large canopy is convenient to keep your baby away from the sun, a peekaboo window is a good option to keep an eye on the little one while you run and also it keeps the baby happy as he can see you in between the ride.
A reclining deep seat for baby: Kids become tired very soon and they need to rest in between your jogging session. A slanting seat is always helpful to keep the sleeping or tired baby comfortable while in motion.
An adjustable handlebar: When you run you should not bend down or stretch awkwardly with the stroller. The handlebar should be an adjustable one so that you can use it according to your height and push the stroller effortlessly while running.
The Best Jogging Strollers
Hauck Miami Jogging Stroller
This stroller is perfect for walking and shopping. It is a modern city stroller with 3 wheels and a trendy look and feel. The vibrant colours will definitely attract anyone and it is well-built too. It is a perfect combination of style and functionality with your baby while shopping too. The lightweight aluminium frame gives durability and easy handling facility. It also has swivelling and lockable double front wheel which is convenient for walking through narrow spaces. It is excellent for light jogging and shopping at the same time.
Graco Jogger Click Connect Stroller
It is a unisex stroller which has a one-hand fold option. This fast action jogging stroller accepts all Graco click connect infant car seat, that means you don't have to waste your time in searching for a perfect car seat model to fit into it, during your baby's first year. It has an automatic storage lock and has a one-second deluxe parent tray feature, a unique smartphone cradle for your phone or mp3 player, two cup holders and a covered storage compartment. It also has a reflector for low-light visibility. This infant jogging stroller has a front locking swivel wheel system. It can also easily be transitioned from daily walking to jogging stroller. It is a self-standing stroller when folded and has an automatic storage lock and also air-filled tires for great suspension. This stroller has all the needed features combined with light-weight, portable and easy foldable options.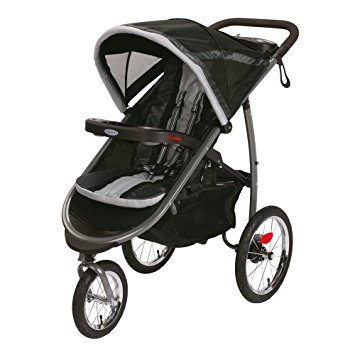 Bob Revolution Flex Stroller
This is one of the most expensive travel system with great build and convenience. It has swivelling locking front wheels which can manoeuvre tight turns effortlessly. The high impact polymer wheels also lock forward for increased stability while running on rough paths. Parents of any height can easily push it for the adjustable padded handlebar. The awesome adjustable suspension system offers 3 inches of travel and 2 stages of weight support for a smoother ride. It can be easily stored or transported because of its two stage folding option.
Baby Trend Expedition LX Jogger
The stroller has all the necessary features you will search for a jogging stroller. It had a lockable front swivel wheel and all-terrain bicycle tire for easy manoeuvrability. It has covered compartment storage and parent tray with two cup holders. The child tray with two cup holders serves as the car seat adapter. It has an adjustable canopy with sunroof ratchets which will give protection to your child from the sun while you work out.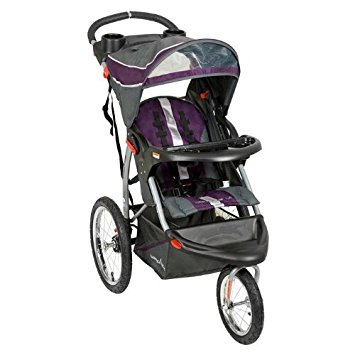 Chicco Active 3 Jogging Stroller
This jogging stroller accepts most Chicco KeyFit infant car seats and comes with and integrated removable arm bar. It is designed for compact one hand, standing fold and flat trunk folds, also the quick release wheels to creates maximum space saving. One of the unique features of this system is that you can control the swivel lock, parking brake and the fold release all from the same adjustable soft padded handlebar. It also has a Flex Core adjustable suspension that allows you choose between soft bumpy strolling or jogging ride. The large waterproof canopy and adjustable multi-positional seat offers maximum comfort to your child during your workout sessions.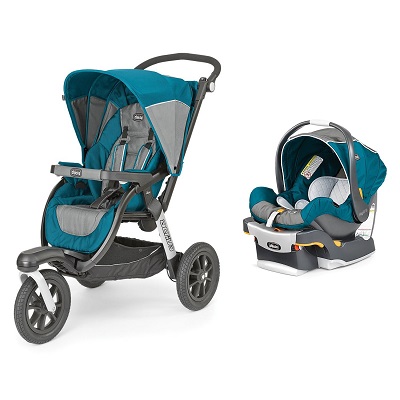 When you are looking for a jogging stroller, always keep in mind for the basic needed features for your baby's safety and comfort along with your need. Jogging with your baby needs stability and easy access so choose wisely while you shop.