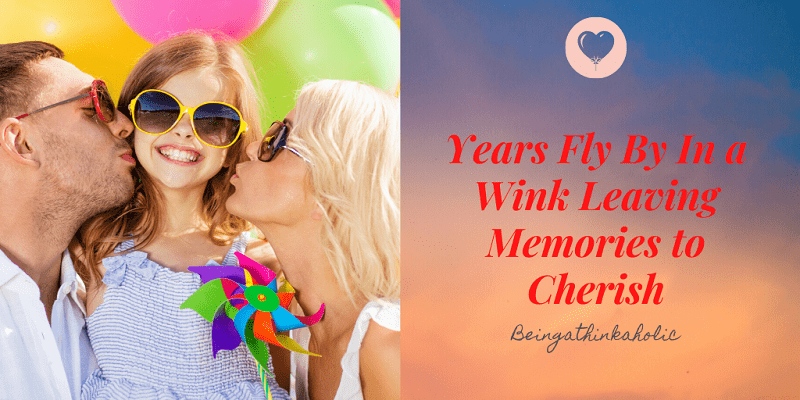 When I say 'years fly by in a wink' I am sure most parents would agree with me. Last month, during a conversation with my mom I happened to mention my age, and she replied saying I wonder when you grew up so fast. I was a little amused then and thought, she gave me birth how she can ask this. Then started the Blogchatter A to Z Challenge and for the first time I decided to post Little Miss A's pictures. While scrolling through my photo gallery, I had the same thought; when did my baby grow up?
Memories, Memories and Memories
I remember everything from the day in the hospital when the doctor said we will need to do an emergency c-sec to the breastfeeding struggles to her learning to sit and crawl and walk and I can go on and on. And now she is planning her 4th birthday all day with what presents she wants and how I need to surprise her. (I wonder will she be surprised also after those instructions). On her first birthday, she had no clue what was happening and why had mumma got so many balloons. I think the only thing she was excited about that her grandparents had come from Dehradun and she was the centre of attraction (again there was nothing new in that).    
Time flies and all we are left with some beautiful memories to cherish. They grow up daily and the first few years have so much for us to see. From the time where they slept all day to the daily struggle at night to put them to sleep, from the first solid to telling them to finish their meals, from being the only person who understood them to sending them to formal school where someone else will be as important as you are, from those expressionless faces to that cute smile and to the lovely kisses and hugs that we get daily; they really grow up fast and years fly by in a wink.
(You may like to read our post, A Letter to My Daughter Starting Formal School)
Years Fly By Before You Realise
Each day sometimes seems so long handling tantrums and running after them for different things. Like these days, in our case, the zoom classes are just not working and every day I have to try new things to create interest. The days do seem tiring but when you look back you wonder where did the years fly?
Each phase of parenting comes with its set of challenges but also lots of smiles and happiness. Try and enjoy each phase with them. I once read a quote,
"There are only 940 Saturdays between your child's birth and the day they leave for college"
18 years seems long but 940 Saturdays seem less. Isn't it? I can speak as a mother to a nearly 4 year old baby, the years will fly by and we have no control over them. If you want my advice just do two things:
Spend Quality Time with Them
Do not bother with the number of hours you can give to them daily or weekly, just spend 30 minutes with them. Give them undivided attention and do things that make them happy. The time will be a gift that no expensive gift can ever match. May be as kids they will prefer the expensive toy but when they grow up they will remember this time and then it will be too late for you to give it to them. Time creates a bond, a connection that sets the foundation for a strong lifelong relationship. If you need to make a conscious effort, make it. Grandparents and nannies are there to help you but they cannot take your place, as no one understands your child the way you do.
(You may like to read our post, Why Spending Quality Time With Kids is Important)
Take Loads of Pictures
I believe keeping a record of their growing up memories is the best thing you can do. It is not a gift for them but for us too. As I said, the last month as I have looked at the phone gallery for Little Miss A's pictures I have spent time looking at cute videos and lovely pictures. To get that one decent picture I have 5 others, but they all are gorgeous just like my baby.
There is a difference in recording every moment to keeping a record of the special ones. When you get over obsessed about it, you forget to enjoy the moments. I take many pictures, as I send them to her grandparents and then on her birthday I make a photo book for her. This has all her important days and a record of her year along with the best pictures. Trust me, when it comes after print, everyone loves to see it and so does she. And these are the records of the memories.
You Cannot Hold the Time
Years fly by and there is nothing we can do about it. Just live in the present and enjoy each and every moment you can with them. The tantrums, the toilet training, the discipline, the breastfeeding, the sleep issues will be all be a thing of the past which you might not even remember. Create memories and save them.  For when they will fly away to their own nest, you will have these to remind you and them of the beautiful moments you spent with them.
"Hold on to the tiny moments and cherish the little snuggles.. They grow up so fast!"