Today's fast-paced life of a new parent and the parents of toddlers depend on the disposable diapers, and for a good reason. Diapers became popular around 1960 and 1970's and nowadays it's the most convenient option for most of the parents.
Disposable diapers are made of synthetic disposable materials and contain absorbent chemicals, and can be thrown away after being used. Of course, changing the diaper is a dirty business, but you have to make sure that your little one's bum stays clean and dry when they are active or mostly when they sleep. It is crucial to use a diaper to avoid harmful rashes which cause due to staying on a wet cloth for very long.
For a new born baby, diapers should be changed every 2-3 hours and thus, the number of diapers used in the first few months is huge. Some basic things that need to be considered while you buy diapers are the cost, environmentally friendliness and skin sensitivity issues.
How to choose a disposable diaper?
There are a lot of options for disposable diapers on the market. You can choose according to your need which is mostly based on cost, absorbency, softness, eco-friendly material, fewer chemicals, fragrance etc. But everything depends on what works best for your baby and her skin. Each diaper has different fitting issues too around the waist and legs, so it's important to try out different diapers in a small amount before you stick to one brand. Try to take the tips below for a general assessment before you buy diapers in bulk:
Try out in small quantity: The premium diaper that has worked wonders for your friend's baby might not work for your baby. So before you pile up your diaper collection try out different brands and understand what suits best for your baby's delicate skin.
Check out the comfort zone: Diapers are mostly body-hugging and have smooth elastics at the waist and legs. They should not be irritating, but be rather stretchy and have a double elastic seal to avoid any leak.
Wetness Alert: Check for the diapers, which have an indicator when full, big babies and experienced parents may not need this feature, but the newborns and their parents will be happy to have this, as newborn's nappies are the hardest to understand when full.
Cost effective: Once you find out which kind of diaper suits you and baby most, buy the bulk of that pack. It will save your money and another tip keeps the super absorbent diapers for night time to ensure you sleep for longer hours.
Eco-friendly material: If you are an eco-conscious person, then check for the terms written on the packet of the diaper like 'chlorine free processing', 'biodegradable material', 'minimal packaging' etc.
Top 5 disposable diapers on the market
It is difficult to choose the best diaper for your baby, but by trial and error, you will surely get the right diaper and also find out deals to save your pocket. Here are a few choices you can start with:
Pampers New Baby Diapers: It has the best tape style with 5 star skin protection. Pampers has a cotton like softness which gives the ultimate comfort to the baby. It has an extra layer of dry shield which prevents urine from coming back to the top sheet. Made with a 'magic gel' technology it gives up to 12 hours of dryness.  The diapers are infused with mild lotion to protect baby's skin from irritation. It flexes to fit comfortably to the baby's waist and gives ultimate comfort to the baby. Baby enjoys the cottony softness, the skin breathes better, and the lotion keeps the skin moisturized. With this diaper, you will not need to change your diapers frequently.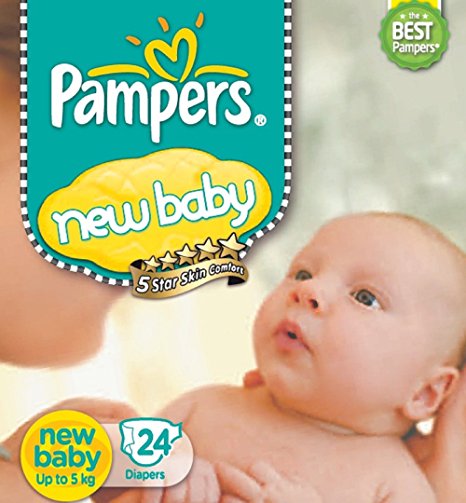 Pampers Active Baby Diapers:  It is one of the driest diapers and keeps the baby skin comfortable for long 12 hours. You don't need to change the diaper in a frequent manner at night so that the baby can sleep quietly and you don't need to wake him up from his much-needed sleep. It provides you a peaceful night sleep too. The Aloe Vera gel keeps the baby skin irritation free and hence there remains no trouble if you keep the diaper for a little longer time within 12 hours. Whether your baby is at rest or play, the cottony feeling keeps him comfortable and the flexible side stretch design keeps the diaper snug to the body. It has a breathable cover which circulates air to the baby skin and keeps it dry and fresh.
Chicco Veste Asciutto Diapers: These are one of the simplest form of the diaper and a comfortable solution while changing. It absorbs liquid quite effortlessly and keeps the baby bum dry. This diaper is slimmer and comfortable to wear, and with it, the baby can move freely without any trouble. During the warm days, it absorbs heat and sweat and which automatically prevents rashes and irritation. The internal lining and fabric type is breathable which keeps the skin dry and fresh for many hours. The sidelining gently and firmly sits in the baby legs and prevents leakage easily.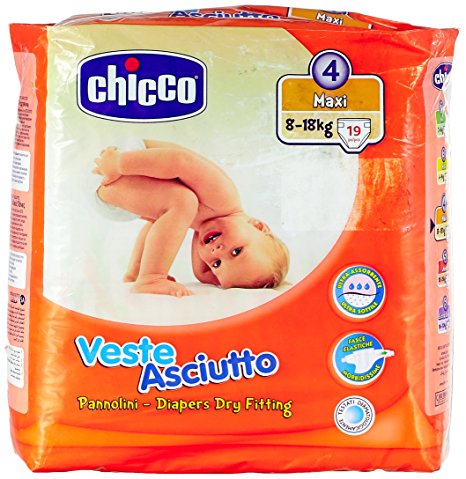 MeeMee Premium Diapers: MeeMee diapers are the eco-friendly solution if you are looking for more premium and healthier options. It's wonderful leak-lock system turns the liquid into gel and keeps the upper layer of the diaper dry and fresh. It's super absorbent polymers, imported from Germany, absorbs the liquid multiple of times. It is designed with a leak-proof technology and made with the softest cloth-like fabric. It is a breathable diaper and very gentle for the baby's sensitive skin. It also has stretchable leg cuffs on both sides which fits nicely and improves flexibility. The diaper is designed to adjust with the baby's growing body, so you don't need to fold the waistband or leg cuffs at an early stage. It has a wetness indicator line that gives a signal to the parents when to change the diaper. These are the breathable, hygienic and eco-friendly product which ensures that the baby can sleep, crawl or walk all day uninterrupted in a clean way.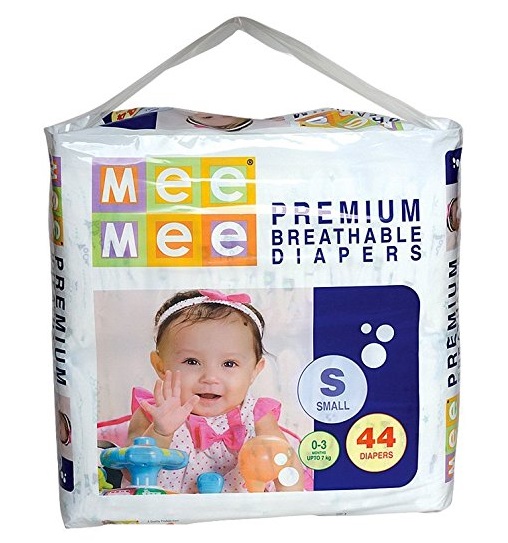 Huggies Disposable Diapers: Nothing is more important than the baby's comfort and one of the trusted brand is Huggies, which take care of the baby's basic need wonderfully. It is designed to protect the baby's skin and the cushiony cotton keeps the delicate area nice and dry. It gives the baby comfort for a long 12 hours and its advance dry touch sheet keeps the baby dry for all night long. It has a double leak-guard and is made of a super stretchy material which keeps your baby clean, dry and fit comfortably.