I had heard horror stories about life after a C-section delivery and this was one of the reasons I wanted a normal one. Things hardly turn out the way you plan them to be, and I ended up delivering by a C-section. With a premature baby in the NICU, I wanted to make sure that I was there for her when she needs me. The night after the surgery was like it would be after any other major surgery. I was numb and there was grogginess as well and as the baby was not with us, I slept off.
C-section is really tough on your body. The doctor has cut through layers to reach the baby and this is a major surgery. The recovery after a surgery is very crucial and if one does not take proper care at the right time, there can be complications later on. Thanks to my doctor and my willingness to listen to everything she said, I was up and about in 2 days. Many people who came visiting us were surprised to see me and wondered why was I not in bed like a patient. I was not a patient, I was a mother, and I wanted to live every moment of it
Following the right advise is essential and thus, following instructions that the doctor gives are important. Some things which helped me in my quick recovery are:
Take Your Painkillers
The doctors know their job well and thus, the painkillers that are prescribed must be taken regularly. Do not think these are unwanted and try being a supermom thinking you can handle the pain. Until the time, you are in the hospital everything will be taken care of, but the real battle begins after the discharge. I suggest, do not wait for the pain to increase to a level you cannot bear. Take the painkiller which usually is a paracetamol at the times told by the doctor.
Take it Slow
I can imagine how you feel with a new born baby. You want to do everything for him and you want to lead a normal life at the earliest. I would sincerely suggest to take it slow for the initial few weeks. Stressing your body at a time it is not ready for it is not advisable. The body has gone through a lot and it deserves some rest.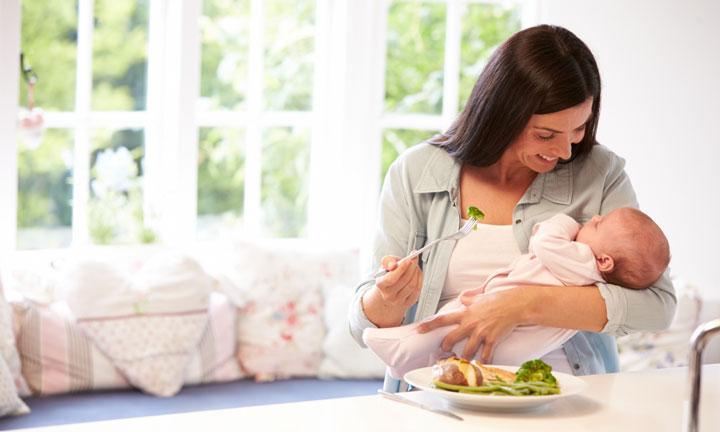 Start Walking
As soon as the catheter is out, try and walk, even if it is a few steps. As we walk, the circulation in the body increases which improves the body's healing ability and also regulates bowel movements. Monitoring bowel movements after such a surgery is essential. Your doctor or a specialist can advise some basic exercises which speed up the recovery. The ones that were suggested to me would not take more than 10-15 minutes and thus, doing them regularly really helped.
Take Care of the Incision
Usually the doctors use dissolvable stitches, but if you have the staples, you will need to go to the doctor to get them removed. All care must be taken to avoid any infection in the incision. For this it must be kept dry and any discomfort should be reported to the doctor at the earliest. In my case, the doctor had done a water proof dressing and thus, I could have a bath easily. The dressing has to be changed every alternate day till the stitches dissolve and this must be done to ensure the incision heals properly.
Eat Well
As soon as you are allowed normal diet, you must try and eat well eat right. Eating right is essential as it not only speeds up the healing but also avoids constipation. Foods which are anti-inflammatory should be preferred versus the ones which can cause inflammation. As far as constipation is concerned, it is a common problem due to the pain killers and hormones in the body. Any strain causes pain as it puts pressure on the incision. It is advisable to take a stool softener if needed. Apart from that you must have plenty of water and eat fiber rich food.
Learn the position to Breastfeed
A lactation consultant or a nurse can help you in explaining the right posture in which you should breastfeed the baby. Bending too much or sitting in a wrong way puts pressure and can cause pain, making the recovery difficult.
No Bending and Picking Up Heavy Things
The doctor had advised not to lift anything heavy for the first three months after the surgery. Anything weighing more than the baby's weight was heavy. Apart from this bending to pick up something was not advisable also. Any movement which meant putting pressure on the abdomen had to be avoided. As long as you do not put pressure on the abdominal muscles, they heal well, and thus, all care must be taken to ensure this is managed well.
Take help
You will want to do everything for your baby and lead a normal life. You have stressed your body a lot and you need to give it rest. The feeding schedules and the sleepless nights are enough to increase pressure. Do not hesitate to take help from people around you and do as much is manageable and possible without any pain or stress.
Taking care of yourself after your C-section is essential as you have to be fit and fine at the earliest to take care of your baby.