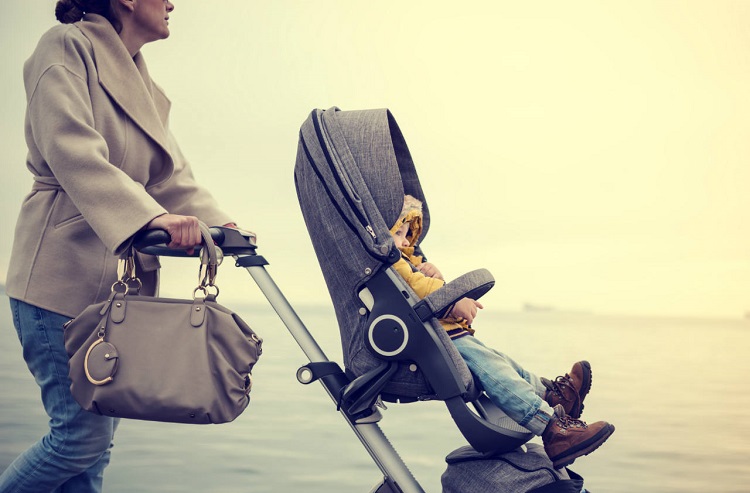 hereThe stroller is a big and expensive thing that you will need while your baby is growing up. You will probably think about a stroller that will keep your baby safe, comfortable and which will also fit your budget. Buying the best stroller according to your need depends on several factors – modern style, lightweight material, quality assurance, easy to handle and maintain. Buying a stroller boils down to two main things; what you need and how you use it. A stroller is one of the most important baby gears as your baby will spend a lot of time when you are outside. Stroller is an essential item when you are travelling abroad with the baby. If you are planning a trip to Europe, you will definitely need one. If you want to know more tips about travelling with a toddler, you must click here.
With many choices available, it is normal to be confused about which stroller to buy. You can keep your confusion away by selecting the stroller model according to the age of the baby and the type of the stroller you will use.
Types of the stroller in the market:
Standard baby stroller: They have some normal features like comfortable seat with cushion pads, which can easily be reclined. Most of them have sunshades and storage areas below the seat and some have an option to change the position
Car-seat stroller frame: Extremely helpful during the first few months of your baby's life, when you will need him to take in and out of the back seat while he sleeps. It does not take much space and fits easily in the trunk of the car.
Travel System: This is a universally accepted all-in-one stroller which can be used even after your child has outgrown the age of the infant as it is larger. It generally includes a stroller and matching infant car seat.
Lightweight stroller: These are, the less expensive options than other travel system or regular strollers for toddlers. They are not much well-padded and sometimes they don't come with various adjustable features.
Jogging stroller: The parents who like to jog or run while strolling their kid can use this three bicycle air-filled tire stroller which delivers a smooth ride for the baby and easy push for the parent.
Double and triple stroller: The tandem strollers are an easy option for the parents with two or more kids. They are easy to maneuver through the doorways and have equally comfortable seats for the babies.
How to choose the best stroller according to your need?
The size of the stroller: If you have space crunch in your home or car, you will need to buy a compact stroller, as a bigger stroller will make the problem while putting in the car while you travel outside, or when you store it in the home.
Lightweight stroller: While in transportation the aluminum frame of a stroller will provide the lightweight and foldable feature which is easy to carry and helpful while you travel.
Wheel suspension for a stroller: If you want to have a smooth ride for your baby, then this feature is a must-have for any modern and jogging stroller. Wheel suspension reduces bumps on the road so that you can have a smooth ride.
Wheel lock system: You must check if you have a wheel lock in your stroller as it is an important safety feature. You should lock the wheel of the stroller while you have parked it so that even though your baby moves the stroller stays in its place.
5 point harness: This is a truly important element to check when you choose your stroller. The restraining system is needed to keep your baby safe. This 5 point harness system gives your baby the ultimate safety while riding in a stroller, as it wraps around the waist between the legs and comes down over the shoulder. You should check a buckle which is strong and secure yet easy to unhook.
Canopy option: It helps your baby stay away from sun, rain, and wind while strolling and make your baby comfortable. The fabric which has UV ray protection is the best canopy option in the stroller.
Adjustable seat: Check the seat adjustment mechanism preferably one with a single hand as this is needed for all kinds of babies. The newborn baby needs an almost flat seat while strolling and even the grown-up babies need a slanting seat while taking a ride to rest and sleep.
Maneuverability: The four swivel wheel will make your strolling easy. If you are able to move or turn the stroller with one hand, then it will be most convenient for you while going out with bags and babies.
Brakes: Most of the jogging strollers will have brakes which are hand operated as well as foot brakes. You should consider a break which will stop the stroller completely when you want.
Adjustable Handle: Most of the strollers comes according to the average height of the parents. But so many of them do not fit in that exact length. You must buy a stroller that has the adjustable handle option so that you do not feel uncomfortable while pushing it. You can also opt for an extended handle for your stroller if it not pre-installed.
Storage: You will always need a roomy basket under the stroller when you are planning to go for a short trip or even a grocery trip. Keeping the baby essentials like diapers and clothes in a basket is always handy.
Washable fabric: Easily removable covers are needed when you find a mess in the stroller. The washable fabric is a great help for those very common days.
Adaptability: The strollers which can be changed from a single to double or triple is a good idea to buy for parents who are considering to have more children in the future. It saves money and time both, so look for strollers that accept an extra infant car seat, bassinet etc.
Mistakes to avoid while buying a baby stroller
Try to avoid some common mistakes as a new parent before you buy a stroller with just its look and extra features. Make sure to choose something that will help you in the long run. You can consider
Always think to buy a double stroller if you are having twins
Avoid buying a used stroller without knowing the person
Do not buy a stroller that is heavier than you can handle
Consider buying an age-appropriate stroller for your child
Stick to your budget while buying a stroller and choose the best features under that budget
Spend some time to research the quality of the stroller before buying it
Ask your family and friend who are experienced parents and already use a stroller to avoid unnecessary expense and choose the best option
Some of the best stroller options in the market: