Coconut oil, especially in India, is used for a variety of purposes. We use it as cooking oil, as hair oil and even use it to heal chapped skin on the lips, elbows and the feet. Given its healing properties and antimicrobial properties, these are often one of the main ingredients in baby oils. We exercise a lot of caution while we buy skin care or hair products for our baby. Much more than what we do when buying clothes and toys or other baby products. Since the baby's skin is tender, soft and sensitive, the worry seems reasonable. So when we are already blessed as a country with an abundance of coconut oil, why not tap its benefits than resorting to store-bought products? Let us first take a glance how coconut oil benefits baby's scalp and hair growth.
Benefits of Using Coconut Oil
Dry and flaky scalp is one of the many common issues in newborns which can be easily treated with coconut oil. You can massage the scalp with coconut oil, brush it softly with a soft-bristled baby hair brush to drop off the flakes and then wash the head with lukewarm water.
Though babies are naturally gifted with soft and smooth hair at birth, few might have dry and unmanageable hair which can be a worry for you and difficult for your baby. Coconut oil used in small amount right after bath on the hair or used in massaging the head at night can do wonders to treat dry baby hair.
Lice can be a common problem once your kid grows up or starts going to pre-school. The thin bristles of lice comb can come handy but the rough tips can be damaging to the scalp if used directly on the dry scalp. You can apply a generous amount of coconut oil on the hair and let it sit for some time before you comb the lice out of the hairs. Also, make sure you use a mild, antibacterial lice control shampoo to prevent damage to the hairs.
The frizz and dryness of the hair in babies can be treated with coconut oil. A good soft massage with coconut oil followed by soft brushing tames the issue easily.
Coconut oil has been used since ages as one of the best options to promote hair growth. Due to the mildness and antimicrobial properties, these can be safely used on babies and adults alike.
Best Coconut Oil for Baby's Hair Growth
KLF Nirmal Virgin Coconut Oil for Baby Massage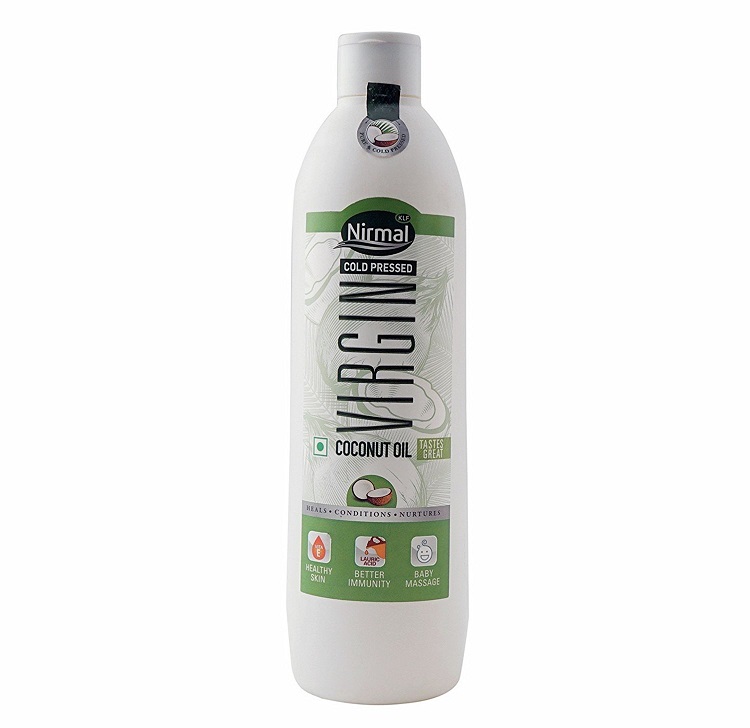 This product serves multiple purposes ranging from hair growth to dietary consumptions to maintain a healthy weight in kids. The antiviral, antifungal and antibacterial properties make it a smart choice for overall protection and wellness of your baby. This can be used as a hair oil or used as a massage oil for babies. Loaded with natural lauric acid, vitamins and minerals and extracted from fresh green coconuts, this product moisturizes the skin and can be used to treat nappy rashes too. It is chemical-free and acts as an excellent sunscreen for your baby. To buy this, click here.
HATHMIC Virgin Cold Pressed Raw Coconut Oil for Babies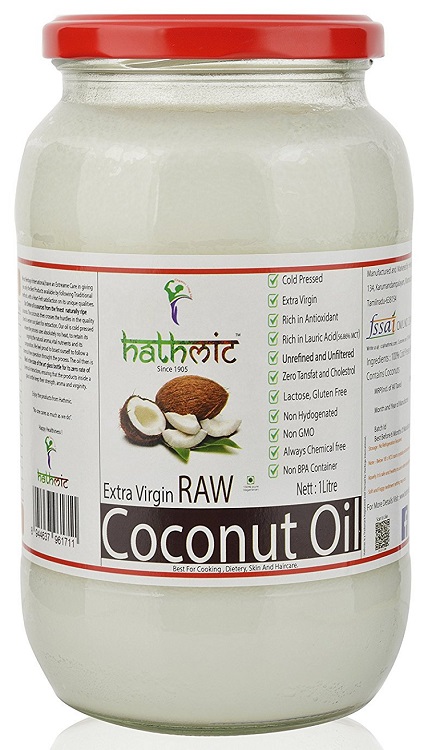 The cold-Pressed technique used to produce this oil makes it retain its natural goodness, aroma and composition. No heat is used in any stage of the process thus preventing the product from losing its benefits and goodness. It is made of milk of freshly shredded mature coconut, is vegan, chemical free, unrefined and unbleached all neatly packed in a jar at an affordable price tag. It can be used to treat rashes, a cure for cold in babies, promote hair growth and treat frizz. Click here to buy this.
Nature's Veda Ayurvedic Dasapushpam Baby Oil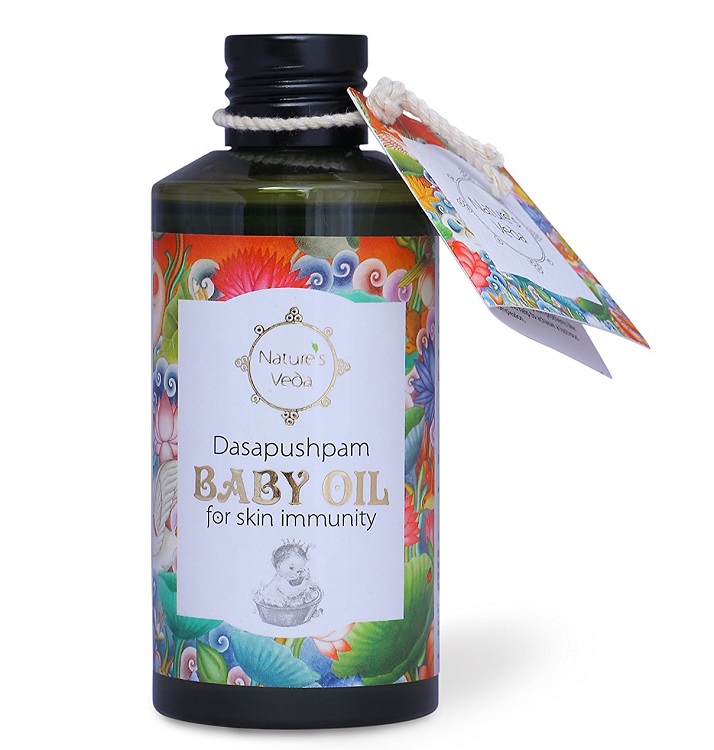 A 100% natural product as claimed by the manufacturer, this product is a pure virgin coconut oil with no artificial additives, Phthalate, Parabens and other petrochemicals. The ayurvedic formula not just helps in hair growth but also heals rashes, skin dryness and can be used as a replacement for processed body lotions helping to build your baby's natural immunity. This is easily available at a pocket friendly price. You can buy it here.
Kama Ayurveda Virgin Coconut Oil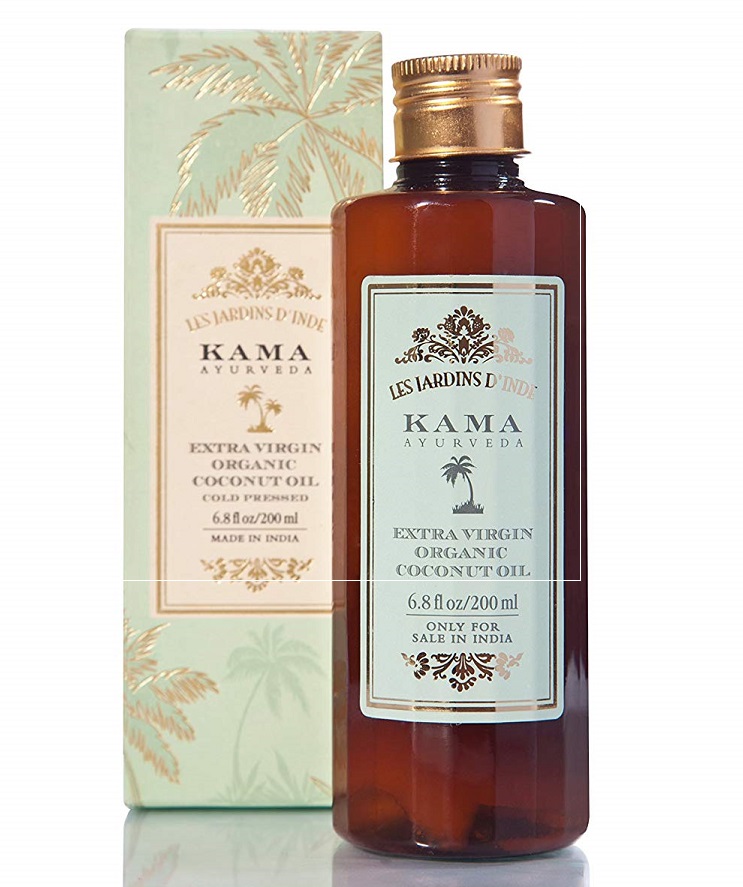 I have used this oil since the first day and I continue to do so. It's a light and cold pressed oil and is great to massage the baby. Unlike some coconut oils, this has a mild fragrance and is good for the delicate skin of the baby. As the oil is processed without any heat and is pure and organic, it is ideal for the baby's massage. Click here to buy this.
Coconut oil is a store-house of minerals and has been used for generations for consumption and as a massage oil. However, before you use it on your baby, ensure you do a patch test to check if your baby is allergic to it.