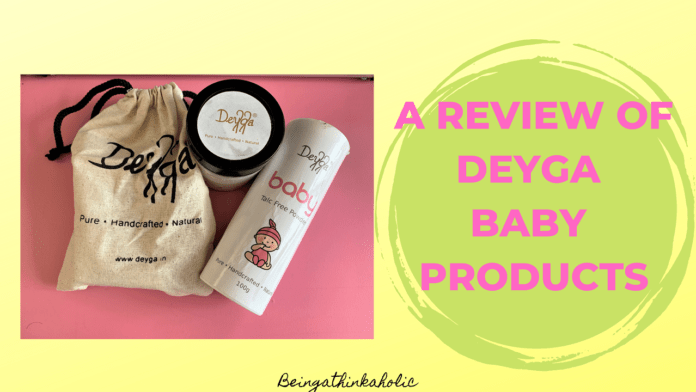 When Little Miss A was born, I was very particular about the products I used for her. As the skin of a baby is delicate and sensitive, I would read labels and ensure what I bought for her did not have any chemicals or harmful ingredients.
(If you are not sure of which ingredients to avoid, read this post on Your Guide to Safe Baby Products).
As she grew, I have become more inclined to products that are natural and chemical-free which will not harm her skin in any way. Off and on, I try new products with her to see how they suit her. I look for products with no dyes, chemicals, and fragrances as these can easily irritate the skin of a baby.
Recently, while doing some research on Google, I read a post on the brand Deyga and their products were quite impressive. I was very tempted to use the Deyga baby products and I got the Deyga baby soap, Deyga babybutter, and Deyga baby powder.
Before I review each product, I will add not all products suit all babies and kids, and thus, we as moms need to try and find which one suits them the best. Like in the case of wipes, I have tried many and I now know which one suits my girl the most.
Now let us talk about the three Deyga baby products I used and my review.
Review of Deyga Baby Products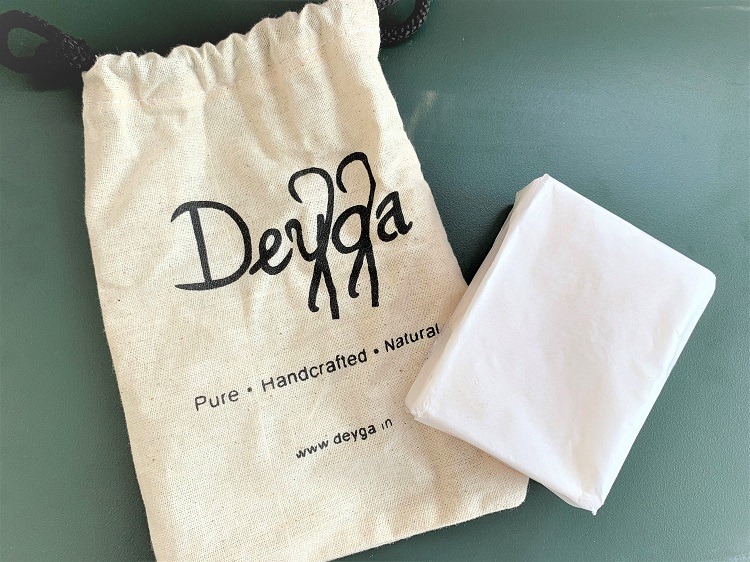 Deyga Baby Soap
The first thing that strikes me about the bath soap is its packaging. The Deyga baby soap is wrapped in paper and comes in a small cloth bag. The bag can be easily reused later for anything.
The ingredients used in the soap as claimed by the brand are less. The packaging does not have any details of the ingredients but on the website, it is mentioned, Extra Virgin Olive Oil, Unrefined Shea Butter, Sweet Almond Oil, Cold-Pressed Castor, and Coconut oil.
As all ingredients are natural, they make the Deyga baby soap free of colors and dyes and also any artificial fragrance. The soap bar is very soft and easy to hold and forms a mild lather which is easy to rinse off. Handmade soaps are not like the regular soaps we get in the market and thus, the shape is not perfect and this is a great way to know the authenticity.
Little Miss A's skin tends to dry up with some products (which also claim to be natural) but with Deyga baby soap, it is soft and nourished. We have used it in the summers and it has suited us well so far. I feel with the natural ingredients; it will work well in winters too.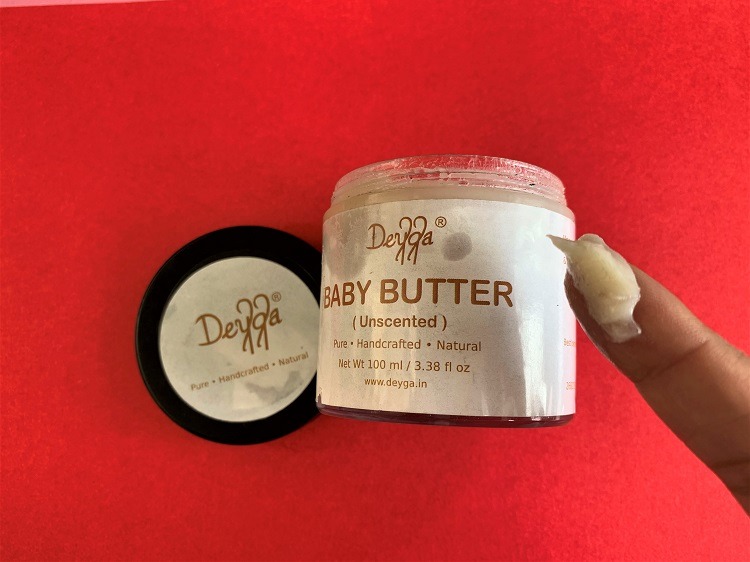 Deyga Baby Butter
The next product I tried is the Deyga Baby Butter. It comes in a small plastic jar with a label that has all ingredients mentioned, unlike the soap.
When I received the product, there were oil kind of stains on the packaging as if something has melted. On opening the screw lid, I realized, the Deyga body butter is like solidified oil that has not melted in the summers also. It must have been some minor issue during shipment so something I will not hold against the brand the product.
Once I apply a small amount on Little Miss A's skin it melts into an oil and then with massaging absorbs into the skin. The skin does look oily for some time and then gets normal. After using it for a week, Miss A's skin is looking nourished and well hydrated.
Though we are using it in summers, the oily texture has suited her well and the mild fragrance is also great. I have only used it at night for her till now and her skin is soft and all the dryness has gone. I prefer to use a light body lotion during the day as she sweats a lot, but using the baby butter during the day in winters might be a good idea.
So far, I am happy with the Deyga baby butter and I have replaced this with the oil for her massage at night. A small quantity is needed and thus, I think the jar will last for long making it a good value for money.
If you like body butter for your baby with natural ingredients, you should give this a try.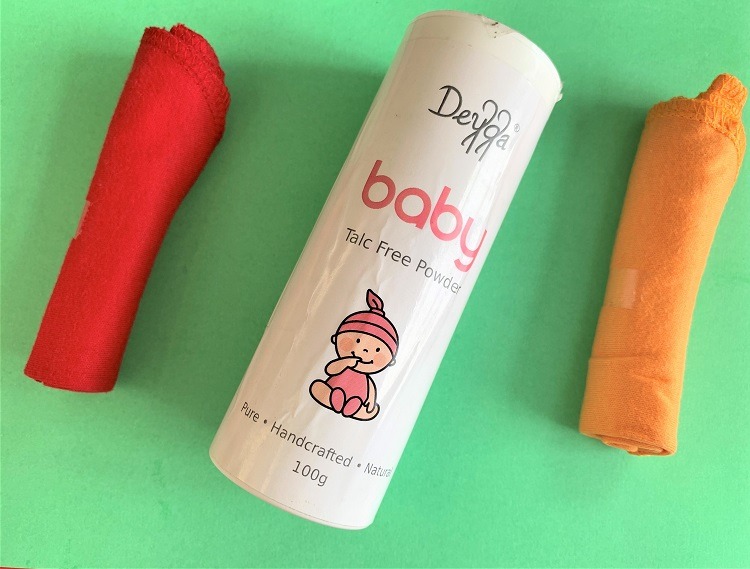 Deyga Baby Powder
When Little Miss A was born, I was told by many to not use any powder for her as they contained harmful ingredients like talc which can cause respiratory problems if inhaled. Thus, I have not used many powders.
I was always scared to use one for Miss A, but I was tempted to try the talc-free baby powder for her. As I mentioned, Little Miss A sweats a lot and thus, I feel a good powder can help her skin say soft and she will be comfortable and feel fresh.
I ordered the Deyga baby powder and I will be honest I have not tried many powders with her to date. As far as this one is concerned, the packaging is simple and has the list of ingredients used. The Deyga baby powder contains organic arrowroot powder, kaolin clay, aloe vera powder, olive oil, and kokum butter.
The powder is talc-free, natural, made in India, BPA-free, gluten-free, and cruelty-free. It does tick all the boxes when looking for a natural baby product.
All ingredients are natural and the mild fragrance is refreshing. I use the powder after her bath and it is easy to apply. The skin is soft and fresh and with all healing and natural ingredients, it is soothing for the skin.
Availability and Pricing of Deyga Baby Products
All three products are not very expensive and are worth the money spent. The baby care kit by Deyga also makes for lovely gifts for newborn babies and small kids. Natural and useful, all parents would be happy to use them.
All products are available on the website, www.deyga.in and shipping is free for orders above Rs. 1400. I did not find the products on Amazon and ordered them directly from the website.
Final Verdict on Deyga Baby Products
As I have mentioned earlier as well, I love to try new and natural products for Little Miss A and I was surprised and happy with the Deyga baby products I ordered. They also have a massage oil in the range, which I have not used as I am using the Deyga baby butter at night.
The oil also looks interesting and will be next on my list. The products are pure and truly handcrafted with love. We have been happy with all the three products I have used and will try others for sure also.
As a mom, I also need some pampering and self-care and their skincare range looks quite interesting and I will order soon. If you recommend any of their products, do give your feedback. It would surely help me. 😊
So mommies, if you are looking for natural products for your little one and are happy to try something new, you should try the Deyga baby products. I am sure you will not regret it. 
I will wait to hear from you all. Till then take care and stay safe.