Baby gears that do multi-tasking jobs are one of the best choices to save cash and can be utilized for long time. Convertible car seat is such a remarkable baby gear, which you will need right from the hospital, during the first ride of the baby to home until he becomes a toddler.
Reason to purchase a convertible car seat
Infant car seat is an excellent pick for the new born; however, it is not the 'sole' choice. Convertible car seats are available in the market which saves both money and space. This is a great option for you because it has a rear-facing position for the infants, and then can be changed to a front-facing position for older children. The school goers can sit and use it as a booster seat space too. These convertibles can be used from day one through the whole pre-school time and beyond that period too.
Eventually, when the infant car seat will be outgrown you will require a bigger seat. At that point the convertibles come as a relief, as you need not to buy another car seat and pile up the former one. The brand new car seats maintain government safety standard and specific security measures. If you buy an old car seat make sure you buy it from your trusted person, as there should not be any damage or previous accident related issues. You should also review the expiry date of the commodity both for old and new models.
How can you judge the best one?
Choosing the best convertible car seat for your baby is an important decision for you as a parent. Things you need to keep in mind while choosing a car seat are:
Good protection: As a new parent you need extra confidence in every step of your parenthood. The first thing you want is best protection for your baby. The car seat that can provide superior security and at least two sheets of side impact protection, with a durable steel frame and an impact absorbing base that shrinks to lessen the force absorbing collision. A 5-point harness strap is safest for the kid as one strap goes for each shoulder, one for each hip and one that runs between the baby's legs. Keep it in mind that extra protection means extra weight and bulk size, so the back seat of your car will be only available for the car seat and maybe another person.
Easy installation:  Secured car seat is not always sufficient for the parents when in a rush or who have more than one kid. If the installation time takes longer, keeping patience gets tougher. Perfect strap and easy latch anchors make your tug of war with the car seat nominal. The only drawback is more latches which means more hardship for easy cleaning.
3 in 1 car seat: If you prefer a single car seat that will work from the day of your child's birth up to a grown up kid, then this infant car seat cum toddler's seat and booster seat for young kids, all three together will serve your purpose perfectly. Though this kind of car seat is difficult to install, but it saves your pocket and also time over the years.
Sleek and compact: The slim and narrow car seats are the must haves for small cars with minimum backseat space. A narrow seat gives seat-space for two persons, including the baby in the car seat, at the back.
Budget buys: Lot of parents go for the minimum ranged car seat with all the safety measures. They choose an affordable convertible seat that is compact, machine washable pad, a removable cup holder for the easy access of the grandparents or care giver and four shoulder strap position which can be adjusted as the infant grows into a toddler.
Best convertible car seat available for babies
Some of the best car seat brands available with almost all the needed features within a certain affordable range for everyone:
Luvlap Baby Convertible Sports Car Seat is certified with European Standard with both rearward and forward facing installation procedure. It is advisable for 0-18 kg baby, around the age group 0-15 months and 19 months to 3 years babies. Infant car seat in rear facing position can be used between 0-15 months of age and the front facing car seat from 9 months to 3 years of children. It includes three position reclining backrest for better sitting and sleeping position for the babies. It has side impact protection as well as side head safety for most comfort of the baby. It gives support and safety to the baby's head, leg, spine and hip.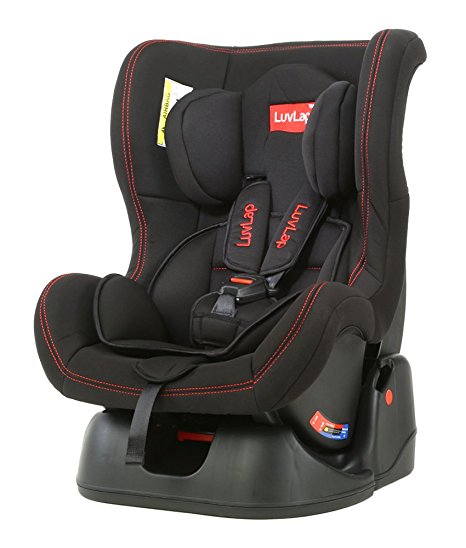 R for Rabbit Jack and Jill Baby Car Seat is an excellent preference for the babies from the age of Group 0 – 0 to 2 years and Group 1- 2 to 5 years. It is certified by European standard of safety measures. It has a 3 positioned reclined stunning design with side impact protection. It can carry the weight of 2 kg to 18 kg. It comes with gorgeous designs and machine washable seat cushions. It is available in different colours, one of them is a vibrant multi-colour infant seat which looks great and will make your baby happy.
Mee Mee Grow with Me Convertible car seat is made to utilize for extended use – rare facing 18 kg to forward facing up to 30 kg. It has a dual cushioned soft and convenient seat for your baby with a padded thick cushion for supporting the head.
Graco My Ride 65 LX Convertible Car Seat is an expensive option for car seat but it is necessary to mention because it is one of the respectable and trustworthy car seat brand. Keep your child safe and secure during infancy to childhood with this US safety approved Graco convertible car seat. It features EPS energy absorbing foam, side impact testing, and a removal-insert and headrest which holds your child tight and secure in your short and longest car rides. The harness system is side impact tested and can bear both high and low temperature. The latch equipped seat with front-adjustable 5 point harness and easy readable installation guides makes the removal and installation process easy. It comes with machine washable covers and easy to clean cushion with dual cup holders.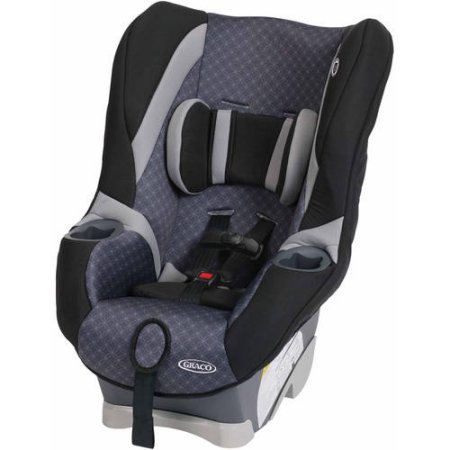 Chicco Next Fit Convertible Car Seat is one of the most stylish and expensive car seats which you can use for your baby. This car seat is designed to install securely and accurately in wide range of cars with the rear facing weight limit of 2 – 18 kg and front facing weight limit of 9- 30 kg. It has 9 recline levelling system and two right bubble levels. The exclusive Super-Cinch Latch lightener secures and tightens effortlessly. It also has 6 position headrest features with integrated harness adjustment which can be adjusted with the growing children. You can use it for your child from infant stage up to the preschool period.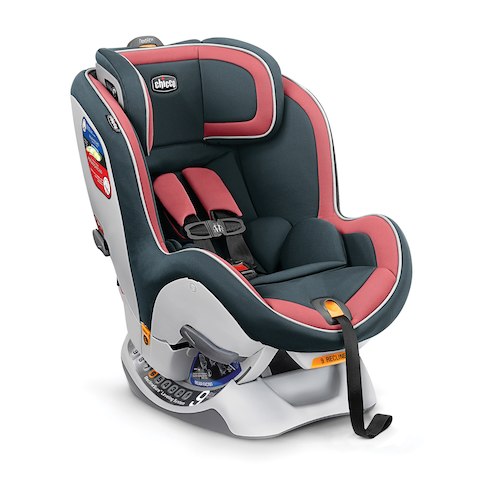 Convertible car seats will cost you one time, but can serve for years, the top-line models have higher weight limits which is another plus point if you have more than one kid with a diverse range of age and also if you are going to use the car seat for a longer time and more rides.