Summers are holiday time and the worst time to keep kids busy. You do not want them to play outdoor in the scorching heat but also want some fun activities for kids to them occupied indoors. One thing that most kids love doing is playing with water. It is tough for me to keep Little Miss A away from water and the new water games she comes up with it. Water games for kids are fun and playing with water is enjoyed by all kids. Buying kids swimming pools and floats is a good idea to let them play this summer. The pools can be filled with water and kids can splash and play for hours. The floats can be used in pools without stressing much about their safety. Swimming and swimming pool games are one of the best outdoor summer activities for kids. Let us see some of the best options available: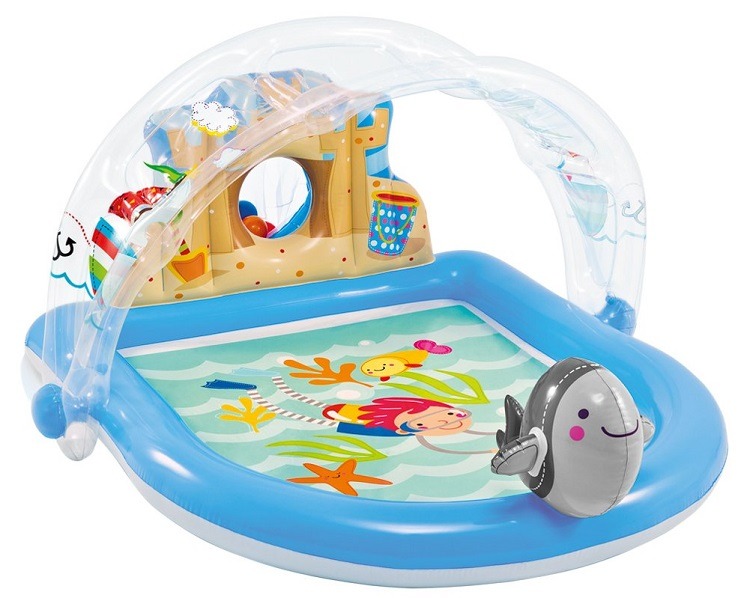 The Summer Lovin Beach Pool by Intex gives your child a play area of 170 x 81 x 150 cm. The simple design of the pool allows your child to play with water for as long as they want. They can lie down and soak in water along with the sun. They can also get their toys and play swimming pool games in the pool to beat the heat. The play center provides an attractive area for them to enjoy and relish the pool. Not to mention the bright and multiple colors do their part in making the pool an attraction. At just 2.3 kgs, it's is quite light as well. If you are someone who likes to be on the move, the Summer Lovin Pool by Intex is just what you need. Click here to buy it.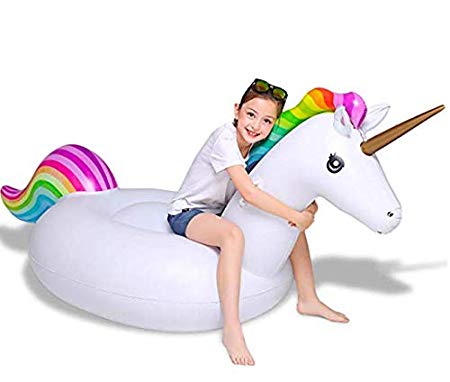 A lot of parents like playing with their kids. For the child in you and for your child, the Wanna Party Unicorn inflatable pool float might be a great addition. The float can be a great addition to any kind of backyard fun. Since the float is considerably large, children as well as adults can use the same for outdoor games. And it being a unicorn, will plaster a smile on the face of your loved one. The float is about 8 feet when measured from the beak to the tail, is massive to say the least. And at 1.94 Kg is light as well. You can buy it by clicking here.
See Me Sit Pool
Another interesting pool based product from Intex is the See Me Sit Pool. The pool measures at 64 x 136 x 218 cm, which makes it ideal for a child to play freely. This kids swimming pool design has been done in such a way, that they can choose to put their legs through the pool and learn to swim or just sit. Alternatively, they can relax in the pool and play with their friends or with you. The pool is available in the form of different animals, so you can go ahead a choose one, that your little ones like.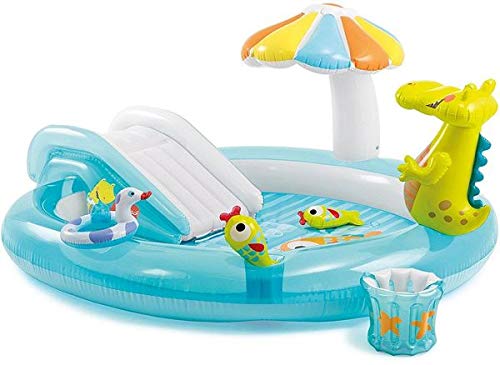 The Gator Pool by Intex will give you the feeling of a full-fledged kids swimming pool. The dimensions of this pool stand at 2.03m X 1.73m x 89 cm. It comes with a landing mat for extra protection and can accommodate 180 liters of water. Your child can play in the pool with the inbuilt toys such as fishes, duck, alligator etc. or can take their favorite toy into the pool. A small slide on the top of the pool ensures that your kid gets a taste of bigger pools quite early. With bright colors and animals around, it is a happy place to be in. you can get this awesome pool for your child by clicking here.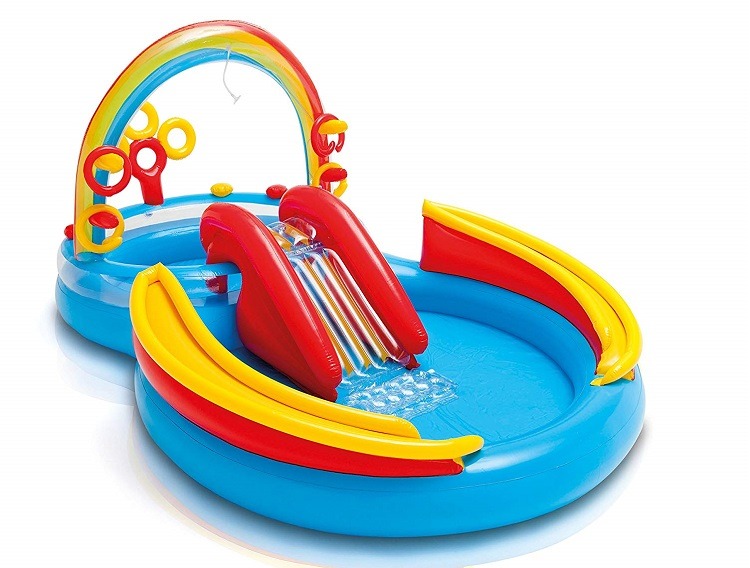 You would want to shortlist this pool into your shopping cart. The inflatable rainbow pool from Intex offers a lot more than a standard inflatable pool. It has two small pools at different heights and a slide connecting them. You can easily have two or three kids playing in the pool without any issues. It comes with an inbuilt water sprayer and ring game. The smartly designed pool has rollers on the side to play with balls as well. You can connect the garden hose with the pool for some fun activities for kids. If you want your kids to enjoy playing in this pool, you can click here to buy it.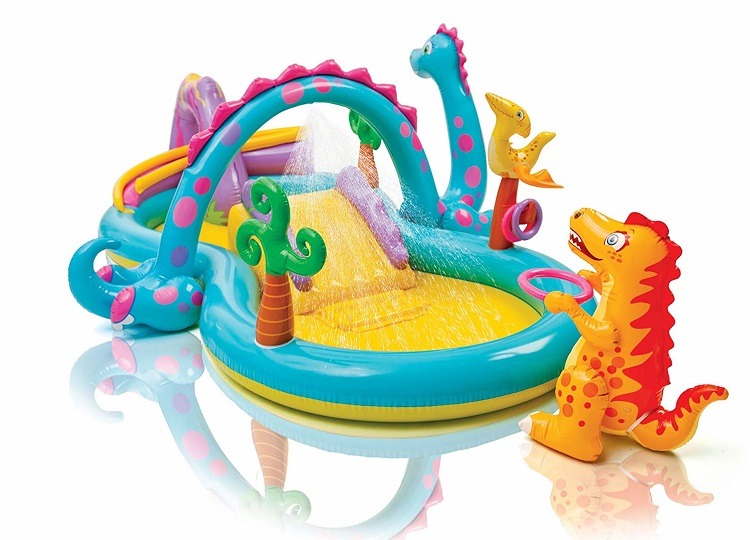 The Dinoland pool is another interesting product which you can consider for buying for the water activity this summer. This inflatable pool from Intex, as the name suggests emulates dinosaur themed pool. The bright and colorful pool ensures that your little one is excited to jump onto it. It has a couple of different decks and a water slide to connect them. The pool can contain 290 litres of water, which is more than a lot of other pools out there. It also has a few ring games, which your kids can enjoy. Measuring at 3.33 m x 2.29 m x 1.12 m, it is large enough to house at least two kids. Click here to buy it.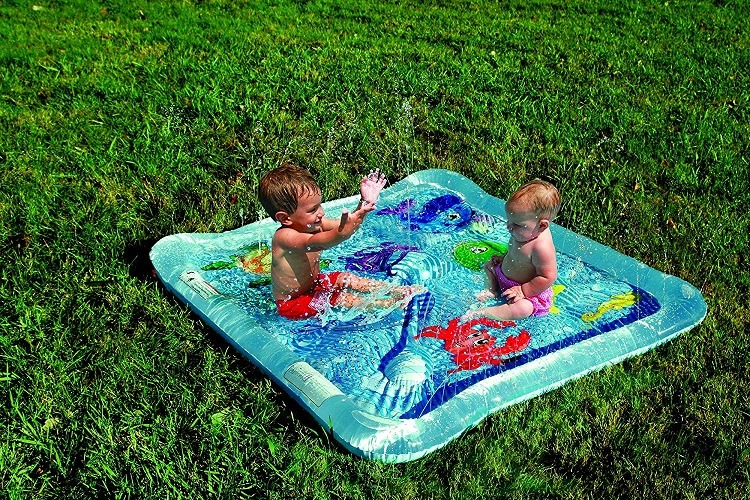 This bright blue colored pool is sure to attract the attention of your little one. The funky pool is large enough for a couple of kids to play at ease. The presence of a slide works in its favour. It has a landing pad to ensure that the slide is neither bumpy nor hurts. This swimming pool for kids also provides you with an option to plug your garden hose and sprinkle water, which kids play. You can click here to buy it.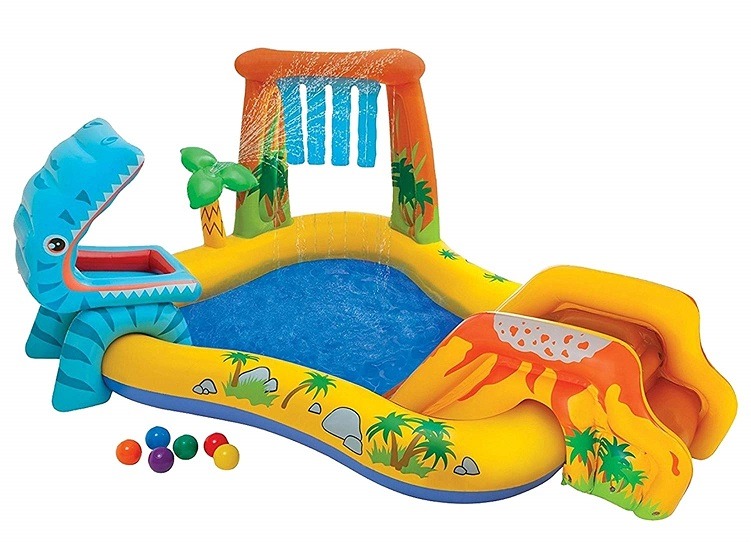 The dinosaur swimming pool from Intex is a standard looking pool with a host of features. The inflatable pool for kids take only 2 mins to come to its full glory. Once set up, it offers a hippo ball game, where your kids can keep other toys as well. One of the trees acts as a water spraying capabilities, helping your little one beat the summer. It uses extra padding for landing, since the slide is something that kids would be frequently using. The pool also emulates waterfall, which kids love. Click here to buy this fun pool.
Elephant Pool
The Elephant swimming pool by NHR is more of a conventional swimming pool. If your kid(s) like elephants, they will adore this pool. It is large enough for two to three kids to play together. The floor of the pool is made with extra padding for additional comfort. Its compact dimensions make it ideal for gardens, terraces and even balconies. You can connect a water hose with the pool and the trunk would act as a water sprayer.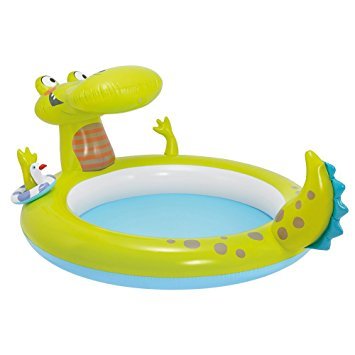 Parents looking for a simple swimming pool would be pleased with the alligator spray pool by Intex. As the name suggests, the pool is based on an alligator. The funky design will get the attention of your little one for sure. When you connect a water hose, the mouth of the alligator starts spraying water. With a water capacity of 170 liters, it is apt for a couple of little ones. It also includes an inflatable duck toy. You can buy it by clicking here.
Tug Boat Pool
This is a compact swimming pool for kids above 2 years by Bestway. The attractive pool design is interesting, to say the least. With a lot of smaller details that your kid will enjoy. It has a water holding capacity of 84 liters and has a drainage system to ensure quick packing.
Additional Information
You may also want to check our blog post on summer activities for your child
https://beingathinkaholic.com/11-fun-summer-time-activities-for-your-child/
The best sunscreen suggested when the kids do summer activities
https://beingathinkaholic.com/best-sunscreen-for-your-babies/
Tips for home remedies for the kids when they get sun rashes
https://beingathinkaholic.com/home-remedies-for-skin-rashes-in-babies/