For a baby a good and comfortable sleep is a must. During the first few weeks or months, you will find your baby sleeping most of the time, and thus, to ensure good sleeping habits and no risk, a crib, cradle or bassinet is a must have. For new born babies a cradle or bassinet is preferable and a crib is a good option when the child grows. I personally feel, when you have the child in the bed with you in a bassinet night feedings and diaper changes etc become simple and give the mother some rest also. Around 4-5 months when the routine gets more or less settled, a crib is a great option. However, parents can make their choice as per their convenience levels and seeing the expenses involved. Some of our recommendations are:
Cradles
Jack & Jill Cradle
This hanging cradle is for kids who are below 10 kilos in weight. It has a built-in mosquito net to keep your kid worry free of mosquito bites. The fabric used for the cradle is quite soft and you can wash the same. It comes with a hook, the hanging cradle, pillow, and spring necessary for the setup. The only downside of the cradle being it is 75 cm in length, meaning you can use it for kids only up to three or four months.
Mother Touch Cradle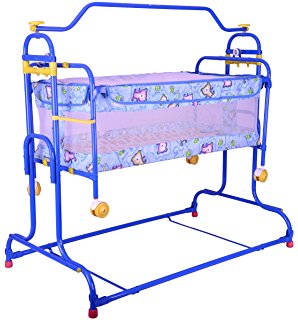 If you are looking for a no-nonsense functional cradle for your loved one, the Mother Touch Wonder Cradle would fit into your search list. You can remove the cover and wash it when it's dirty and the light yet strong frame ensures it is portable. The cradle comes with a safety lock and a mosquito net. The length of the cradle is 27 inches long, meaning you can use it only till your infant is three to five months. The low height of 50 cm can be a bit of a menace, so do keep that in mind.
Multipro Swing and Cradle
Parents looking for a cradle with multiple functionalities, the Multipro swing and cradle can be a pretty impressive option to consider. A steel frame gives it the strength and amazingly soft cotton make it a cozy place for your kid. It gives you the option to choose a curved surface or flat one for sleeping. Mutltipro has fitted in a motor so as to rock the cradle when connected to a power source. The steel framed cradle is easy to assemble which adds to its portability factor. It is longer than most of its competitors at 118 cm ensuring that you can use it until your kid reaches about 1.5 years of age.
Crib
Chicco Co-Sleeping Crib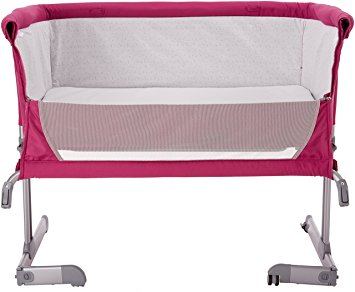 New mothers like to keep their newborns right in front of their eyes and this crib does that job perfectly. The Chicco next to me co-sleeping crib has the potential to be a great addition to your house. With three closed and one open side, you have access to your kid always and do not have to get up to check on him/her. Apart from having wheels to move it around the house, it is incredibly lightweight and has anti-skid legs. The padded mattress on the crib does an excellent job of providing a good night sleep.
BabyCenter Cot
BabyCenter cot gives you a good old nostalgic feeling where the entire structure is made out of solid hardwood from Malaysia. The cot has curved edges all around which ensures that there are no injuries coming out of it. You can use the cot till your baby reaches 25 kilos in weight but you need to buy the mattress separately. Also, the cot uses up quite a bit of space, so you need to get the measurement right before you decide to buy one.
Dream on Me Crib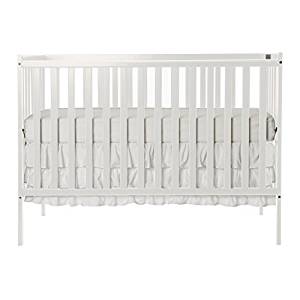 Dream on me is a 5 in 1 convertible crib that you can use as a crib, twin size bed as well as a day bed. You can use any one of the four height settings available to have easy access to your kids while you sleep. Though the crib supports twin sized beds, you would need to buy the additional bedding as well as railings. The length of the crib is about 53 inches which allows you to use it till your baby reaches the 25-kilo mark. And it goes without any saying that the white color crib adds visual appeal to the room where it is placed.
Bassinet
Fisher Price Bassinet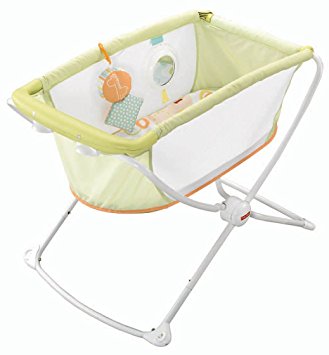 Fisher Price has been in the business for a long time now to understand the requirements of parents and kids. Fisher Price Rock N Play Bassinet is its outcome. The bassinet has an elevated flat-bed which allows kids with reflux to sleep properly. Apart from having a toy and mirror for the kids to play, it has a rocking action which is incredibly handy for making your little one sleep. It is foldable and washable, which increases its usability a few notches up. Though the bassinet has a length of 84 cm, it might be a bit difficult to fit your kids beyond 6 months. You might end up paying a slightly higher price for the Fisher Price Bassinet but the number of features that you get in return is worth those extra bucks.
Littly Foldable Bassinet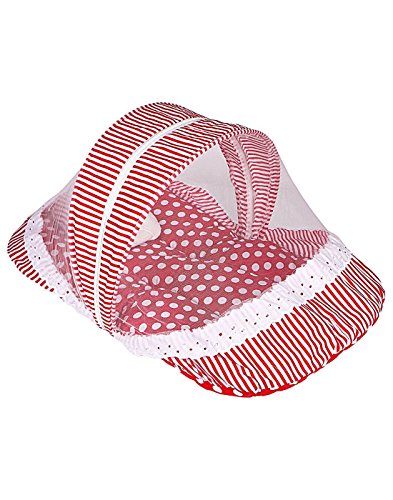 The Littly foldable bassinet is one of the more economical options when it comes to bassinet in the country. It is made up of velvet material which is very smooth and comfortable. It comes along with pillows and a mosquito net. The company claims that you can use it for kids up to 12 months, but its 88 cm length means it will be a bit difficult to fit kids beyond 6-7 months.
Brica Bassinet
Brica Bassinet can be your ideal companion if you are one of those parents who like to travel a lot with their kids. It has a sturdy structure and cocoons your kid with lots of comfort and safety. Presence of ventilated side mesh ensures enough ventilation and it comes with four point lock mechanism. The 30 inches long bassinet is ideal for kids up to 6 months.