The Kathua rape case has sparked national outrage among the people of India. It refers to the abduction, rape and murder of an 8-year-old girl near the municipal council of Kathua in Jammu and Kashmir. Every incident of rape is horrific and unforgivable, but the sheer brutality of this particular case, and the fact that it was perpetrated on a minor shook the conscience of many. It has lead various people asking for a death penalty for the rapists. To make things worse, this is only one among many rape cases happening in India on an almost regular basis; the victims being women and minors – girls who are barely months old! This makes one wonder – What is wrong with these people? Are the accused mentally ill? Desperate? Or more importantly, are they as normal a part of the society as we are?
A deep delve into our society would reveal that it's not just the people who committed the crime that are to be blamed. Most part of Indian society has been patriarchal since ages. Women, from their childhood, are taught to be docile and subservient to their male counterparts. Be it their father, their uncle, or their younger brother. The males, on the other hand, are hardly taught to respect the other gender. The respect might be directed to their mother and sisters, but never to the whole of the opposite sex. No wonder even the so called 'good boys' with a great educational background don't hesitate even for a second before passing lewd comments to an unknown girl. Many sexual offenders don't realize the gravity of the crime they commit.
A woman's sexuality is seen as the greatest treasure to her family. As such, it must be guarded at any cost. Be it chaining her in the house, or even burning her down in the name of honor killing. Quite frequently women are the first targets for someone seeking revenge, as in the Kathua rape case where the accused wanted to scare the Bakarwal community out of the village. They chose an innocent girl, who barely knew what she was getting into. Also, in Indore an 8-month-old was raped by a person known to her because he had a grudge against her family.
Politicization of such issues quite often does more harm than good. No political party can eradicate a societal problem. The only purpose it serves is to divert attention from more pressing issues at hand.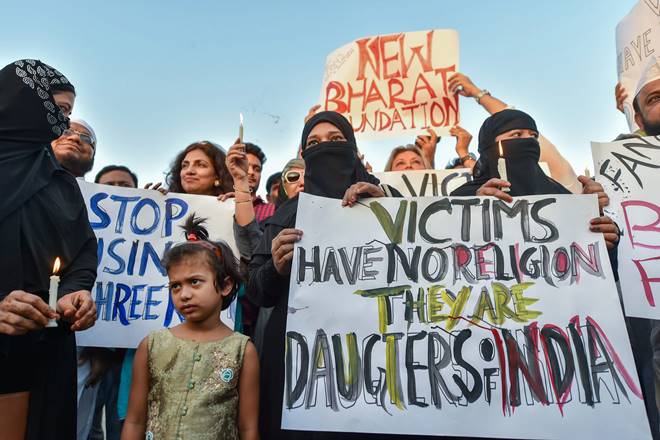 So, are the girls in India and elsewhere predestined for such a doomsday and a life of misery? I believe there is a long way to go before we can say No. They say charity begins at home. Quite similarly, respect for women has to be taught to children during their primary socialization. Only when the gender barriers are broken, and boys are taught to respect girls, can anything change. It's not so different from teaching a girl to respect her husband in an arranged marriage, where she hasn't met the man ever in her life. It is time to bring parity in teaching values to both boys and girls. We should break the taboo of sex education and realize the importance it plays in making people aware of and receptive to the other gender's feelings.
Any law can only be as strict as its implementation. Without it, even if we legalize death penalty for rape cases, nothing is going to change. The criminal justice system should be quick and impartial in bringing the victims to justice. As the saying goes, "Justice delayed is justice denied." The Indian Penal Code and the Prevention of Children from Sexual Offences Act, 2012 have set elaborate laws to handle such cases, but what we lack is their effective and timely implementation. It doesn't help to fast track cases which spring into limelight. Article 14 of the Indian Constitution gives us the Right to Equality. A poor girl who did not get any media coverage because her uncle raped her must deserve the same alacrity from the courts as another one who has been all over the news. They both are equal in the fact that they were subjected to same horrific events, and that they enjoy the same rights and privileges.
The cabinet's decision to move an ordinance to award death penalty to child rapists adds more teeth to the existing laws, but this path should be trod with caution. Not only would it be against the accepted international practice, it might be used by unapproving parents of runaway couples. The gravity of the situation is such that there can never be a one-size-fits-all solution for this. We need a multi-faceted approach to tackle such a social problem, and stricter laws are just one among many other things that need to be put in place.