Arguments are inevitable. Be it our partner or a friend or an acquaintance, there are certain instances where views do not match, misunderstanding happen or making a point to someone. If arguments are constructive, which we would rather call a discussion, then a feasible and tangible solution comes out of it which could be for the betterment of one or both. However, if arguments heat up and go in a wrong direction, it creates not only bitterness in any relationship but also closes doors for any further discussion on the topic which may remain unsolved. No man is perfect, and often we would have found ourselves in a situation where the emotions are difficult to control and we say something which we do not intend too. Even our body language and gestures can often turn off the person opposite to us.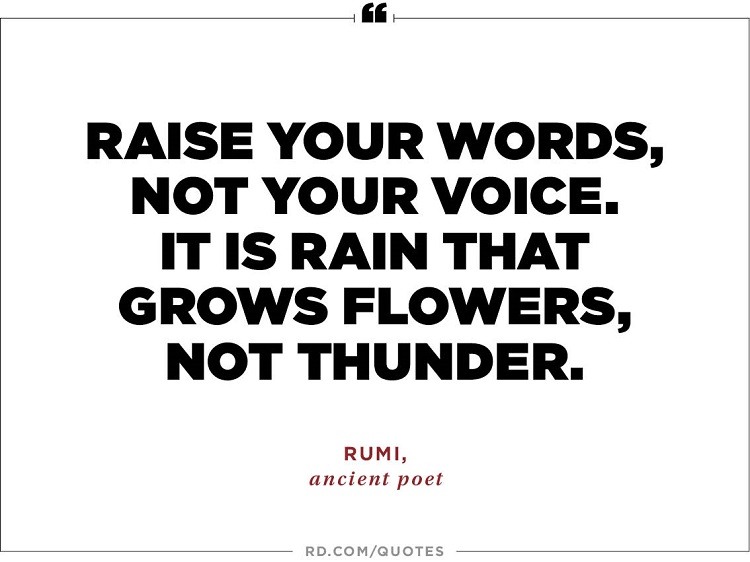 An argument, in literal sense means 'a reason or set of reasons give in support of an idea, action or theory.' But we often get into a situation of screaming, cursing and bad-mouthing, that the argument loses it essence and becomes more of a blame game. While we all learn from our past mistakes and many of you would have personally modified your tone, controlled your emotions and made changes to your body language keeping in mind the past not-so-good argument you had with someone. According to therapists and psychologists, few of the things that one should never say in an argument are:
Exaggeration
Statements like "You never" or "You always" are exaggeration of emotions and can instantly turn off the other person and set them in a defensive mode. These are extreme statements and often puts you in a vicious cycle of blaming each other about what the other one does not do to live up to the expectations. Instead of saying, 'I never get help from you' or 'You never help me' one can say 'I would really appreciate your help in this matter.' A few smart selection of words not only terminates the scope of a heated argument but also subtly delivers the message to the person opposite to you.
Comparison
Often comparison exists in an argument. 'You act like your..' be it the crazy friend you despise or anyone else. These statements draw the attention away from the topic and often lead to further discussions on the character. Also, statements like 'He is a better team player than you' means you do not value the efforts the person is putting in and inclined towards drawing a comparison of the person with people around him. Instead say, 'I would like you to work on your team building skills.' The feedback sounds constructive and you stick to the point. Similarly, for informal conversations, avoid using any comparison.
The Hormonal Game
When we get heated up in an argument, our cortisol and adrenaline gushes in. Take time off to cool down and avoid statements like 'We shall talk when you can be rational' or 'Your statement has no logic to it'. Instead, take a time off and convey your opponent that you need some timeout to settle down and talk in a respectful manner which you both deserve.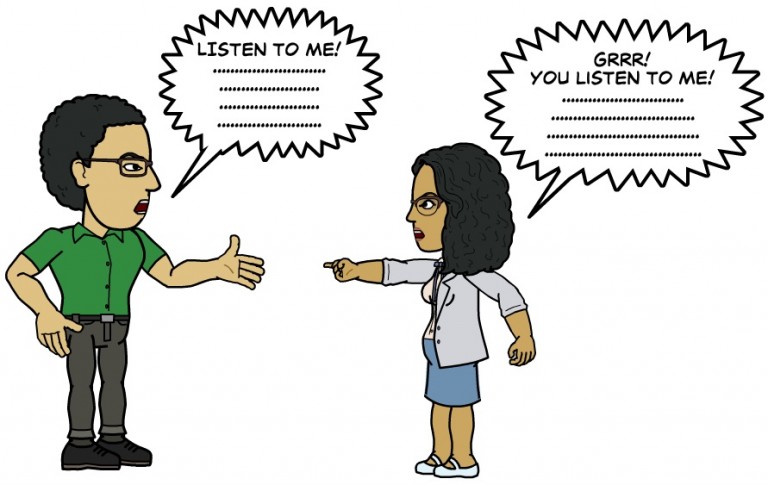 Extreme statements
One might have at least once heard a couple arguing where one says 'I don't love you anymore' or 'I am done with you'. Or at least that is what we have seen in a few movies too! As a famous saying goes like 'Think before you speak and look before you leap', words once spoken cannot be retraced and this will not only hurt the sentiments of the person you are arguing with and make them defensive, but also will create regret in you for having said those words. Instead, take time off or hold on to your tongue to give the person some time to cool down to take the discussion to a healthier level.
Cursing
This is a strict no in an argument. Using fowl words or derogatory statements will only insult the other person which may then continue as counter-attacks. Focus on the situation, attack the root cause of the problem leading to an argument than attacking the person with calling names.
The Ignorant Mode
Many often say, 'You have a tendency to make a fuss out of small issues.' If the person opposite to you has a grievance and you are in a discussion or argument, it is important to understand and listen to the person than just disregard their statements because you fail to realise their emotions. These statements never calm a person down rather heat up the argument more in a wrong direction. Instead, ask the person help you understand why they are upset or feeling in a certain way.
Wilful blindness
When you have a discussion or an argument with a person and the topic comes up again, it is a natural reaction to say, 'Here we go again', 'Just get over it', 'Why can you not just drop this' or gestures like smirking or eye rolling. Understand that if the topic is brought up again, then you have not resolved the issue yet and your previous discussion or argument was shallow enough to bring the topic out again. Even if you think the person opposite is being emotional and trying to dig the old stuff, do not use statements 'I don't care what you say' or 'Its ridiculous'. Such statements never resolve a conflict rather worsen the situation more.
Surely, nobody wants a bad discussion or an argument leading to a fight. But using terms which sets off the other person instead of making things better with an intention to bypass the discussion is never a solution. Be choosy about your words, talk respectfully and treat the other person in a way you wish yourself to be treated! After all, it is better to lose the argument, and not the person.