We all understand the benefits of working out on a regular basis. Be it for staying in shape and flaunting your well chiseled curves, keeping your diabetes under control or improving your health or fitting into that little black dress you just bought for yourself! Whether you are suffering from arthritis, diabetes, cardiac issues, blood pressure, lack of sleep; exercise is a one stop solution to all your health related issues. And the list does not stop here! When you start your day with nothing but a light exercise, your entire schedule falls in place. It not only gives you a fresh start to the day but also helps you stay focused throughout the day without a feeling of fatigue.
The very idea of working out has never seemed to be a herculean task for me, but of late, managing my work and family along with a baby to take care of; my work-out plan has taken a back seat. It is just a matter of time when most of us living a similar life like me end up from being 'not able to work-out' to 'don't want to work-out'. For most of us, the anticipation and anxiety of not completing the tasks on our priority list makes us jump out of the bed and start the day early while the work-out kit remains neatly stacked up. I have been listening to a lot of motivational speakers, doing my own research on the internet on how to work out when you don't want to. And what do I find? Clearly, there is no defined rule book or manual that could help you do the job, spare motivation. So all I found was a lead to how and from what I derive my motivation to work out from!
Now this stage was a bit tricky. It's completely on an individual's style, preference and schedule from where motivation can be derived. I tried to narrow down a few that seems most common to many of us.
Your gym's annual subscription
Yes, you got it right! When you have paid for that state-of-the-art gym in your residential complex or in the neighborhood, why not hit it? After all it is your hard earned money. Plus I have also found several members of the gym who are just like me and still manage to regularise their workouts! What could be better than sweating at the gym with like-minded people? In addition to that it gives some room to have a healthy socialisation at the start of the day.
Reward yourself
If you have been on strict diet and no exercise lifestyle to shed some extra pounds, motivate yourself to work out so that you can treat yourself with a doughnut once in a while! That though does not call for a cheat meal almost every day! I heard one of my friends saying at the supermarket, tossing between a Greek yogurt and sweet curd, 'I am working out so that I can, at times, indulge myself in something that's tasty and has generous calories. After all, taste also matters'.
Attend events
Various social groups have come up with the ideas of marathons and walk-a-thons to raise funds for the underprivileged. Go on! Get involved in a noble cause. Run a mile or walk a couple of kilometers. What if you lag behind? Well, that's enough motivation for you to resume your work-outs at the earliest.
Lead by example
Beginning to work-out while your kid is still small is a great time! It not only cultivates the habit and imbibes the importance of exercise in them, but also helps you get back in shape!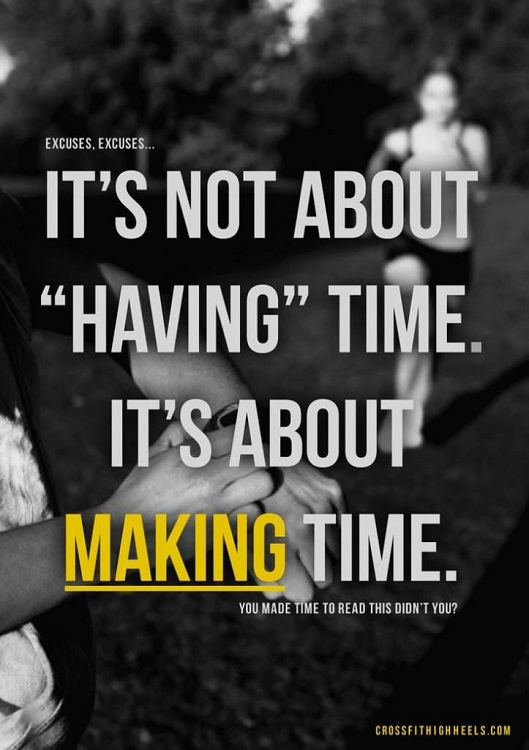 Alone time
If you are looking for some time for yourself amidst the chaos or have just recovered from an injury or illness, sticking to a work-out regime can do wonders to you!
I have often wondered how my mom and grand-mom manage to stay fit and in good health when they do not hit the gym. In-fact, buying a gym membership would have really never occurred to them! The secret is- daily, common household work and yoga in the morning. Never have I seen my mom missing out on her daily morning walks! And she managed this with her work and taking care of us. So, take those steps while you come back from office, walk to your grocery store, or easy enough lend a hand to the maid in household chores once a week. That should get you ramped up for a more rigorous workout schedule!